Keto Shopping Guide for Indians
It's all available online!!
This Keto shopping guide for Indians has been a long time coming. Mainly because I live in India and it's easier for me to tell fellow Indians where they can buy their Keto ingredients. I also figured it would be a good idea to include some of the kitchen gadgets/appliances I use as well. Most of the stuff is available online but of course fresh products like meat and vegetables are always something I recommend that you buy offline from your local markets. So let's get started.
Ingredients
If you go through any recipe on the website there is generally a link next to each ingredient. This link normally takes you to the Amazon of your country and either gives you the same product or a similar one. Since most of my audience is USA based it's optimized for that. For example wherever you see Almond Flour it will link to Bob's Red Mill since I used to use that and it's available easily in the USA. However in India it's still pretty expensive and I've found a cheaper alternative. So what I will do now is link you to exact products that I am using.
Keto Flours & Baking Stuff
Almond flour – When I started Keto I first looked around for almond flour. I saw the Bob's Red Mill bag in a store and got a mini heart attack when I saw the price. That's when I started making my own almond flour at home. However over time more and more companies started making almond flour at cheaper prices and I just started buying it. I currently use the Urban Platter almond flour. They have a couple of different size bags, when I was shooting for my cookbook I bought the 1kg bag. Otherwise I generally get the 200g or 400g bag. I always get the regular or the fine flour, never the defatted one.
Coconut Flour – Much like with almond flour, when I saw price of the bag of Bob's Red Mill coconut flour I got a mini heart attack. Making it at home was too much of a process so I coughed up and bought it. Lasted me for more than 6 months. But like everything else suddenly with Keto getting popular there were a dozen cheaper options. Now I use coconut flour made by a company called By Nature or the Narla coconut flour. Both are great.
Psyllium Husk – Most Indians are so confused when I say psyllium husk. Do you know what it is? IT'S ISABGOL! Almost every Indian has had this in their house at some point and now it's a regular ingredient in my Keto cooking. Anyway you can just buy it from the local chemist or just click here and order it.
Xanthan Gum – I barely and rarely use this. Which is why I've bought it only once and I've still got most of it left. So this is almost like a one time buy and it never goes bad. I use the Urban Platter xanthan gum.
Cocoa Powder
For all your Keto desserts you're going to want to use unsweetened cocoa powder. A good quality one goes a long way. I use it in my dessert recipes right from the tiramisu to the chocolate almond flour cake. I'm currently using a dutch processed cocoa powder that my wife picked up on our last trip to Bangkok. I would recommend buying either the Hershey's cocoa powder or the one that is made by Urban Platter. Both will suffice.
Sweeteners
This is the issue for a lot of people switching over to Keto. Most of them cannot find the right sweetener that works as a sugar replacement. The truth is nothing will ever be sugar. It's best to get over that fact and it will make the transition easier. It took me a long time to get used to Keto sweeteners. There are many good options. I personally have moved over to Sukrin Gold for most of my baking. However I get this from the UK, which is also where I got some Monkfruit sweetener from. But for my daily use I use Stevia. This was the best one for me, I used to drink 1 drop of it in my coffee, it doesn't have a bitter aftertaste and it's great. I also use it to make many of my Keto desserts. I also used Zevic's powdered stevia for a while which wasn't bad either. But then I switched over to Pluck Stevia which was also great, no bitter aftertaste.  Now I am using Bliss Of The Earth Stevia which was recommended by a friend and I find it's the best one for me to use in my coffee. It's also not bad for baking. However given the choice I use Erythritol for baking since it's almost a 1:1 for sugar.
Chocolate
We don't get 100% chocolate in India. At least I haven't seen it. So I rely quite a bit on Lindt 85% and Lindt 90% for my baking. These do have some sugar but not enough to kick you out of Keto when used in a dish and divided over multiple servings. I'm not a huge fan of eating these chocolates as they are because I find them bitter. If I do buy chocolate to eat I normally get some sugar free chocolate from Zevic. Even though it's a stevia sweetened chocolate it has a fair amount of carbs so just eat in moderation.
Peanut Butter
I am constantly asked by people if peanuts are Keto. That is the reason I made this video 'What foods can I eat on the Keto diet?'. The short answer is yes, for the longer one watch the video. Most store bought peanut butter contains sugar. Which is why I made a video 'How to make peanut butter at home'. However since then a lot has changed. We have many options for peanut butter without sugar. I personally like to use the Alpino Smooth Peanut butter. It's great for making my peanut butter bread. I also love using it to make my peanut butter fat bombs. Basically, it's good.
Cheese & Dairy Products
I often get asked about what 'cream' I am using in my recipes. It confused my American viewers when I said 'Fresh Cream' and it confuses my Indian viewers when I say 'Heavy Whipping Cream'. My UK viewers are also equally confused. In short you want to find the cream with the highest fat % in it. In the USA that's heavy whipping cream, in the UK it's double cream and in India it's probably Parsi dairy cream. I however use Amul cream or D'electa cream most of that time because that's what's available.
When it comes to cheese I use local brands like Mooz and Dairy Craft. These are my go to brands and they have everything from cream cheese to mascarpone to ricotta to cheddar. My parmesan is normally purchased on trips to the UK from Waitrose or if someone is travelling to Italy I ask them to buy it for me. I sometimes use GO Cheese as well because they have a few nice ones. I generally don't use Amul or Britannia cheese but both are also fine on Keto. As long as the cheese is made from milk it's all good. I don't ever buy these online, I just go to Foodhall or Nature's Basket and even the local grocery stores in Mumbai keep these in stock. So there are no links here for cheese but now you know what to look for.
Meat & Seafood
I generally avoid ordering meat online. But when I do it's from Fresh-pick.in. I generally just order things like goat's balls, beef brisket and goat heart from them.  I buy all my pork, beef, chicken etc from Joseph's Cold Storage in Bandra. He has the best meat in town. I sometimes buy Prasuma products from the supermarket. I've got a local fish monger who brings fresh seafood to the house but if I want something specific or something like Salmon then I always get it from Cambay Tiger. There are also some other websites I like to use once in a while like Meatigo and Licious
That pretty much covers most of the ingredients you will need. If you feel something is missing please leave me a comment and I will add it to the list along with links.

Kitchen Gadgets
I'm often asked what gadgets do I use in the kitchen so I thought I would list them all out here. They are all available online so click the relevant links and you can purchase them.
Oven – I do a lot of baking and so does my wife. Apart from baking a lot of bread (not Keto) my wife has also made desserts in it like our famed Flourless chocolate cake. If you've seen my oven it looks like it's been through a fire. That however is just the souls of a 1000 dead pigs from making over 300 bacon bombs. Needless to say my Bajaj Majesty oven has served me well. I used to use  the 35 liter one. For the same price you now get the Bajaj Majesty 45 liter oven. I however went ahead and upgraded to the Bajaj Majesty 50 Liter one.
So do you really need such a big oven? Depends really. If you plan to roast a full chicken or maybe even a turkey or make some pork shoulder, then yes. Otherwise you can suffice with something smaller. You can get yourself the Bajaj Majesty 22 liter oven. This is perfect even if you want to bake Keto cakes or pizzas.
Now when it comes to baking things there are a couple of other items I would recommend buying along with your oven. I would recommend a silpat which is great to use when making items like cauliflower pizza. It saves you the trouble of using baking paper or parchment paper. A good set of oven mitts will prevent you from burning your hands. My roasting tray with the wire rack is one of my most prized possessions but I bought that in the UK. However you can order the Chef Direct roasting pan if you live in India, sadly no wire rack with it.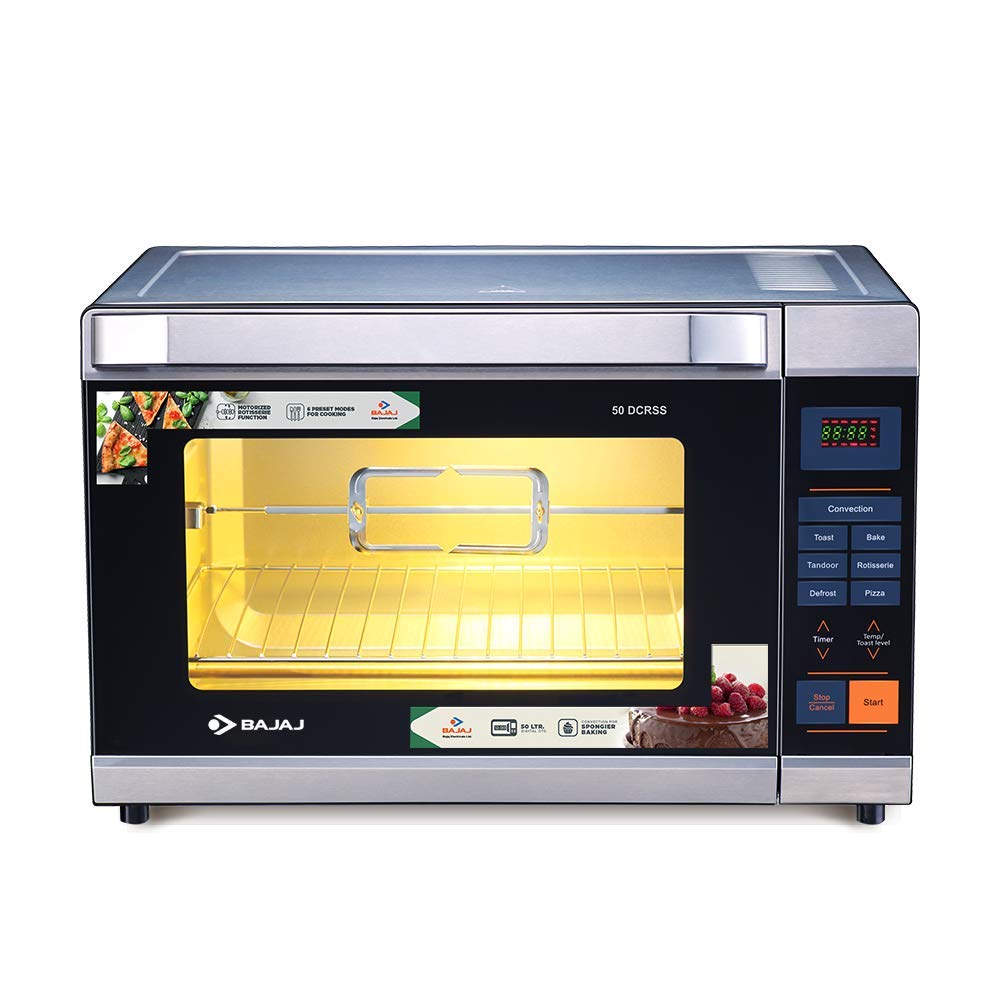 Blenders & Mixers
Food Processor – After my coffee maker this would be my most prized appliance because I use it for everything! Whether it's making my cauliflower rice or mincing meat for my chicken nuggets this bad boy does it all. I'm using the Phillips Daily Collection HR7629 machine. I don't think there are any cheaper options for this. Honestly I would not skimp here because this is worth the price.
Nutri Bullet – This is kind of like a juicer, mixer and grinder. It's not the same as a food processor. For example, I would puree my berries for my berry swirl cheesecake in this gadget not in my food processor. I would make my strawberry and mint smoothie in this. You get the idea.  I was using a the Wonderchef Nutri Blend and it's lasted me for a long time. However I recently upgraded to the actual Nutri Bullet which is available in India finally and again it's one of those items that costs more here but it's worth the price.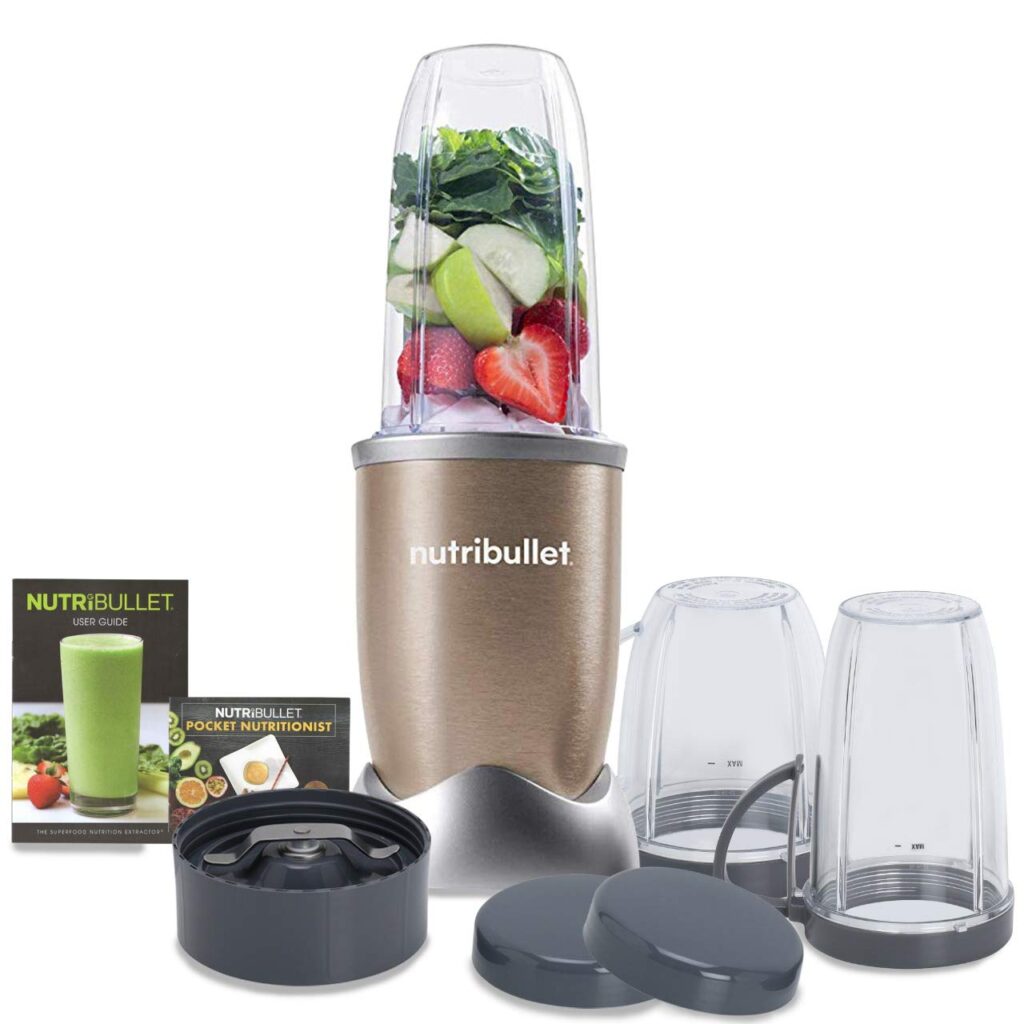 Electric Hand Mixer – The whisk is very commonly used in baking. The simple manual one is fine when it's just whisking ingredients together for a mug bread or mug cake. But when you have to whip egg whites to stuff peaks for say my Eton mess recipe, then it's a problem. It's not that you can't whisk by hand. The problem is it will take a lot more time and a lot more energy. I've had mine for over 30 years and it's from the USA. You won't find it anywhere now. Since I generally trust Philips products I recommend their Electric Whisk.
So that list pretty much covers all the kitchen tools I use for my cooking. If there are particular items you are curious about or want to know about more kitchen gadgets I recommend then let me know in the comments below. I will keep updating this list and adding more things in depending on your feedback.
Meat Grinder – Ground meat is a staple on Keto. It doesn't matter if it's chicken or beef or pork. There are so many dishes you can make like my Keto Thai Basil Chicken or my Ground beef and broccoli stir fry. And most of the time I will buy pre-ground meat from the butcher or supermarket. However unlike in the west Indian meat sellers largely sell LEAN ground meat. Whether it's beef, chicken or pork. Most of it has a low fat % which is why sometimes I like to grind my own meat. I do this mostly with beef/buff which is super lean. I get a fatty cut and I grind it myself. For this purpose I use my Orbit Meat Grinder which is no longer available on Amazon. However I did some research and here are a few that I recommend.
I found the Andrew James meat grinder which costs a bit more than the Orbit but looks similar and seems to be well built. If you don't plan to grind more than 100-250g at a time for making small portions of things you can always opt for a hand operated one like the Kai Mincer but it's gonna take some elbow grease. Of course if money isn't a problem and you don't mind spending a bit more because you will really grind meat regularly then I'd suggest something like the PMH Electric Meat Grinder. Otherwise your best bet is making friends with your butcher and asking them to do a custom grind for you.
Coffee Machines & Others
Coffee Machine – The machine I used to use was the  Tecnora EPIC TCM 801A. I had an older model of theirs and they gave me a good offer on exchanging it for this one so I took them up on it. Now I really love my coffee. Some people like buying fancy phones, TVs, music systems, cars, motorbikes etc but I like to invest in good coffee and for that I need a good coffee maker. So I don't mind spending a few extra bucks on it.
In fact as of 2021 my wife Deepti got me a new machine for our anniversary. Now this is a REALLY expensive coffee machine I won't lie but it's totally worth it. Of course in India everything is more expensive because of taxes and duty so if you can have a friend/relative travel and bring it for you from abroad that's great. The machine we have is the Delonghi Magnificas Cappuccino.  I mean this machine is just magic. The best part is that it has an inbuilt grinder so you can use beans or powder. If you love milky drinks it's got a super milk attachment to make epic Cappuccinos. It's a really great machine and worth the price tag.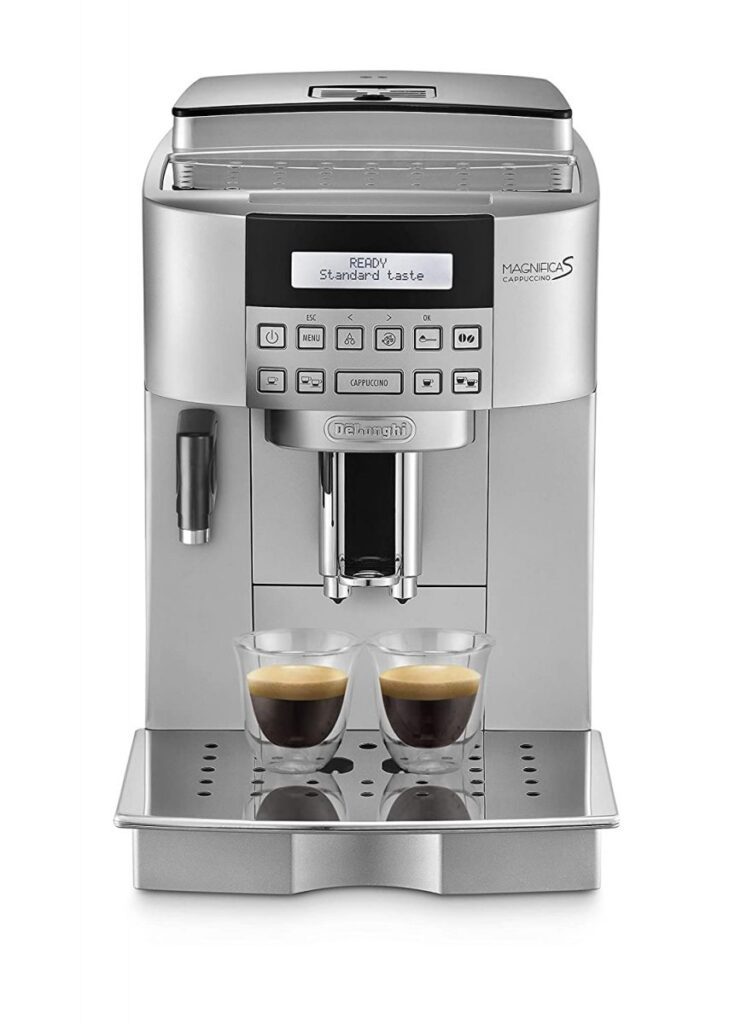 I realize though that maybe you don't have the same love as I do and hence want a cheaper machine. For that I recommend the Tecnora Cafe Gusto which is a cheaper/smaller version of what I used to have. I can vouch for the company and their service has been good over the years that I had the machine. Now before I got into drinking from an espresso machine and being all fancy about coffee, my first step was a simple filter machine. This is the most affordable machine and the coffee is great. It's the Philips HD7431/20 model.