Keto Berry Swirl Cheesecake
A celebration keto cheesecake
Every once in a while, life throws a celebration our way, even when you're on keto (particularly when you're on keto?). And these are times when a keto recipe for a cookie or a fat bomb or even a mug cake is just not going to cut it. I mean, imagine eating a single mug cake on your birthday! That's the stuff of sad movies about single people! When life demands a robust celebration, you need a robust cake and this one, my friends, is the robustest and tastiest of them all. This is the keto cheesecake to end all keto cheesecakes. This dreamy dessert has alternating layers of lemon and berry cream cheese and mascarpone, sitting on a nutty, buttery almond flour crust. It's sweet and tangy and creamy and dreamy and you need to stop reading and make this right now!
Make a better berry cheesecake
Does that mean this cheesecake is not good enough? Good grief, no! This is possibly the best dessert I've made on keto. But, we did cut a few corners to make it easier for viewers to follow. See the cracks in the keto berry cheesecake? That's because we didn't use a water bath to bake it in. If you have the time and the patience, wrap the springform pan in two layers of foil and immerse in a larger pan with hot water in it. When you cook a cheesecake in a water bath, it cooks slower and better and doesn't crack. Of course, that's just for aesthetic purposes. What is not – and this is a tip our very helpful viewers gave us – is adding a pinch of cinnamon to the crust. The cinnamon apparently makes the crust taste exactly like graham crackers (something we've never eaten here in India) which just takes it that much closer to a regular cheesecake.
I know I say this about a lot of recipes, but guys, you HAVE TO make this keto berry cheesecake. It's life altering, and makes keto just that much sweeter. Say cheese!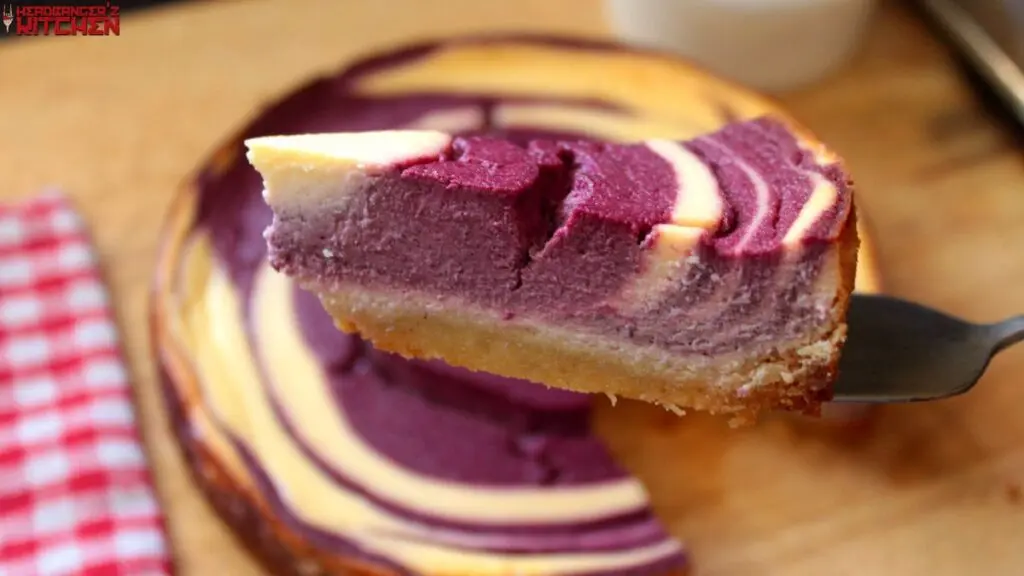 Nutrition Info (Per serving)
Calories: 301
Net Carbs: 5g
Carbs: 8g
Fat: 28g
Protein: 7g
Fiber: 3g
This recipe makes 8 servings. 1 Serving = 1 slice. Cut the cake into 8 equal pieces. Get this recipe on myfitnesspal.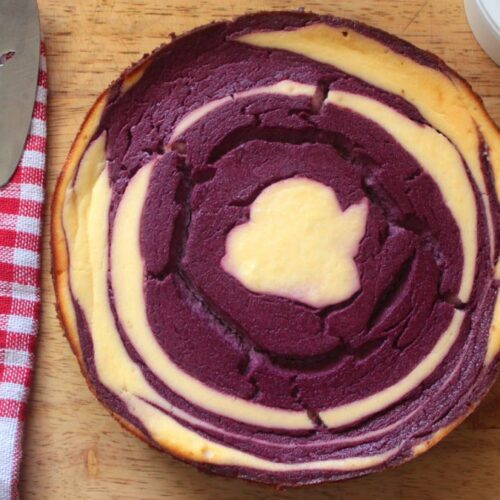 Keto Berry Swirl Cheesecake
Ingredients
For the puree
200

grams

fresh berries or thawed frozen berries

(Any berries you like, but blackberries have the least carbs)

1/2

tbsp

sweetener or to taste

I recommend this one

a pinch of salt
For the filling
226

grams

cream cheese at room temperature

I use this

200

grams

mascarpone at room temperature

2

eggs at room temperature

Juice of one lemon/lime

Sweetener of choice to taste

Taste the batter as you go along for desired sweetness

1/2

Tsp

Vanilla Extract

I recommend this one
Instructions
Throw the berries into a blender and puree as finely as possible. Pass it through a sieve to get rid of all the seeds, then put it in a sauce pan on a low flame. Add the sweetener, and allow the mixture to reduce until it's a thick, jammy consistency. Put aside to cool.

Preheat the oven to 175 C/350 F. Line an 8 inch cake tin with parchment paper and grease thoroughly with butter. In a bowl, add the almond flour, sweetener and salt and give it all a goooooood mix. Stir the melted butter into the flour and mix till it comes together like dough. Press the almond flour mix into the cake tin and level it using your fingers, or a spoon, or, anything, really. Bake the base for 10 minutes, then take it out and leave it to cool.

Turn the oven down to 160 C/325 F. In the meantime, make the filling. It's important to have all the filling ingredients at room temperature to minimise the chance of the cheesecake cracking later. Add the cream cheese and mascarpone to a bowl, along with the sweetener. Whisk it all together until it's smooth and lump free. Be careful not to whisk it too much, or it will crack later. Add the lemon juice and whisk until just combined. Add the eggs one at a time, and again, whisk until it's just incorporated. Add the vanilla, whisk, and taste test to make sure the sweetness is fine.

Divide the cheesecake filling into two parts. Stir the berry puree into one part. Then, alternating the two, spoon one ladle of the vanilla mix, then one of the berry. Do this until you've used up both batters. Shake very lightly to level, then bake for 35 to 40 minutes, or until the sides are set but the center still has a bit of a jiggle. Leave it to cool to room temperature on a rack, then chill it in the fridge for at least four hours.