Keto Almond Flour Chocolate Cake
Keto Chocolate Cake
Welcome to our first dessert week on Headbanger's Kitchen. We're doing 3 awesome dessert recipes this week devised by my wife Deepti. For today's recipe she's taken inspiration from Nigella Lawson's Olive Oil and Almond Flour cake and made a great Keto almond flour chocolate cake. You might think that olive oil in a cake doesn't seem like the right combo, but trust me it is. Hope you enjoy the recipe.
More Keto Dessert Recipes
If you are looking for more Keto cakes, I've got an incredible Keto flourless chocolate cake. Or If you like cheesecakes then I have a Keto lemon cheesecake and also a berry swirl cheesecake.  If you want something a little fancier then try my Keto tiramisu.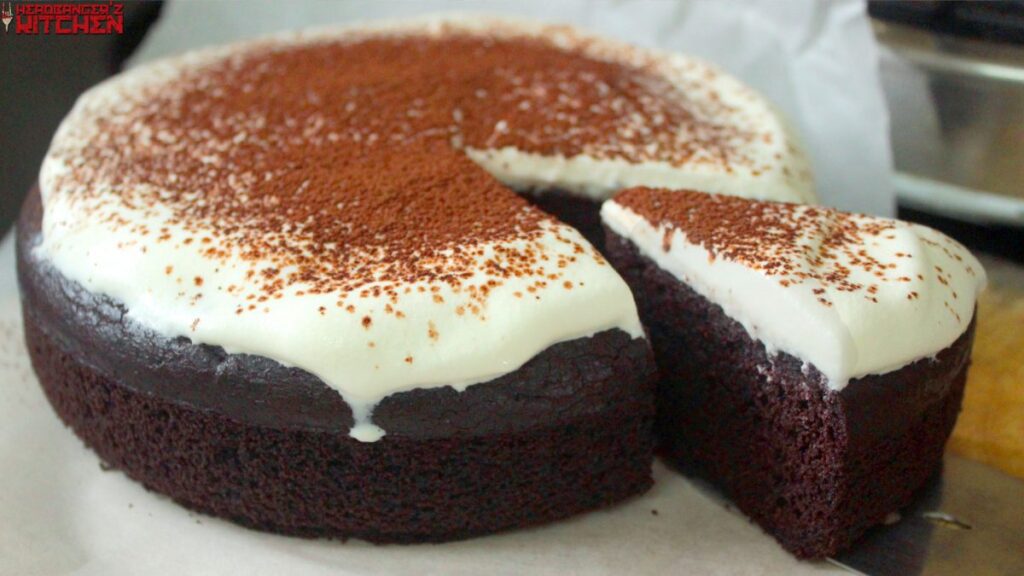 Nutrition Info (Per serving)
Calories: 323
Net Carbs: 3g
Carbs: 7g
Fat: 31g
Protein: 8g
Fiber: 4g
This recipe makes 8 servings. Cut the cake into 8 equal slices. Get this recipe on myfitnesspal.
Keto Almond Flour Chocolate Cake
A decadent low carb chocolate cake made with almond flour.
Instructions
Preheat your oven to 170°C or 325ºF. Grease an 8 inch springform pan with a little oil and line the base with baking parchment.

Measure out the cocoa and whisk it into the boiling water until you have a smooth chocolate paste. Add in the vanilla extract, mix and set aside to cool.

In another bowl, combine the almond flour, baking soda and salt well.

Using an electric whisk, or a stand mixer, whisk together the olive oil, eggs and sweetener for about three minutes, until it becomes pale and frothy. Add in the cocoa mixture and whisk until well blended. Slowly tip in the almond flour and mix until everything is combined.

Pour into the cake tin and bake for about 30 minutes. You don't want to overbake this cake, because it can become dry and crumbly, so start testing it at the 25 minute mark—a toothpick inserted into the centre should come out mostly clean but with a few crumbs attached.

Let it cool for about 10 minutes, then eat it while it's still warm, or let it cool all the way through and serve topped with some sweetened whipped cream.