Winner winner keto pizza dinner
Guys, it's been a long road to here but I think I've finally nailed it – the ultimate low carb pizza crust recipe. We played around with cauliflower and made a cauliflower pizza crust, then one-upped it with a delicious no-carb chicken pizza crust, but this time I've struck gold. This fathead pizza dough rolls out super thin, crisps  up beautifully and is the perfect vehicle for all manner of toppings. One tip though – eat it HOT.
So the fathead crust clocks in at 14 carbs per pizza, which is 8 net carbs. And trust me, if your appetite is anything like mine, you'll struggle to eat more than half a pizza in one sitting. From all the crusts I've tried, this would be the one that comes closest to a real pizza. It's main components – almond flour and cheese – both give it some structure and bite. It really is like a crisp, thin crust pizza.
Tips for the perfect fathead crust
A couple of things to keep in mind when making this. Always let the cheese cool a bit before you add the egg into it, lest you end up with a scrambled egg in the process. Two, always eat this straight out of the oven – it keeps well but it's definitely best eaten immediately. And three, if you are a 'pure-vegetarian', you can make this without the egg. Finally, the thinner you roll it out, the 'crisper' you can get it. It's also a good idea to use parchment paper on both sides if you're using a rolling pin. Otherwise you can always just wet your hands to prevent sticking and press out the dough into the desired shape.
Fathead pizza toppings
When it comes to toppings, the world is your oyster. You can use the standard keto marinara sauce, or you can go even lower carb and use my keto basil pesto. I personally love toppings like pepperoni, ham, mushrooms and red onions. Those would be my favourites, but you can add pretty much anything to it. Just… not pineapple.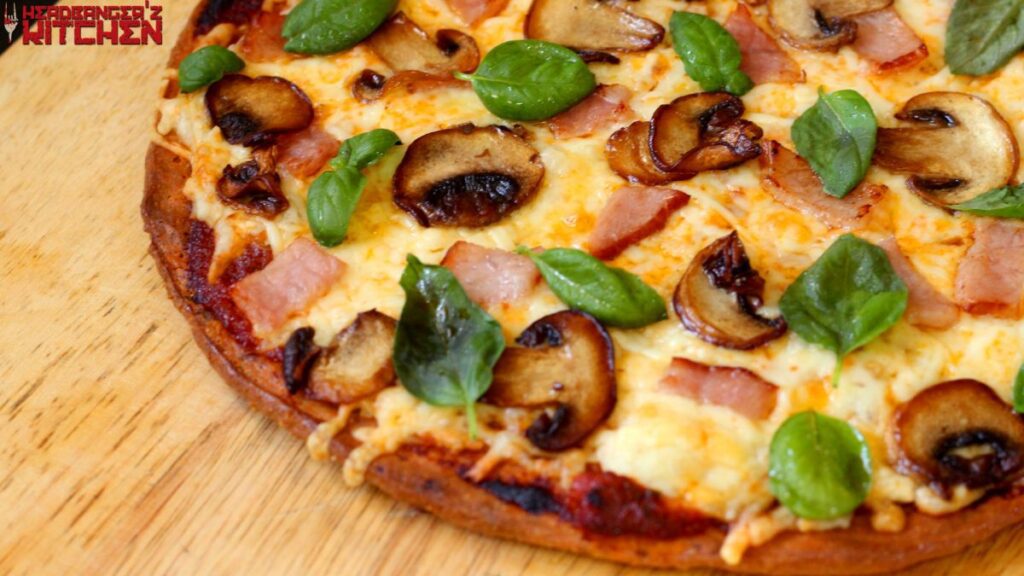 Nutrition Info (Crust Only)
Calories: 705
Net Carbs: 9g
Carbs: 15g
Fat: 57g
Protein: 38g
Fiber: 5g
The macros are for just the crust. It's unlikely that you will eat the whole pizza, count 1/2 a pizza as 1 serving. Get this recipe on myfitnesspal.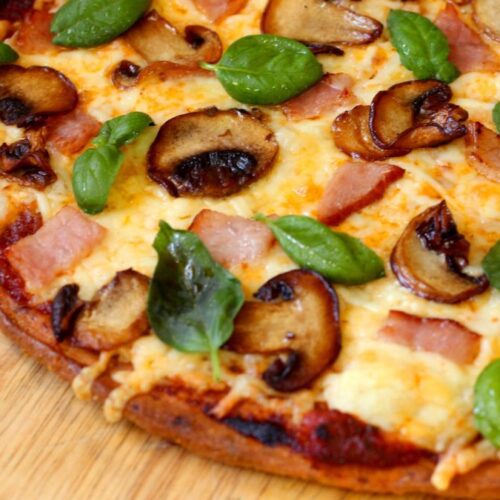 Keto Fathead Pizza Recipe
This is it, the ultimate low carb pizza
Instructions
Add the shredded mozzarella and cream cheese to a bowl and microwave for 1 minute.

Mix well, and add in the salt, seasoning and almond flour.

Mix everything well together and microwave again for 30 seconds

Let it cool very slightly, then add in the egg

Mix well and set aside for 5 minutes

Roll out the dough between two sheets of parchment paper. You can also just wet your hands and press the dough out into a circle.

Move it to the baking tray and bake at 200C (390F) for 15 minutes

Once baked, remove from the oven and flip the base over.

Top with sauce and favourite toppings and return to the oven on the broiler setting till the cheese melts

Slice and serve
Notes
Eat it hot! It tastes best when it's just out the oven.
Before adding the egg, make sure the cheese is cool enough to touch. Too hot and you'll end up with scrambled eggs.
The thinner you roll it out, the crisper the crust will be.
If you don't eat egg you can just skip it in the dough.