Easy Keto Cooking!
It's easy cooking week on Headbanger's Kitchen where we are making dishes with 5 ingredients or less (not counting salt, pepper and oil). We kicked off the series with an easy to make Keto kale chips recipe and today we're making Keto Chicken Nuggets. Nuggets themselves aren't really an issue, it's always the batter/coating that makes them not keto friendly. I've discovered through my Keto fried chicken and my chicken Farcha recipe two good breading ideas. For this recipe I reversed what I did for the chicken Farcha which was husk and then egg over. This time I'm dipping in the egg first and then the husk. This gives it a crispy exterior and a less of an egg-terior. These come quite close to your favourite fast food nuggets. I used Old Bay seasoning because I wanted to keep it simple and under 5 ingredients. So enjoy!
Oil for Deep Frying & Seasonings
I personally think even on Keto it always makes sense to save the deep fried foods for the weekend or special occasions. I used olive oil for frying in this recipe but you can use anything from coconut oil to ghee to bacon fat to lard, really depends on what is available to you. Honestly if your frequency of eating deep fried foods is once in a month or something you can even do it in a cheap vegetable oil. It's not ideal but it won't kill you. I don't know for sure what fast food companies use to season their nuggets but it seems like a pretty basic seasoning probably using salt, pepper, garlic powder, onion powder (maybe) and perhaps some dried herbs. I thought Old Bay was a good all in 1 seasoning to keep the recipe simple. You can go to town with how you season these nuggets. So have fun with the recipe and share your seasoning mixes and ideas in the comments below.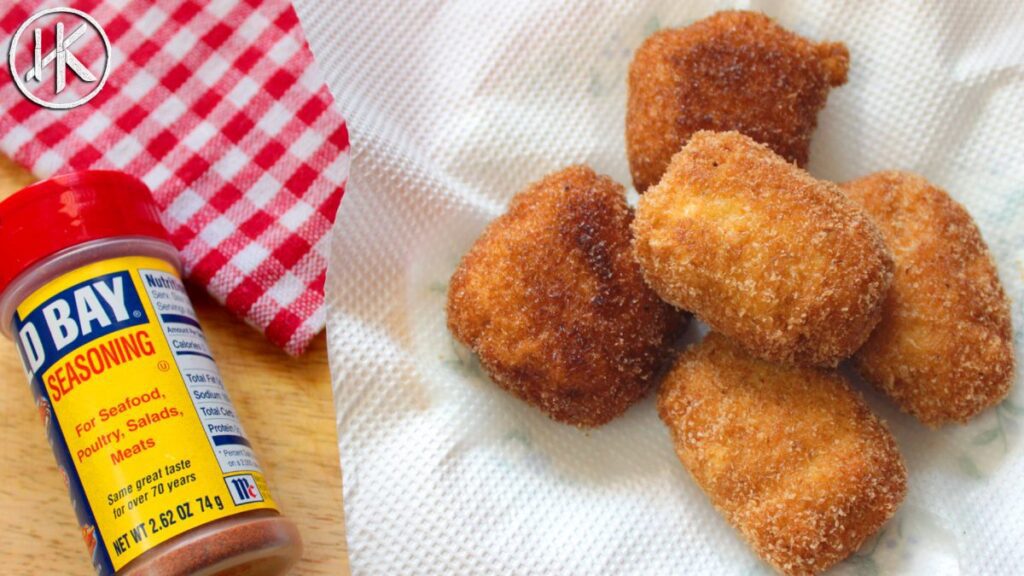 Macro Information
So in my macro calculation I've actually not added the psyllium because it's impossible to judge how much gets on each nugget and since it's fiber only I've left it out. Also when it comes to deep frying it's hard to tell how much oil is absorbed while cooking and how much soaks into the paper towel. So it's kind of hard to estimate how much you consume. I've just added 1 tablespoon across the entire recipe as a ball park figure.  This recipe is protein heavy because it's chicken breast and that's all. I would recommend making some kind of fatty dipping sauce for the nuggets or pairing it with something like a vegetarian salad or soup to balance the protein to fat ratio in your meal. Alternatively just pop in a fat bomb along with this to have a good balance of fat to protein.
Nutrition Info (Per serving)
Calories: 58
Net Carbs: 0g
Carbs: 0g
Fat: 3g
Protein: 8g
Fiber: 0g
This recipe makes 8 servings. Get this recipe on myfitnesspal. 1 serving = 1 chicken nugget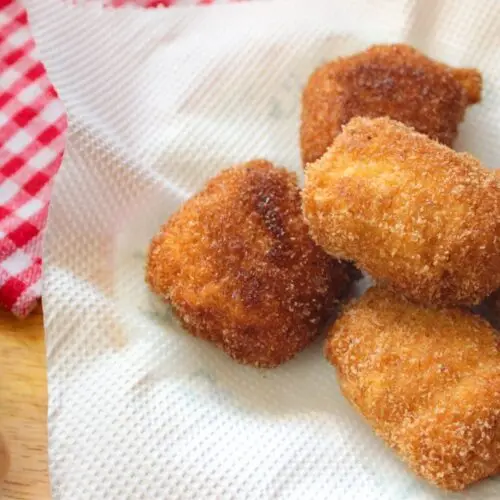 Keto Chicken Nuggets
Fast food style chicken nuggets.
Ingredients
250

grams

Skinless Boneless Chicken Breast

1

Tsp

Old Bay Seasoning

Order it here

Salt & Pepper to taste

1

Egg

Psyillium Husk

I use this

Olive oil for frying

You can use any cooking fat of your choice
Instructions
Blend the chicken breasts, salt, pepper and old bay seasoning in the food processor to get a nice fine chicken mince

With wet hands shape the chicken nuggets and set in the fridge for about 15 minutes to firm up. You can alternatively free them too.

Beat the egg lightly with some salt.

Coat the nugget in the egg first and then the husk and then deep fry in olive oil or any cooking fat of your choice

Serve