Is peanut butter Keto friendly?
Peanuts have been a controversial food when it comes to Keto. There are many who say a firm no, some who say maybe if you count your macros and there are some who say yes without a care in the world. I even did a Keto 101 video where I put forward my views on this.  The short version is, yes you can, in moderation and as long as you count your macros. Which means peanut butter is on the table. Most store bought peanut butter though has some amount of added sugar, so it's best to make this at home. It's very quick and extremely easy. Best of all it takes 10 minutes to make. So go on and try our recipe!
What brand of peanut butter is best for Keto?
Lets talk a little bit about peanut butter shall we? Let's be clear, Keto-friendly or not, it's a high calorie food. A serving of peanut butter which is generally 2 tablespoons or 32g is about 188 calories. That is a pretty calorie dense food. Almond butter and other nut butters have similar calorie values. Having said that since you're mostly skipping the toast at breakfast it's not such a big deal but remember Keto bread is also quite calorie dense. So that keep in mind.
Now why is the brand of peanut butter important on a low carb or keto diet? Well that's because most store bought stuff had tons of added sugar. Which is why it's important to check the ingredient list and the labels. You want to look for natural peanut butter when you go to the store. One that has peanuts and nothing else. That's the one which will be a Keto peanut butter.
One brand that people often ask about is Skippy. It's the OG classic peanut butter I think. And while I don't think they've jumped onto the ketogenic diet bandwagon and released a product for it there are TONS of brands new making the spread with just peanuts. Brands that are free of palm oil, hydrogenated vegetable oils and sugar. So you shouldn't have trouble finding one. But, nothing beats homemade if you got time and a blender.
Open the world of peanut butter goodies
If you are someone who grew up eating the sugar filled and sweetened peanut butter you can easily achieve those tastes and still remain in ketosis. You can sweeten this home-made peanut butter with monk fruit, erythritol and stevia.
What can I do with peanut butter apart from eating it as it is for a snack or spreading it on Keto bread? For starters, did you know that you can use it and make a perfectly keto friendly peanut butter bread? Have you beef craving waffles? Try my peanut butter waffles recipe. Need something sweeter and more dessert like? I've got a delicious chocolate peanut butter mug cake. So go ahead, enjoy!
I've even got a fat bomb recipe that's quite similar to a peanut butter cup.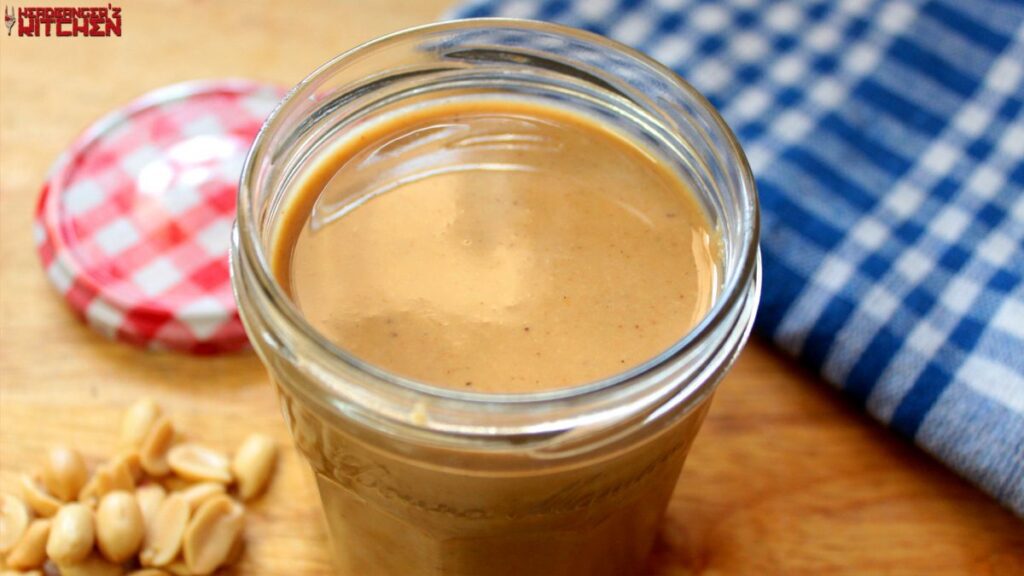 Nutrition Info (Per serving)
Calories: 105
Net Carbs: 2g
Carbs: 3g
Fat: 9g
Protein: 3g
Fiber: 1g
This recipe makes 17 servings. 1 Serving = about 15 grams (1 Tbsp). Get this recipe on myfitnesspal.
Keto Peanut Butter
Smooth, creamy and delicious peanut butter
Instructions
Blend everything together

Every few minutes scrape down the sides to ensure better consistency

Blend till a smooth butter is formed.

Store in the fridge for 2-3 weeks (or maybe even longer)