What is Keto ground beef?
Is it a casserole or is it a stir fry? It's Keto ground beef. When someone tells me they are making a stir fry I generally think of Asian flavours. If I hear casserole I'm thinking western comfort food. So where does that leave me? Because this dish has those lovely familiar flavours of western comfort food but it's using the Asian style stir fry way of cooking. I thought Keto ground beef just provided that neutral place where it works. Of course it's not just ground beef, we've got some lovely veggies in there too, broccoli and zucchini.
This is a simple and easy dish to make. It's perfect for meal prep because you can make a big batch of it and store it. In fact this was the lunch item of my Keto for Beginners series Episode 1.
What do I do with that broccoli stalk?
The beef can be substituted with any ground meat of choice. Chicken will do, so will crocodile. Any meat is OK! For the vegetables you can use Brussels sprouts, asparagus, spinach, mushrooms etc. Any Keto vegetables will be fine. If you want to keep this dairy free you can use coconut cream instead of the cheese and cream that I use it will be fine.
In the video I mention not to throw the broccoli stem. There are 3 uses for it. You can make my broccoli cheddar soup. You can cut the stalk into cubes and boil it and use it like a fake potato in my Keto poha recipe. And you can use it to thicken your sauces by boiling it and then blending it into a puree like I did in my Keto pot roast recipe. If you are vegetarian you can use cottage cheese instead of the beef. You can also used crumbled tofu.
Cheesy Ground Beef and Broccoli
When it comes to picking a cheap and affordable protein, ground beef has always been a winner. It's a great source of protein and if you buy a slightly fattier cut you don't need any additional fat to cook it.
If you got something like 80-20 or 70-30 ground meat just throw it in a dry pan. Turn on the heat and let that fat start to render out. A little of a salt and pepper will help bring out those juices. Once the moisture in the meat is cooked out it's time to add the other ingredients.
Now you can use anything to flavor this. Some garlic and onions thrown into the skillet with the beef will add to the taste. You can make it more Asian by using something like soy sauce and even add some fresh ginger. For those on Keto/low carb coconut aminos are a great alternative.
Finally once you cooked your beef with all your flavor ingredients then throw in your broccoli florets and cook till tender. If you aren't a fan of broccoli you can always throw the beef over some cauliflower rice in a bowl and enjoy it. You can also add other vegetables like red peppers, brussels sprouts, mushrooms, asparagus etc.
This is one to add to your collection of stir fry recipes. Simple and easy instructions to follow. Of course don't forget to add your cheese along with your broccoli. I always recommend cheddar cheese but you can use any cheese you like. Add some sour cream or cream cheese to give it some serious body. Another delicious meal.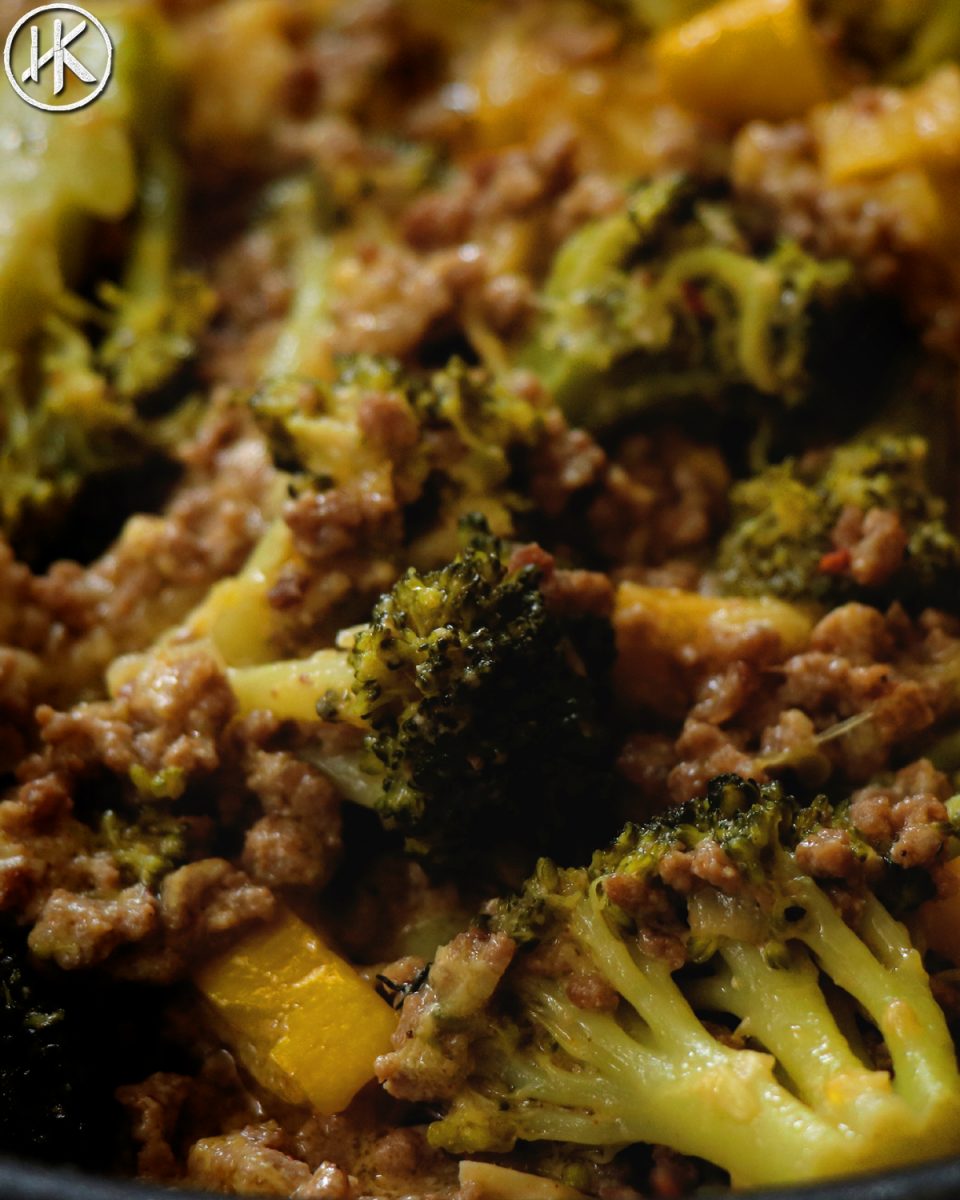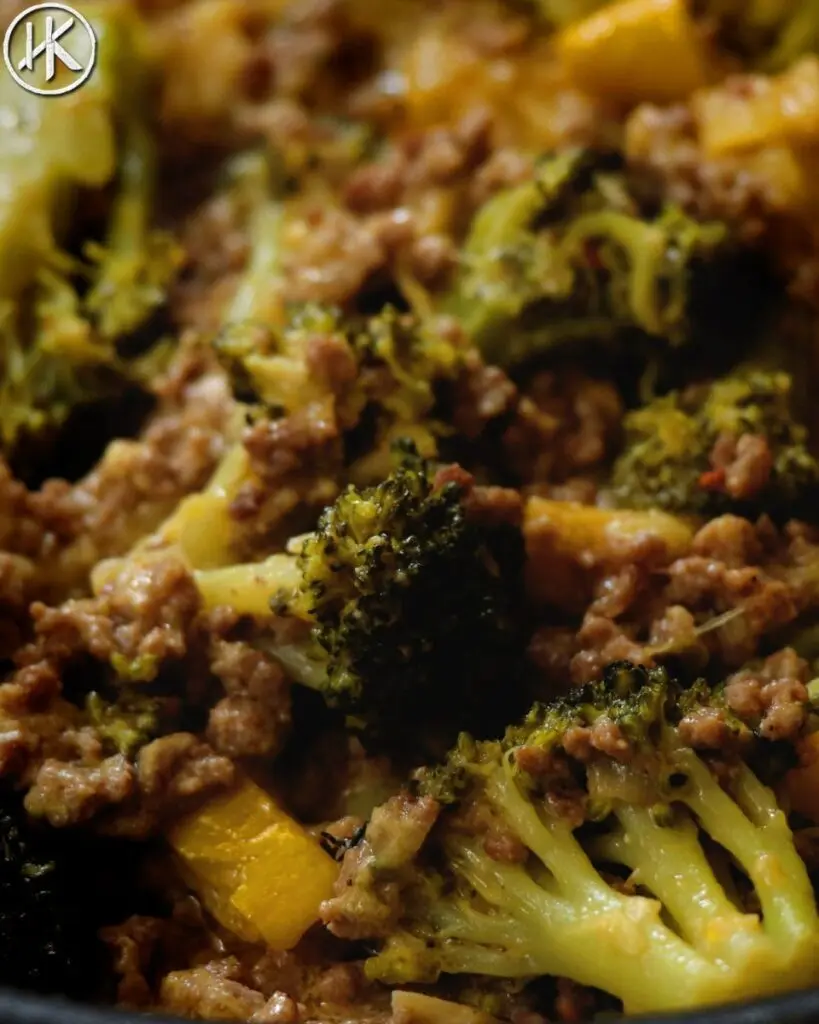 Nutrition Info (Per serving)
Calories: 482
Net Carbs: 7g
Carbs: 8g
Fat: 35g
Protein: 29g
Fiber: 1g
This recipe makes 4 servings. Get this recipe on myfitnesspal.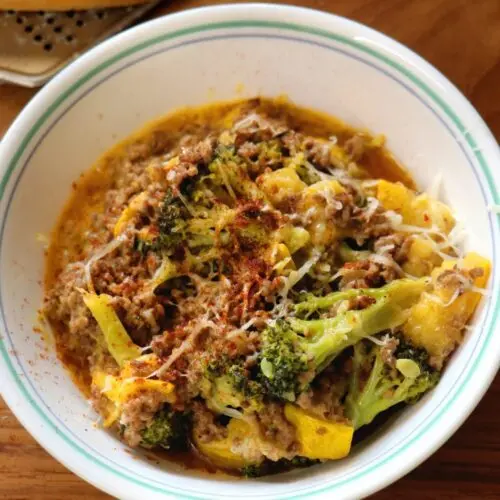 Keto Ground Beef
A simple and easy Keto ground beef recipe.
Ingredients
500

grams

Ground Beef

Try and get 80% lean and 20% fat

300

grams

Broccoli florets

You can use Frozen no problem

300

grams

zucchini

50

grams

Onion

Skip if you want less carbs

10

grams

garlic

Use powdered garlic for less carbs

1

Tsp

Paprika

I recommend this

1

Tsp

Red Chilli Flakes

1

Tsp

Fresh Thyme

You can also use dried thyme

50

grams

Cheddar Cheese

50

grams

Heavy Cream

I recommend this

50

grams

Cream Cheese

I recommend this

1

Tbsp

Avocado Oil

I recommend this

Salt & Pepper to taste
Instructions
Cut the broccoli florets from the stem and set them aside. Also chop the zucchini into small cubes or slices, however you like them.

Heat the avocado oil in a skillet or non stick pan and once smoking add in the ground beef. Season with some salt and pepper and then cook for a minute or two before adding in the onions and garlic.

Once the onions turn translucent and the garlic starts to brown add in the paprika, chilli flakes and thyme and give everything a good mix. Cook for a minute before adding the zucchini and the broccoli, season with salt and give it a good mix.

Cover and cook for 3-4 minutes and then grate the cheddar cheese over the mixture and add in the heavy cream and cover and cook for another few minutes till the cheese melts. Give everything a good mix and then if there is too much liquid in the pan cook till that reduces down.

Finally add in the cream cheese and mix everything well. Serve with some fresh parmesan grated on the top and a sprinkling of paprika. About 1 well filled bowl should be sufficient.