Flourless Keto Chocolate Cake
Where are all the keto desserts?
The most difficult part about being on the ketogenic diet for a lot of people is not being able to indulge their sweet tooth. While keto recipes are all over the internet, keto desserts are a bit harder to come by. This keto chocolate cake though is all the best parts of dessert with none of the guilt about cheating. It's rich, dark, intense… almost like a chocolate truffle. And it's super easy to make, with ingredients you're bound to have around the house. Welcome to our low carb dessert recipe: the Flourless Chocolate Cake.
The need for a keto chocolate cake
Sahil has an inveterate sweet tooth; you'll find him reaching for something sweet even before the last bite of food has gone down. So when we got on keto, and he couldn't have his post-meal piece of chocolate or half a cookie, you'd find him sitting in the corner with a hangdog face and sad puppy eyes. Something had to be done.
One of Sahil's favourite desserts is a flourless chocolate cake. It's dense and dark, much like a chocolate truffle in cake form. To make it keto friendly, I had to swap regular dark chocolate for Lindt 85%, the darkest I could go without making the cake too bitter. A splash of cream worked to temper the bitterness, but it also added more fat to the recipe, which made for an unstable chocolate mix where the butter, chocolate and yolks would separate. The solution? Mix, mix, mix with an electric beater until the fat and the chocolate emulsified into this thick dark ganache. Fold the egg whites in with the gentlest, gentlest hand. What you will have is a thick chocolate soufflé that rises while baking, then collapses a little bit, giving you a dense but airy keto chocolate cake. Could you ask for a better keto dessert?
You can check out our other Keto Dessert Recipes here for our Keto Chocolate Mug Cake and our Keto Cheesecake.
Cheers & Keep Cooking!

Nutrition Info (Per serving)
Calories: 301
Net Carbs: 6g
Carbs: 8g
Fat: 27g
Protein: 6g
Fiber: 2g
This recipe makes 8 servings.  Get this recipe on myfitnesspal.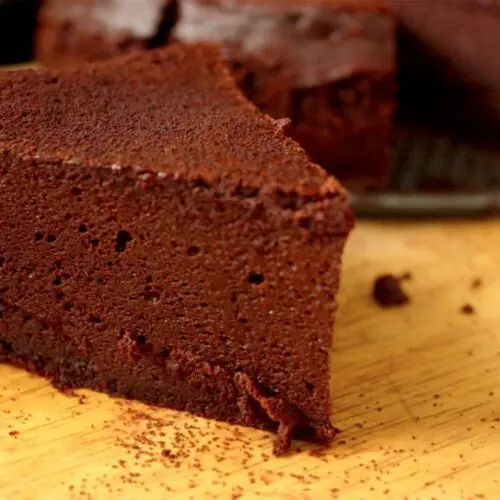 Low Carb Keto Dessert Recipes
A rich and delicious keto chocolate cake. Completely flourless.
Instructions
Butter an 8' cake tin

Break the chocolate into even pieces. Add the butter and microwave in short bursts till the chocolate is melted. You can also do this over a double boiler.

Add the cream and Truvia and mix thoroughly.

Add the egg yolks, one at a time, mixing until just combined.

Whisk the egg whites separately with a pinch of salt just until stiff peaks form (careful, do not over beat).

Fold the egg whites into the chocolate mixture in thirds gently until no white streaks remain.

Bake at 160 C (325 F) for about 45 minutes or until the rest of the cake is set but the centre just jiggles.

Bring to room temperature then chill for at least 4 hours before serving. This also freezes really well.

Note: Don't worry if the chocolate mix looks like it's splitting when you add the cream, just continue to whisk it for a few more minutes and it will emulsify into this shiny, rich ganache.
Notes
Tips to Keep in Mind While Making the Keto Chocolate Cake
You can use Bakers Chocolate , but do taste and adjust the sweetener accordingly, so your cake doesn't become too bitter
Don't fret if the butter separates from the chocolate when you add the egg yolks! Use an electric whisk and mix for a good five to seven minutes until it comes together like a thick batter.
If you're really worried about it not emulsifying, just leave out the cream. You can whip it separately and top the cake with it.
The keto chocolate cake will rise and deflate a bit after you take it out of the oven; this is perfectly normal.
Use a spatula to fold the egg whites in and don't beat it in with the whisk, as this will deflate the cake.
For a chocolate-orange cake, add a bit of unsweetened orange extract or the zest of one orange into the chocolate mix before you fold in the egg whites.