Who Says You Can't Eat Pizza On Keto?
When I began my keto diet, like most people, I stuck to the very simple eggs, meat and cheese meals. But the weekends would bring pizza cravings, and two years ago, almond flour was not a staple in my pantry. When I began doing research, I discovered the cauliflower pizza crust, and that's what came to my rescue. It definitely didn't taste like bread, but it was so amazing to see that it held together like a real pizza. With a good keto marinara sauce and some nice toppings, I didn't miss the bread all that much.
One Cauliflower Pizza Crust. A World of Topping Possibilities.
As for the pizza toppings, I used what I had at the time, which was some salami and fresh basil. But there's a world of possibilities there. I'd love to get some sausage meat, mushrooms, bacon, olives, garlic, bell peppers… I could go on and on. I will say this though: the cauliflower pizza does require a bit of work, so it's not a bad idea to prepare your dough even a day in advance. You could also possibly freeze it, but I've never done that. It's mainly the ricing, cooking and squeezing the water from the cauliflower that takes some time. Once that is done, it's not a lot of work. Unfortunately there is no version of this that has worked for me without egg, so apologies to my 'pure veg' friends. Parchment paper is also your best friend in this recipe: grease it well with a bit of oil and the pizza will be easy to peel off it after it's cooked. Enjoy this low-carb cauliflower pizza recipe and tell us what your favourite toppings for this are!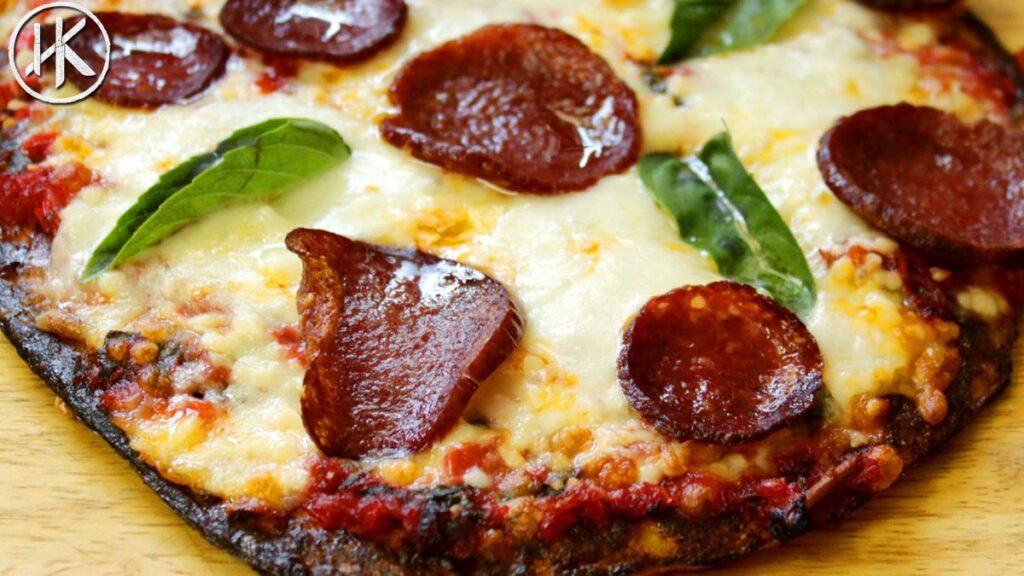 Nutrition Info (Crust only)
Calories: 301
Net Carbs: 8g
Carbs: 14g
Fat: 18g
Protein: 22g
Fiber: 6g
This recipe makes 1 pizza crust.  Get this recipe on myfitnesspal.
Keto Cauliflower Pizza
A low carb, keto, gluten free pizza made using cauliflower.
Ingredients
250

grams

Cauliflower

30

grams

Parmesan cheese

15

grams

Cream Cheese

1

Egg

2

Tbsp

Headbanger's Kitchen Marinara Sauce

Get the recipe here

50

grams

Pizza Cheese

30

grams

Salami
Instructions
Start with 1 head of cauliflower and separate the florets from the stems.

Blitz the florets in the food processor until it's the consistency of fine couscous – fine, but not mashed.

Cook the cauliflower in a dry pan for about 5-6 minutes on medium heat till it's cooked through.

Remove to a dry cloth or tea towel and squeeze out all the excess moisture. Squeeze well!

In a bowl mix the squeeze-dried cauliflower with salt, pepper, cream cheese, parmesan cheese and one egg.

On a baking tray lined with parchment paper, place and shape out your cauliflower dough.

Bake for 20 minutes in the oven at 190C (374F)

Remove from the oven, flip over and layer with sauce, cheese and toppings of choice.

Bake till cheese is fully melted and you have a glorious keto cauliflower pizza.
Notes
Make sure you squeeze all the moisture out of the cauliflower. The wetter it is, the less likely it is to crisp up.
Oil the parchment paper well to prevent the base from sticking.