Keto Lemon & Poppy Seed Muffins
Keto Muffins
Today we're making Keto muffins and we're flavouring them with lemon juice and poppy seeds. These are great for those who are sick of having eggs for breakfast and are also great for anyone who needs breakfast on the go. I personally have never understood eating muffins for breakfast but I'm not one to judge. For me, half a muffin (or a full one) is a good dessert. It's also great for people who just need a handy snack lying around for when they get the munchies, most likely in the evening with their coffee.  These are pretty easy to make and are quite delicious.
I've always been fascinated with the classic lemon and poppy seed flavour combination. Both are ingredients we don't get in India (well we get lemons but they are imported and cost a small fortune). So on my recent UK visit I looked around for some but the closest I got was a rosemary and lemon cake along with a hamburger bun with poppy seeds. My wife decided to buy some poppy seeds and bring them back to India. So it was about time we used them. So here are my lemon and poppy seed muffins.
The Tips, tricks and replacements
Everytime I do a recipe with almond flour the first question I'm asked is 'Can I make this with coconut flour?'. Now I haven't personally made these with coconut flour but I figure that they can be made, perhaps using about 60 grams of coconut flour should work. The sour cream can be replaced by full fat green yogurt or cream cheese. When it comes to the sweetener, if you can find Sukrin Gold then you can use erythritol or stevia. I would recommend tasting the batter as you go along to gauge the sweetness.
Most Indian people are going to have a tough time finding poppy seeds so you can totally skip them. You can in fact replace it with a bit of rosemary. I know this works because I have had a lemon and rosemary cake in the UK and it was delicious. Lemons as well are pretty expensive in India (the big yellow ones) but I feel like you can use lime juice as well and it will work.  And even before anyone asks, you cannot make this without eggs.
I really enjoyed these muffins and they are great in flavour and while they do hold up, they are a wee bit crumbly. If you feel the same way, you can possibly add an extra egg and it might result in a slightly more 'sponge' like texture. Either way, let me know.
Nutrition Info (Per serving)
Calories: 226
Net Carbs: 3g
Carbs: 5g
Fat: 21g
Protein: 7g
Fiber: 2g
This recipe makes 8 servings. 1 serving = 1 muffin. Get this recipe on myfitnesspal.
Some other Keto sweet treats
Keto desserts seem to be the most popular recipes of the lot and it's no surprise. If you've got a love for cake then try my Keto flourless chocolate cake or my Keto almond flour cake.  Got no time to bake a full cake? Then try some of my mug cakes, I have one with peanut butter, coconut flour and almond flour. Try them. We've also got cheesecake, chocolate mousse, tiramisu, panna cotta and the list goes on. Enjoy!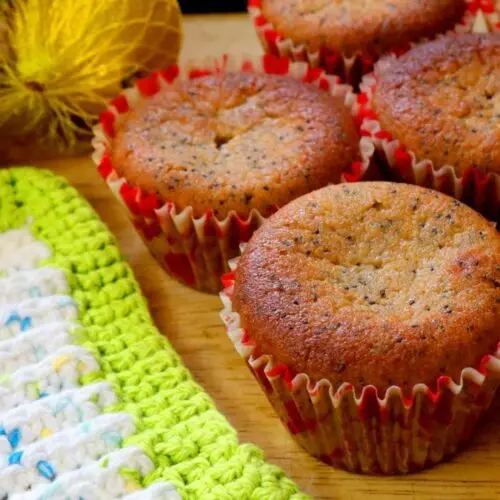 Lemon & Poppy Seed Muffins
A delicious Keto friendly muffin that can be a dessert, breakfast or just a snack.
Instructions
Mix the almond flour, poppy seeds, baking powder, salt and the zest of a lemon in a bowl and mix together with a fork.

In another bowl cream together the butter and sweetener. Avoid using a granulated sweetener (unless you are not on Keto and using sugar) but otherwise they are hard to dissolve and it's better to powder them.

Then add the sour cream to the butter and sweetener mixture and whisk together.

Then add in the vanilla, eggs and lemon juice and whisk in together. Don't be alarmed if the mixture looks a bit curdled or split, this is normal.

Finally add in the dry ingredients to the wet and whisk till you get a nice smooth batter.

Pour the batter into cupcake/muffin liners and then bake for about 25-30minutes at 175C. Don't forget to preheat your oven.

Once ready, let them cool for 20 minutes at least before digging in.