The perfect Keto side dish
These Keto green beans are a great side dish. Veggies cooked in butter are always a winner in more ways than one. Not only do they taste exceptional they also hit those fat macros. Green beans are one of the best vegetables to eat on Keto. Clocking in at just around 4g net carbs per 100g they work great. If you are a meat eater they make a great side dish, if you are vegetarian then have them as a snack or even as part of a main course. The possibilities are endless.
This is my favourite way to eat green beans, cooked in loads of butter, garlic and some chicken stock. Of course if you are vegetarian then use vegetable stock. Happy cooking!
Are beans Keto?
Well if you are on the Keto diet I would tell you to avoid most beans. If you are doing low carb then you can consume them more freely. There are lots of different kinds of beans. We've got black beans, chickpea, pinto beans, kidney beans, black soybeans, navy beans and the list goes on. Now truth be told the carb count for each of these is different which means that some are keto-friendly and some are not. But the truth of beans is they are more carbs than protein as it's a common misconception that beans or legumes are high protein.
Most of the beans net between 12-25 grams of carbs per 100g of cooked produce. Which isn't much and can be eaten in moderation if you are counting your macros and logging and weighing you food. They probably won't kick you out of ketosis you are aware of how much you are eating. But if you are on a ketogenic diet and not really keeping a tab on how many grams of net carbs you are eating then it's best to skip them.
However green beans are super low in carbohydrates compared to most other beans so it's one of the beans you can eat without worrying.
Pair it with dishes!
What goes great with these green beans. I personally would love it on the side of something like my Keto bacon bomb. Even if I'm having some Keto pork ribs or my tandoori roast chicken these would go great with all of them.
If you want to make this dish vegan you can swap out the butter and cheese and just use some olive oil. You can also throw in some nuts like peanuts for a bit of crunch and texture.

Eat your green beans
Well the age old saying of eating your vegetable still holds true as green beans are extremely healthy. They are full of fiber which is an important nutrient. It generally helps with your gut and intestines and keeping things working smoothly. They also have lots of vitamins and minerals like vitamin K and calcium. But you get it right? Vegetables are good for you. Whether you are eating spinach or cauliflower or or mushrooms or green beans. Just eat them.
Nutrition Info (Per serving)
Calories: 172
Net Carbs: 3g
Carbs: 5g
Fat: 15g
Protein: 4g
Fiber: 2g
This recipe makes 3 servings. Get this recipe on myfitnesspal.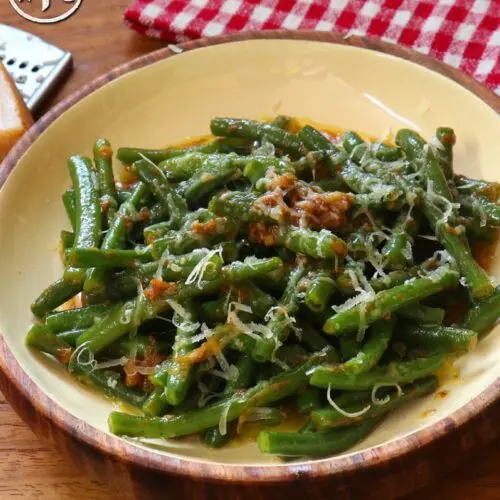 Keto Green Beans
A delicious Keto side dish.
Ingredients
150

grams

Green Beans

10

grams

garlic

45

grams

Salted Butter

I use this

50

ml

Chicken stock

For the final dish

Salt & Pepper

30

grams

Parmesan cheese
Instructions
Cook the green beans till tender with still a little snap to them. You can either boil in salted water or chicken stock for 4-5 minutes or microwave with a splash of water and salt for about 3-4 minutes.

Heat the butter in a pan on a medium heat and as it starts melting add in the garlic and mix well and let the flavours marry.

Once the butter has melted and the garlic starts browning add in the beans and once the garlic turns brown add in the chicken stock.

Once the stock reduces by half add in half of the parmesan cheese and mix well. Once the sauce thickens up, remove from the heat.

Garnish with the remaining parmesan and serve alongside your fav Keto meal.