Say Hi To Ginger from Keto In The UK 
Before we get to the delicious Keto beef empanadas let's just say hello to Ginger who runs the Youtube channel Keto in the UK. As part of a little take over series I'm doing on my Youtube Channel Ginger is the brains behind this recipe. Yep, she took over my kitchen and she's decided to share this recipe with us. It's a very simple recipe to make and I hope you enjoy making it yourself. Make sure you go and subscribe to her Youtube channel for awesome Keto content. Anyway go ahead and watch the video now.
Also make sure you follow her on Instagram, Facebook and you can even support her work on Patreon.
Recipe tips and substitutions
There are some very basic things you can substitute in this recipe to suit your pallet and also depending on what you have in your pantry. The cooking fat, while Ginger recommends beef tallow and I would too (for the flavour and goodness) you can use any Keto approved cooking fat. When it comes to the meat, can't find steak? Ground beef works just as well. Similarly chicken thights, ground chicken, pork etc will all work. Just remember that the cooking time will vary for all these meats.
I'd love to hear your recipes and versions of empanada fillings. Drop a comment below and let me know.

NUTRITIONAL VALUES (per empanada)
660kcal, 5.5g carbs, 52g fat, 43g protein. This recipe makes makes 4 empanadas.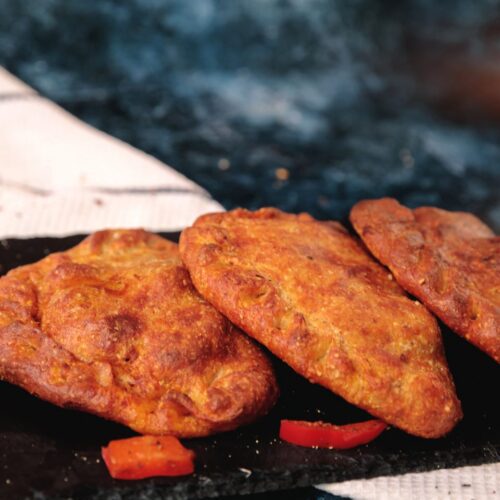 Keto Beef Empanadas
Ingredients
For the filling
500

grams

Diced Beef Steak

50

grams

Diced Shallots

100

grams

Red Bell Pepper

1/2

Tsp

Cayenne Pepper

1

Tbsp

Taco Seasoning

45

grams

Beef Tallow

Order online

100

grams

Tomato Passata

Pinch of Oregano

Salt to Taste
For the fathead dough
250

grams

Low Moisture Mozzarella Grated

Order online

125

grams

Almond Flour

Order online

2

Eggs

1/2

Tsp

Baking Powder

Salt & Pepper to taste
Instructions
Melt The Beef Dripping in a large frying pan and then add your diced shallots and a pinch of salt and stir frequently until starting to turn translucent.

Next add the diced frying steak season with a pinch of salt and leave to sear on one side. Add 1tbs of taco mix or spice blend of your preference, 1/2tsp of cayennne and a pinch of oregano. Stir until steak is mostly cooked. Finally add 100ml of tomato passata and kill the heat, stirring to combine. Then set aside to cool.

Make fathead dough by putting 250g of mozzarella on the bottom of a microwaveable bowl and pour 125g of almond flour on top. Microwave in bursts of 30 seconds till the cheese has melted, add in 1tsp of baking powder and two eggs. Fold together with a rubber spatula until a cohesive dough is formed.

Cut the dough in 4 pieces and spread out into 4 8" rounds. Put a few tablespoons of filling in one half of each dough round fold over and crimp the bottom half over the top until sealed. Bake in preheated oven at 180C/350F for 15-20 minutes or until golden brown all over and that's it. DONE!