Making BLT for my Wife | The Ultimate Bacon Lettuce and Tomato Sandwich!
Horns up, and welcome back to another (very) quick recipe. On today's menu, we are going to make a delicious BLT sandwich assembled with love for my wife. Well, I did forget to hit record while assembling (Ah! embarrassing). 
But it's pretty straightforward. I'll explain! Even though there are multiple BLT recipes without tomatoes, I like to keep the true essence of a BLT alive. 
As you all know, both my wife and I are sandwich freaks. From Brisket Grilled Cheese to Inside Out Grilled Cheese, I've made it all! You can also find a few sandwich recipes in my Fat Loss Friday series. 
Now without further jibber jabber, let's make a simple sandwich that will brighten your lazy Sunday afternoon! 
What is a BLT Sandwich?
BLT = Bacon, Lettuce and Tomato. 
I am pretty sure everyone has heard of a BLT, as it's considered the "greatest sandwich in the world." My wife and I love all kinds of sandwiches, but this has a special place in our stomachs. 
Did you know that the combination of toast, bacon, and lettuce has been there since Roman times? The only modern twist was the addition of tomatoes! 
The salty bacon, the crispy lettuce, the juicy tomatoes dressed with delicious mayonnaise and bread. Ah, indeed, it's a classic for a very good reason. You can literally assemble this sandwich in less than 10 minutes. 
All you have to do is cook the bacon in its own fat, season the veggies, assemble the sandwich, and it's done! 
Did You Know that BLT is actually a Tomato Sandwich? 
Yes, you read that right! 
A BLT sandwich is more of a tomato sandwich rather than a bacon sandwich. It is basically a tomato sandwich that's seasoned nicely with crispy bacon strips. Yes, some do consider it to be a "well-dressed" bacon sandwich, but that's far from the truth. 
I am sure that's something you didn't know. Let me know in the comments. 
Bacon Fat Explosions? What's that? 
One tip I would like to give – Don't put water in the pan; let the bacon cook in its own fat! Yes, bacon fat explosions and bacon burns are real! Back in WW2, the US Army used bacon fat to build bombs. 
I know that sounds crazy. But it actually happens. So, if you put water in the pan, it will cancel out the fat. The juice will start sizzling, and BAM! it'll burn your skin. 
Be careful! 
The Process of Making a BLT | The HK Way!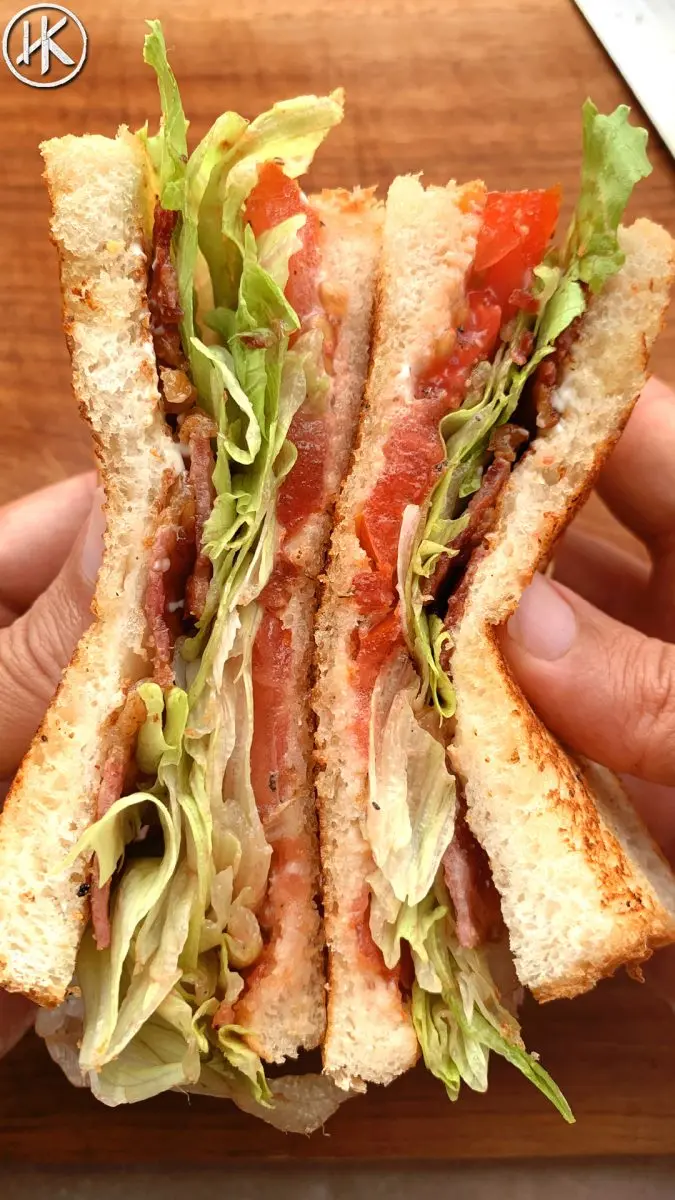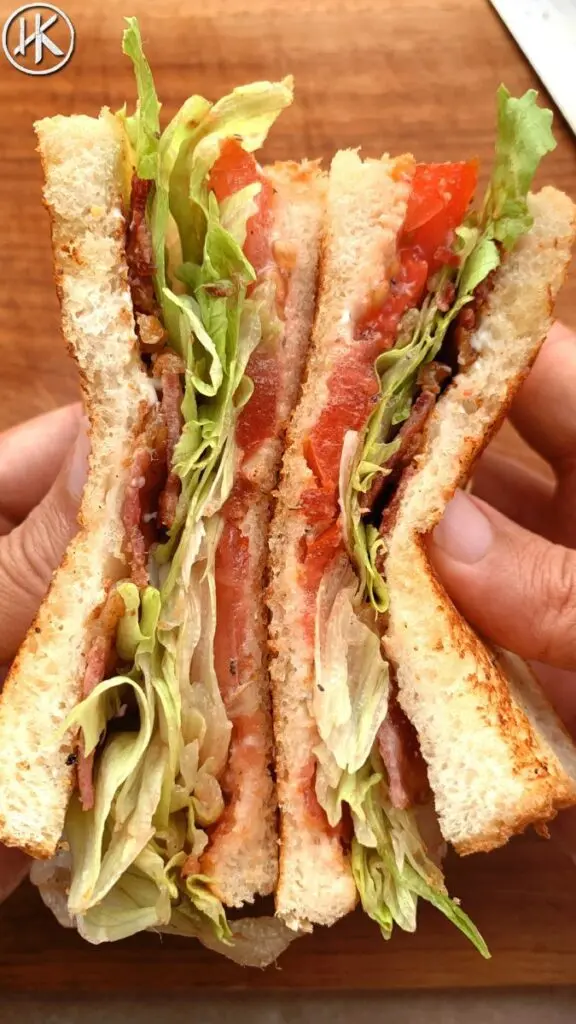 I made this sandwich for my wife as she was craving a BLT. It was not only quite easy to curate but also very delicious and juicy. She said "WOW" more than three times while devouring her portion. 
However, as mentioned earlier, I did end up NOT filming the assembling of the sandwich. But, anyway, I have explained that in this blog. 
Ideally, I cannot give you any alternatives to the ingredients used here. But you can surely add lower than low fat mayonnaise and use different types of lettuce in the recipe. The tomatoes I used were insanely fresh and tangy, as they were from a local hydroponic farm. 
Now, let's make this BLT sandwich. 
Making the Easiest BLT!
Here's a very easy and delicious BLT sandwich recipe. It's fresh, juicy, and healthy.
Ingredients
4

strips

bacon

2

slices

Bread

use any bread you like

Butter

as required

4

Tomato Slices

salt and pepper to taste

Mayonnaise

as required
Instructions
Start by putting your strips of bacon in a cold pan. Don't put any oil in the pan. Turn the heat on low-medium and the bacon fat will slowly start to render out and then the bacon will fry in it's own fat.

Let it fry on one side and then flip it when it starts to brown. Once it's nice and crispy, remove the bacon from the pan.

Get a paper towel to soak up the excess fat. Do not throw away that delicious oil. Drain it from the pan and keep it aside in a small bowl. You can cook your eggs in it later.

Take two slices of regular bread in the same pan. Let it toast slowly. Add some butter on the upside and then flip it over. Once it's nice and toasted, remove it.

Get some good tomatoes, and slice them up into rings. Season it with some salt and pepper. Now, it's time to assemble.

Now assembled you sandwich. Spread some mayonnaise on the bread. Then, layer the bacon, lettuce and tomato on top.

The sandwich is ready, you can simply cut it down the middle to make two pieces. Share or eat it yourself!