Silky sinful Italian dessert
There's seriously no easier Keto dessert than our Keto panna cotta. It takes less than five minutes to make (though it takes the utmost patience to wait for it to set), needs just three basic ingredients, is super versatile and is ridiculously low in carbs. Make our version, or put your own twist on this Italian dessert, but eat this creamy, delicious low-carb panna cotta today! Enjoy!
Get some more desserts!
We've got tons of Keto recipes on that website and that includes desserts too. So try our flourless Keto chocolate cake, or perhaps our Keto berry cheesecake for something fruitier. In fact let me know what your favourite dessert is in the comments below.
Nutrition Info (Per serving)
Calories: 204
Net Carbs: 3g
Carbs: 3g
Fat: 20g
Protein: 3g
Fiber: 0g
This recipe makes 3 serving. Get this recipe on myfitnesspal.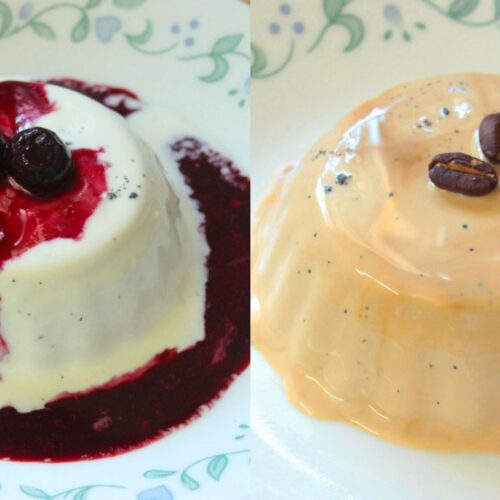 Keto Panna Cotta
A delicious keto dessert
Instructions
Add the gelatin to two tablespoon of water and set aside for five minutes to allow it to "bloom"

Pour the cream into a small saucepan and set it on low heat

Slit the vanilla pod lengthwise down the centre

Using the tip of the knife, scrape the seeds from the pod and add them to the cream.

Add the pod to the cream as well (If you're using vanilla extract, add it to the cream once you take it off the heat). Add in your sweetener of choice and stir till it dissolves.

Once the cream begins to just simmer, take it off the heat. Discard the vanilla pod, leaving just the seeds inside. Add the gelatin to the cream and mix well until it's completely dissolved.

Pour into moulds and leave to set in the fridge for at least 4 hours. (To make coffee panna cotta, add a teaspoon of instant coffee granules to each mould and stir it into the hot cream)

To unmould the panna cotta, dip the moulds briefly in a bowl of hot water, then upend it on a plate. Serve topped with mixed berries.