A heartwarming Chinese Chicken dish
This Chinese chicken congee is the perfect dish for a cold rainy day. It's also an incredible low calorie and high protein dish that can be eaten daily. I like to make my version with vegetables to make it a complete meal. The best part is that you can play around with the flavours and really create your own signature version.
If I'm being honest it's only recently that I really started eating it and learning more about it. I've often seen it at restaurant breakfast buffets on my travels but I generally stayed away from it heading mostly to the egg starting or something more meaty and substantial. But since I absolutely LOVE any kind of chicken and rice dish I also discovered how much I love this for a weekday lunch.
So give this recipe a go and let me know what you think.
Cooking without the Instant Pot
This recipe is pretty easy to make even without an instant pot. It's just a bit more time consuming. You want to make sure you have a heavy bottom saucepan with a lid. You dump all the ingredients into that and turn the heat on low and just cover it and cook for 60 minutes. You want to make sure you check it every 15 minutes. You might need to give it a stir so that the rice doesn't stick to the bottom of the pot.
The idea is to cook it low and slow till the meat is fall apart tender. You can fish that out once it's done and whisk the rice into the congee consistency and then just add back the shredded chicken. Like I said earlier the only thing is you have to keep an eye on it so none of it sticks to the bottom of your pan.
That's literally how easy it is to make without the instant pot.

Nutrition Info (Per serving)
Calories: 329
Carbs: 32g
Fat: 4g
Protein: 41g
Fiber: 1g
This recipe makes 3 servings.  Get this recipe on myfitnesspal. Now these are going to be 3 VERY LARGE servings because each serving will include one full leg of chicken. These macros do not include the sesame oil, soya sauce, fresh ginger and spring onions. Though honestly that might add another 20 calories at best mainly from the sesame oil.  The calories from the soya sauce, ginger and spring onion is probably under 10. These macros also do not include the frozen vegetables as you might purchase something different. So you can add that manually when you eat.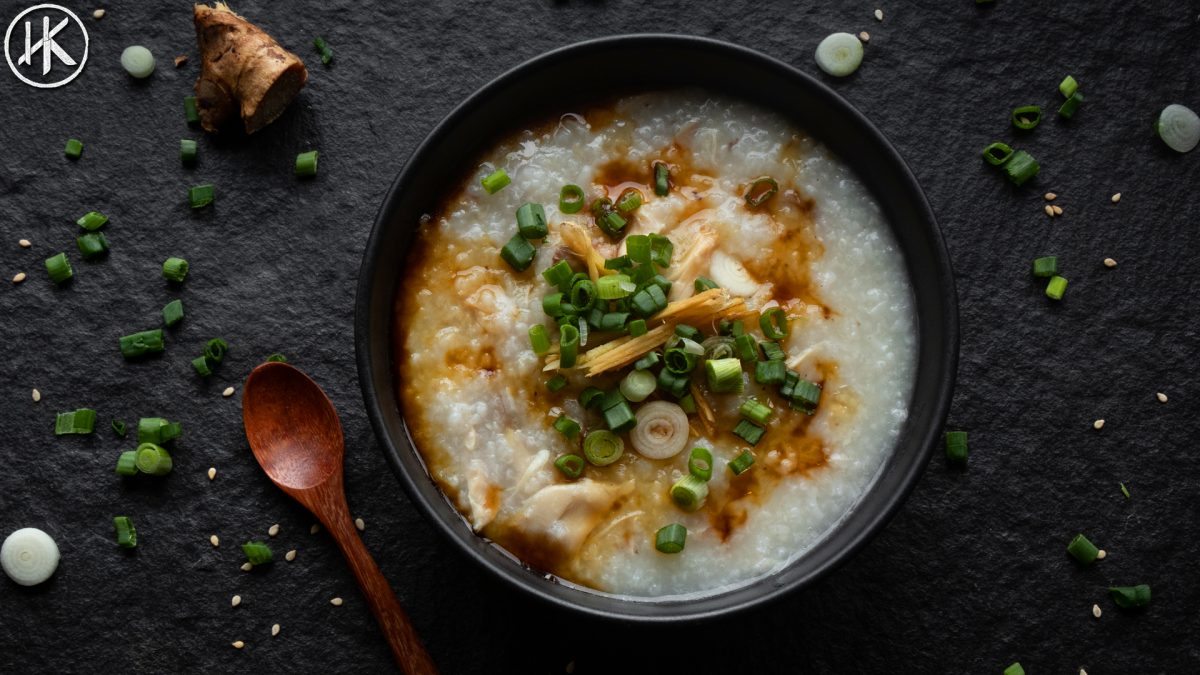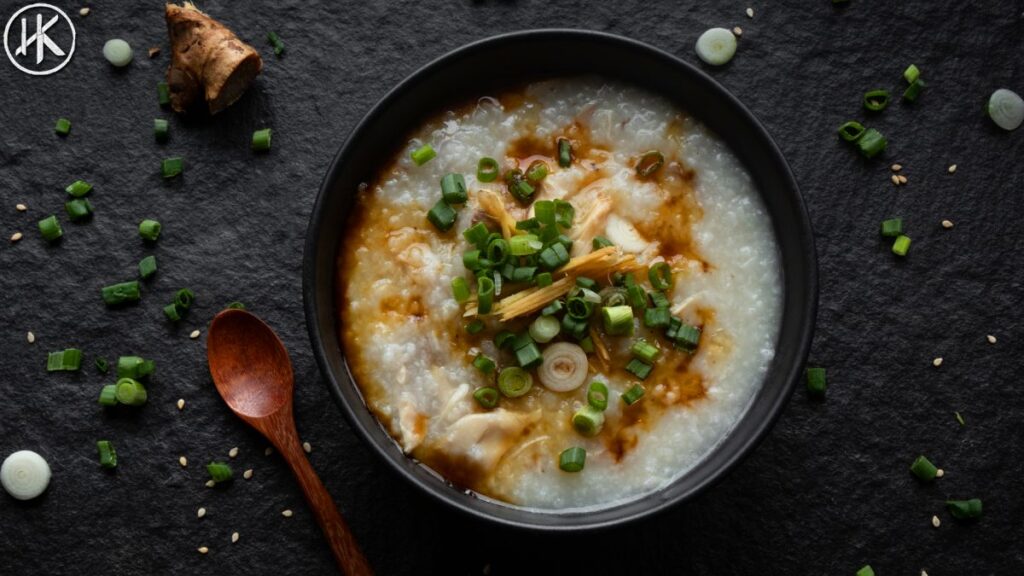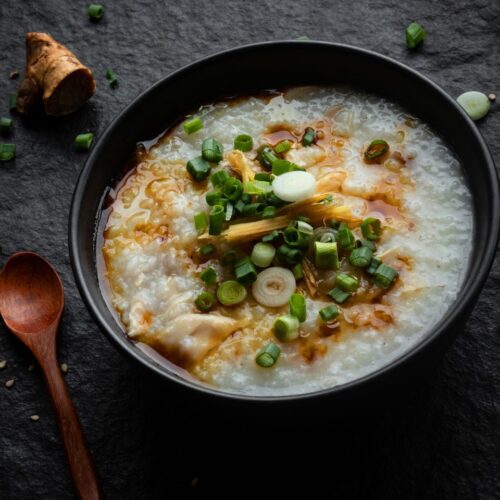 Chinese Chicken Congee
A wholesome Chinese Chicken meal. Easy Congee made in the Instant Pot
Ingredients
120

grams

Basmati Rice

450

grams

Whole Chicken Legs without skin

Includes thigh and drum

1

Thumb Size Piece

Ginger

3

Spring Onions

1

Chicken Stock Cube

a few drops

Toasted Sesame Oil

per individual serving

1

Tsp

Soya Sauce

per individual serving

Salt to Taste

800

ml

Water
Instructions
Start by washing your rice under cold running water a few times till the water is clear.

Finely chop two of the spring onions for garnish and set aside. Peel the ginger using a spoon and cut a few slices and julienne them for the garnish and individual servings, the remainder of the ginger leave whole.

Add the rice, whole ginger, whole spring onion, chicken cube and chicken legs to the Instant pot. Fill with 800ml of water.

Turn the pressure knob to sealing position, cook for 15 minutes on High pressure and let it naturally release for at least 15-20 minutes because releasing the pressure knob to venting position.

Fish out the spring onion and ginger piece and discard. Remove the chicken and set aside on a plate.

Whisk the rice in the instant pot to break it up and give it a more porridge consistency. Shred the chicken using two forks or your hands and add back into the instant pot and mix well with the rice.

Add more water if you wish to adjust the consistency.

If you want to make it more wholesome and add vegetables now is a good time to add them and hit the sautee function and cook for about 4-5 minutes till your vegetables are cooked. Add more water if needed. Also I recommend using frozen or pre-cooked vegetables.

To serve just ladle some into a bowl. Drizzle with a few drops of toasted sesame oil, a tsp of soya sauce, the fresh julienne of ginger and spring onions. You can also add some white or black pepper to give it a bit of a kick.

Enjoy this warm bowl of goodness on a cold day.