Grilled chicken with a creamy yogurt dressing
It's salad time! And I've been eating salads on Keto since I started. It's my go to meal because it's a great one bowl wonder. It's super easy to make and you can pretty much throw it together with left overs form your fridge or you can go all gourmet on it. For today's recipe I'm making a very simple Keto chicken salad.
For this salad I'm using veggies I had in my fridge, some cucumber, lettuce and tomato. Some olives and feta (what a great combo) and some grilled chicken. And for the dressing I'm making a very basic olive oil and lemon vinaigrette with a yogurt twist. Now for my American friends, full fat greek yogurt is what I'm talking about, not that fruity stuff you find in your local supermarket.
Anyway enough jibber jabber, it's time to whip up this salad.
Salad for two
The great thing about this recipe is that you can cook up a big batch of the chicken and also a nice large amount of the dressings which saves you time. You can pretty much assemble the salad everyday as your meal. I made sure that this salad is really packed with fat. That fat comes from the olive oil and it has flavour from the resting juices of the chicken. It's the perfect Keto meal, IMHO. And remember, before you eat it, give it all a good mix.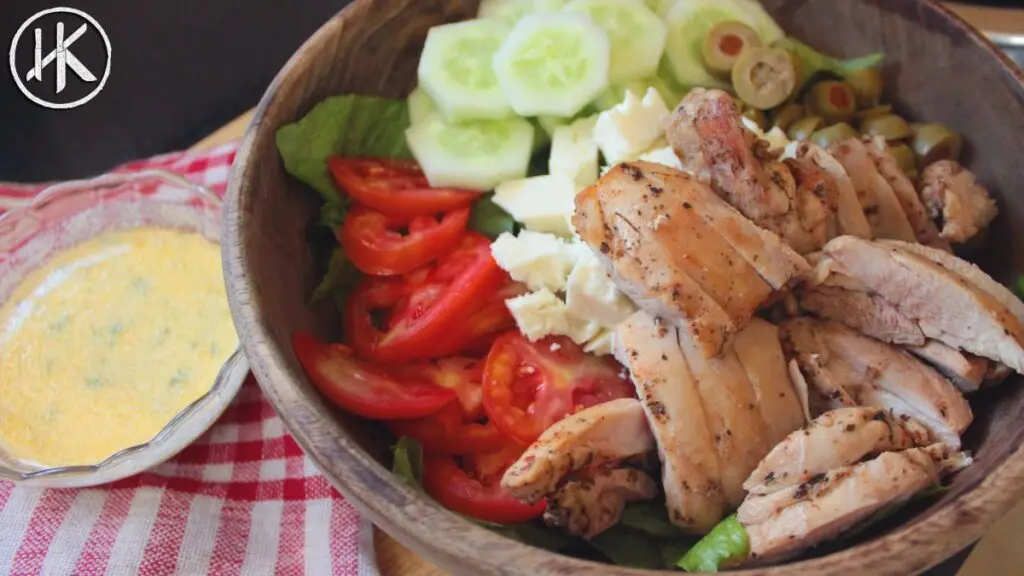 Nutrition Info (Per serving)
Calories: 442
Net Carbs: 5g
Carbs: 6g
Fat: 35g
Protein: 27g
Fiber: 1g
This recipe makes 2 servings. Get this recipe on myfitnesspal.
A grilled chicken and vegetable salad with a creamy yogurt dressing
Servings

Prep Time

2

servings

10

minutes
Servings

Prep Time

2

servings

10

minutes
A grilled chicken and vegetable salad with a creamy yogurt dressing

Servings

Prep Time

2

servings

10

minutes

Servings

Prep Time

2

servings

10

minutes
175

grams

Boneless Chicken Leg and Thigh Meat

100

grams

Lettuce

50

grams

Tomato

100

grams

Cucumber

30

grams

Olives

Try this one

50

grams

Feta Cheese

2

Tbsp

olive oil

I use this one

1

Tbsp

Full Fat Greek Yogurt

1/2

Tbsp

Butter

I recommend this one

1

Tsp

Lime or Lemon Juice

1/2

Tbsp

Olive oil for marinating

1/2

Tbsp

Apple Cider Vinegar

I recommend this one

1

Tsp

Dried Herb Seasoning Mix

Try this one

1/2

Tbsp

Bacon Fat for frying

Pepper

Cayenne Pepper
Marinate the chicken with salt, pepper, mixed herbs, apple cider vinegar and olive oil.

Heat the bacon fat in a frying pan and add the chicken. You can use olive oil, butter, ghee etc if you don't have bacon fat

Cook the chicken on one side for about 2-3 minutes and flip over. Add the butter then to the pan and baste the chicken

Once cooked remove the chicken and set aside. Make sure you pour out all the residual fat from the pan on the chicken as well.

Once the chicken has rested, pour out all the resting juices and set aside

In a mixing bowl take the yoghurt, olive oil, lemon juice, resting juices and mix well together. Season with salt, pepper and cayenne.

Slice all the veggies and place them in your bowl.

Slice and add the chicken to the salad bowl. Crumble in the feta cheese and finally pour over that salad dressing