Doner Kebab two ways
Doner kebab is a world famous dish. I think Germany is where it's most popular and known to be from. But I think (and I could be wrong) it's a dish of Turkish origin. I recently traveled to Turkey and I've been obsessed with the food I ate there. As you can guess I did have doner kebab which is primarily served in a plate. But you can find the street food version everywhere. They give you the option of putting it in a roll or between a pita bread. I obviously had the pita bread version. I also had a version with rice. 
But a good doner kebab is a riot of textures and flavours. Juicy meat but also crispy. Meat is the star but there are hints of spices sometimes. It's served very basic with sumac onions and tomato. Now I don't have a spit at home but I found there are lots of different ways that people make it at home so here are two different ways how to make doner kebab at home. Enjoy! 
PLEASE BE CAREFUL! 
I'm not gonna lie. Sometimes it's scary the way people handle their knifes. Which is why I cannot stress this enough, BE CAREFUL. First thing I want you to do is sharpen you knifes because a blunt knife is worse than a sharp one. Frozen meat cutting can be tricky so please use a kitchen towel so you can grip the meat firmly. If it isn't obvious you are cutting away from yourself. Slow and steady, get the motion right, get the feel of cutting the meat. Once you get the hand it will be easy. But the main thing is to have a good grip on your meat. 
The FAT is important
What makes the Doner Kebab work is the fat content. So try and get 80-20 ground beef at least. If you can get 70-30 that might be even better. Lamb meat is generally quite fatty so the combination between them will give you great flavour and juiciness. I suggest cutting varying thickness of the meat because then you get a variety of textures. The thinner pieces will cook faster and also crisp up giving you a nice crispy fried meat texture, the thicker slices you can sautee hard on one side and then just let it kiss the pan on the other. This will ensure a nice thick juicy piece of meat. 
Why ground meat? 
I believe Doner was made with a mix of meat, ground meat and fat. Ground meat just makes life easier. Of course you can get muscle meat and pound it out and layer it with fat and all that jazz. But honestly this is just more accessible and approachable. You still get amazing flavour from the spices and herbs. It does the job at home and that's really what it's about. 
You can also do this with chicken meat or ground pork. The main thing is to try and get some decent amount of fat in the meat as that gives your flavour and prevents a dry doner kebab. It's just like meatloaf. Remember dry meatloaf? No one likes that. Same thing here.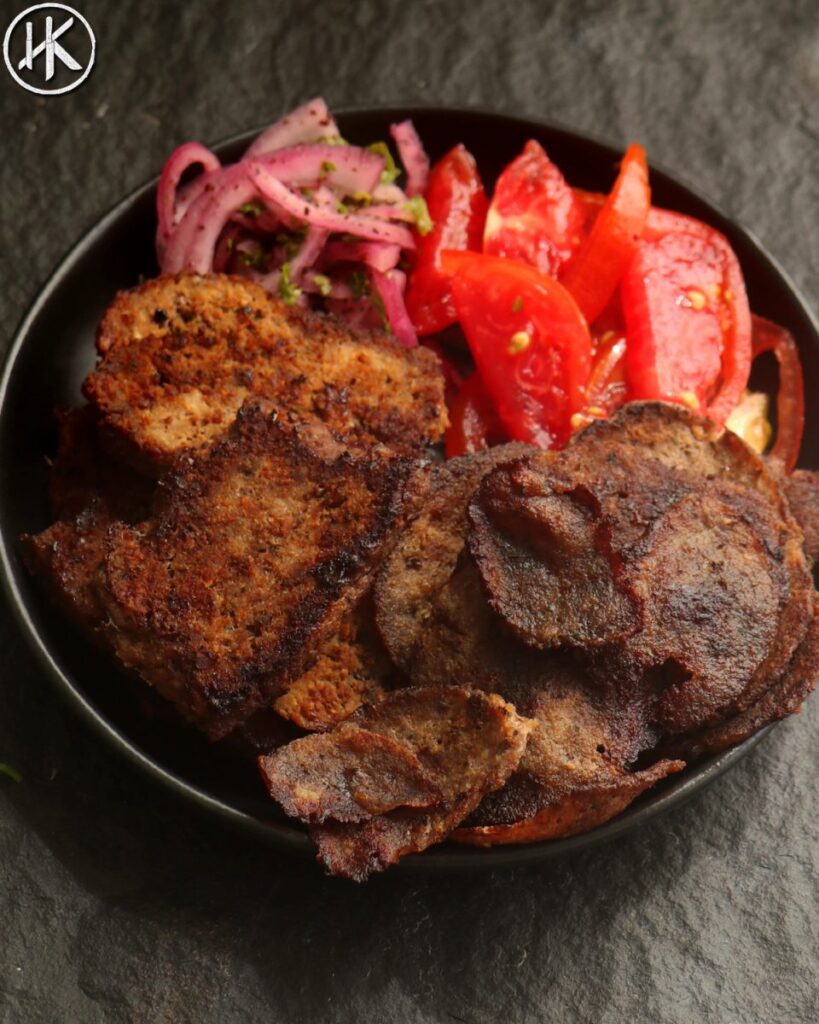 Nutrition Info (per serving)
Calories: 273
Protein: 17g
Fat: 22g
Carbs: 1g
Fiber: 0g
Net Carbs: 1g
This recipe makes 10 servings. Each serving is about 100 odd grams of meat. Best way to get the exact weight is to weigh your marinated meat mixture and divide by 10 to know how many grams exactly. Get this recipe on myfitnesspal.com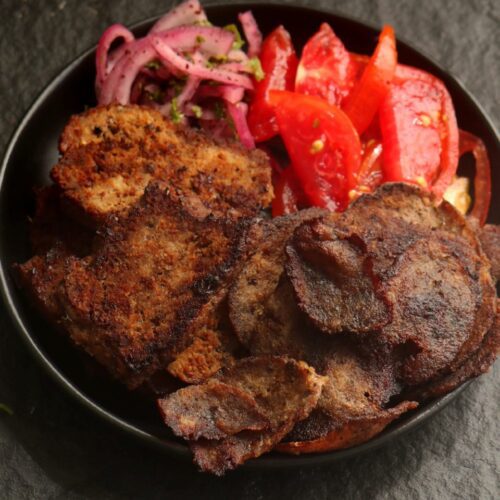 Make Doner Kebab at home
An epic home made doner kebab
Ingredients
For the Doner Kebab
500

grams

Ground Beef

Look for 80-20 which is 80% lean and 20% fat

500

grams

Ground Lamb

40

grams

Greek Yogurt

50

grams

Onion

grated or pureed

1

Clove

garlic

2

Tsp

Salt

1

Tsp

Black Pepper

2

Tsp

Dried Oregano

Buy Online

1

Tsp

Fresh Thyme

1

Tsp

Paprika

Buy Online

1/2

Tsp

Urfa Pepper

Buy Online

1

Tsp

Cumin

Buy Online
For the Sumac Onions
1

Onion

1

small bunch

Parsley

1

wedge

Lemon

1

Tsp

sumac

1

Tsp

Salt
Instructions
For the doner kebab mix all the ingredients in a bowl and whisk together to make the marinade. Then add the ground meats into the bowl and mix well.

Now there are two ways to cook this.

Method 1: Place the meat on cling film and shape it like a meatloaf and then wrap it tightly in the cling film like a cylinder and freeze the meat. After it's frozen remove the cling film and with a very sharp knife and a cloth you can use to grip the frozen meat start slicing the meat. Then pan fry the meat till nice and crispy on 1 side and flip it. Remove after 5-10 seconds of cooking. Try and cut the meat in different thickness because the thicker slices will be juicier and the thinner ones more crispy. Once you slice as much as you need you can pop the rest back in the freezer

Method 2 is shape it like a meatloaf and bake in the oven at 200C for 15 minutes. Once it's cooled put it in the fridge to chill. Deglaze your roasting tray and save any liquid. Once it's firmed up in the fridge slice it and then pan fry on a super high heat to get one side crispy. While it is frying remember to pout those juices from the pan on the meat so it sucks it up back in.

Serve it with the sumac onions. Just slice an onion, chop some parsley and mix them in a bowl with salt, sumac and some lemon juice.

Easy peasy!