Grilled chicken with a creamy yogurt dressing
It's salad time! And I've been eating salads on Keto since I started. It's my go to meal because it's a great one bowl wonder. It's super easy to make and you can pretty much throw it together with left overs form your fridge or you can go all gourmet on it. For today's recipe I'm making a very simple Keto chicken salad.
For this salad I'm using veggies I had in my fridge, some cucumber, lettuce and tomato. Some olives and feta (what a great combo) and some grilled chicken. And for the dressing I'm making a very basic olive oil and lemon vinaigrette with a yogurt twist. Now for my American friends, full fat greek yogurt is what I'm talking about, not that fruity stuff you find in your local supermarket.
Anyway enough jibber jabber, it's time to whip up this salad.
Salad for two
The great thing about this recipe is that you can cook up a big batch of the chicken and also a nice large amount of the dressings which saves you time. You can pretty much assemble the salad everyday as your meal. I made sure that this salad is really packed with fat. That fat comes from the olive oil and it has flavour from the resting juices of the chicken. It's the perfect Keto meal, IMHO. And remember, before you eat it, give it all a good mix.
Beware the salad?
People are always looking for a salad recipe, keto friendly or otherwise. Salads are the poster boys for healthy eating. I mean why would they not be, the foundation for salad is lettuce and other green leaves which have often been associated with healthy eating. But salad's can be your enemy when it comes to weight loss.
Now don't get me wrong, there is nothing unhealthy about a salad. It's just that salads can be very calorie dense dishes. I mean add some bacon, avocado and a generous amount of ranch dressing or blue cheese dressing and that's a massive number of calories. Just because something is low-carb doesn't mean it can't make you pack on the pounds.
The key with a good salad is learning to balance the calories. This salad is a good example. It's like 884 calories for the whole thing. But don't let me put your off salads. I just want you to be mindful when eating them. I like a small salad as one of the side dishes with my meal.
Keto Salad Recipes
Do you need recipes for a salad? Yes of course. But you can also do without one. The key here is to have fresh ingredients and build layers of flavor. At the end of the day you want something that tastes good.
I've got some amazing salad recipes. We've got my mom's tuna salad, a delicious seafood salad, an Asian style beef salad and a chicken junglee salad which is one of my easiest salads to make.
Make your own salad
The way I like to construct a salad is by starting with the protein. Could be anything from boiled eggs to chicken breast. Then I want to get an array of veggies. Stuff like red onions, cherry tomatoes, broccoli maybe, bell peppers etc.
Then I want some kind of dairy element like feta cheese, parmesan shavings etc. It really depends on what cuisine I want. Because if I'm doing say a Thai style salad then the dairy is a bit out of place.
You can also add a crunchy element. Something like sunflower seeds, peanuts or walnuts work well. Then for the dressing. Now I think about whether I want a mayo based one or something more simple like a vinaigrette. The options are endless.
Then you want some fresh herbs like cilantro, dill, green onions or parsley which you use at the end. Every salad needs some acidity so I'm thinking of lime juice, red wine vinegar, maybe some balsamic. I season with salt and pepper. And of course pick your lettuce of choice, could be romaine lettuce, could be iceberg, could be aragula.
Look at the end of the day the possibilities are endless for keto-friendly salads. Sure there might be a couple of extra grams of carbs from the veggies. But is it something to fuss over? Absolutely not. So whether you want a keto cobb salad or a keto broccoli salad go ahead and enjoy. And maybe throw some slices bacon on there too!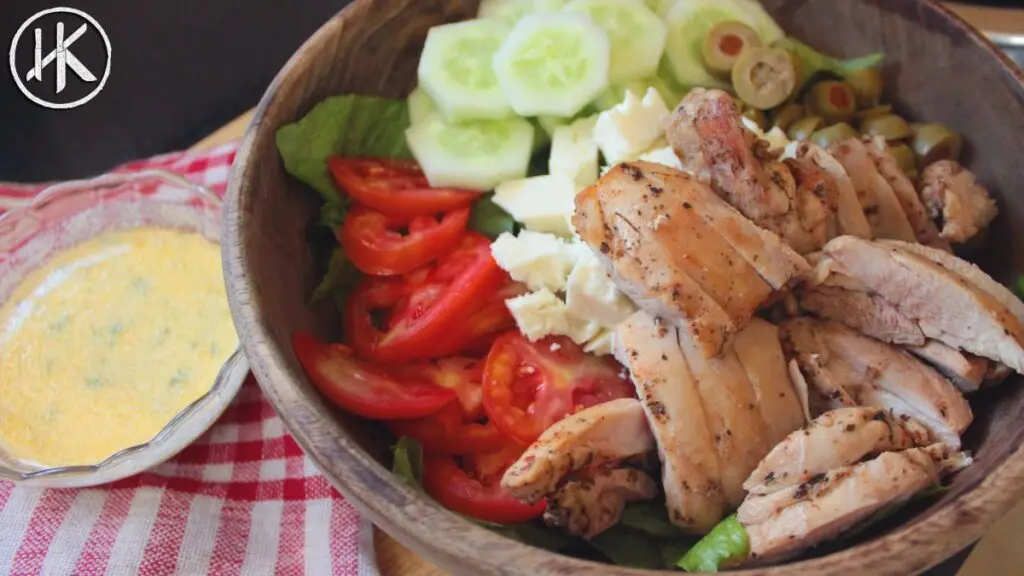 Nutrition Info (Per serving)
Calories: 442
Net Carbs: 5g
Carbs: 6g
Fat: 35g
Protein: 27g
Fiber: 1g
This recipe makes 2 servings. Get this recipe on myfitnesspal.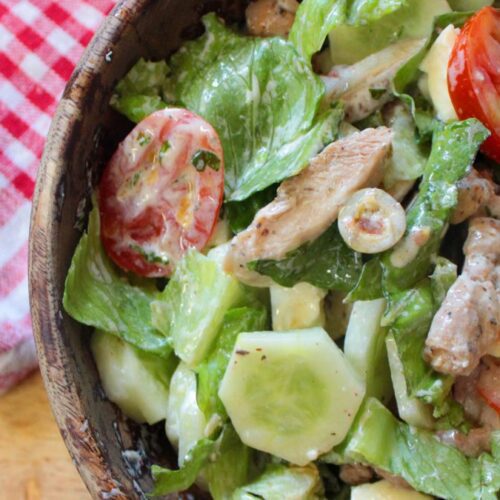 Keto Chicken Salad
A grilled chicken and vegetable salad with a creamy yogurt dressing
Ingredients
175

grams

Boneless Chicken Leg and Thigh Meat

100

grams

Lettuce

50

grams

Tomato

100

grams

Cucumber

30

grams

Olives

Try this one

50

grams

Feta Cheese

2

Tbsp

olive oil

I use this one

1

Tbsp

Full Fat Greek Yogurt

1/2

Tbsp

Butter

I recommend this one

1

Tsp

Lime or Lemon Juice

1/2

Tbsp

Olive oil for marinating

1/2

Tbsp

Apple Cider Vinegar

I recommend this one

1

Tsp

Dried Herb Seasoning Mix

Try this one

1/2

Tbsp

Bacon Fat for frying

Pepper

Cayenne Pepper
Instructions
Marinate the chicken with salt, pepper, mixed herbs, apple cider vinegar and olive oil.

Heat the bacon fat in a frying pan and add the chicken. You can use olive oil, butter, ghee etc if you don't have bacon fat

Cook the chicken on one side for about 2-3 minutes and flip over. Add the butter then to the pan and baste the chicken

Once cooked remove the chicken and set aside. Make sure you pour out all the residual fat from the pan on the chicken as well.

Once the chicken has rested, pour out all the resting juices and set aside

In a mixing bowl take the yoghurt, olive oil, lemon juice, resting juices and mix well together. Season with salt, pepper and cayenne.

Slice all the veggies and place them in your bowl.

Slice and add the chicken to the salad bowl. Crumble in the feta cheese and finally pour over that salad dressing

Serve