Keto Omelet (Indian Style)
The best Indian egg dish
The best Indian egg dish according to me is the Masala omelet. I grew up eating this and it was a favourite on all my train trips. Every morning there would be a vendor selling masala omelet and either bread or pav (like an Indian bun) and it was the most satisfying breakfast ever!! And of course you had to eat it with tomato ketchup for the full experience. Of course this is my slightly fancier and Keto version of the omelet but still just as delicious and evoking large amounts of nostalgia.
Indian Keto Omelet
We like our omelets brown. That's just how people here like it cooked. Don't get me wrong, I do love the appeal of a creamy, uncoloured French omelet. But a masala omelet needs that colour. You should also add chopped green chilies if you like spice. In fact that's one of the hallmark flavours of this egg but being a spice wuss I skipped it. In terms of spices you can play around with those as well, you can sprinkle a bit of garam masala or chaat masala on the top. It goes great.
Nutrition Info
Honestly for something simple you don't need macros. Just add the number of eggs, the amount of cream and other raw ingredients into your app and let it calculate it based on exactly what you use. Needless to say there are probaby about 3-4 net carbs coming from the eggs and onions and cream. If you use a nice high fat cream you'll get more fats. You can use more ghee to cook with add more cheese etc to increase the fat ratio. But what I'm saying is have fun with the recipe and put the macros in manually yourself.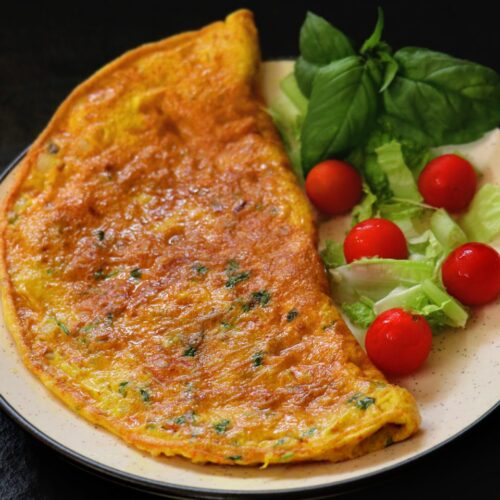 Keto Omelet (Indian Style)
The best Indian egg dish
Ingredients
3

Eggs

20

grams

Cheese

20

grams

Red onion

1

Tbsp

Heavy Whipping Cream

Order online

1/2

Tsp

Tumeric

Order online

1/2

Tsp

Kashmiri Red Chilli Powder

Order online

1

Tbsp

Ghee

salt and pepper to taste

1

Tsp

Coriander
Instructions
Crack the 3 eggs into a bowl and add in the chopped onion, coriander, salt, pepper, tumeric, chilli powder and heavy cream and beat well.

Heat the ghee in a frying pan and once melted add in the beaten eggs. Grate in the cheese and cover and cook for about 4 minutes. Fold the egg and finish cooking.

Serve with a side of salad.