Asian Style Keto Beef Salad
Salad week continues on Headbanger's Kitchen and after our smashing success with the chicken salad and the seafood salad it's time to move on to my personal favourite, a Keto beef salad.  For this recipe I decided to give it an Asian twist. I've always loved chicken & beef satay as a kid and I've loved the flavour of that peanut sauce. I've made a couple of Asian style recipes using peanut butter and they've always been great. So this time I decided to make a salad dressing out of it. The familiar flavours and the beautiful blend of sweet, sour, salt and spicy (which I left out)  are what define Asian cuisine and I think this recipe delivers on that front. I also used 'curry powder' to flavour the beef even though it's actually more a western thing (not sure anyone in Asia actually uses curry powder), but none the less I think it was a welcome addition. Enjoy the recipe.
My forgotten sesame seeds
Apart from just looking absolutely beautiful in food photography, sesame seeds also add a delicious toasty note to this dish and honestly elevate this to the next level. It's a pity I had already finished shooting and filming everything before I remembered to add them to the dish. I would advise you to not leave them out. I also feel with the salad itself you can use shredded cabbage or some blached cabbage or pickled cabbage. Most salad recipes are just a template to work with. I think some boiled broccoli would also be a good addition and you could also use any variety of mushrooms in this recipe. I'd love to know how you are going to personalize this salad and what you will use.  For those who aren't fond of beef or don't eat it, I would recommend chicken or paneer instead. It all works.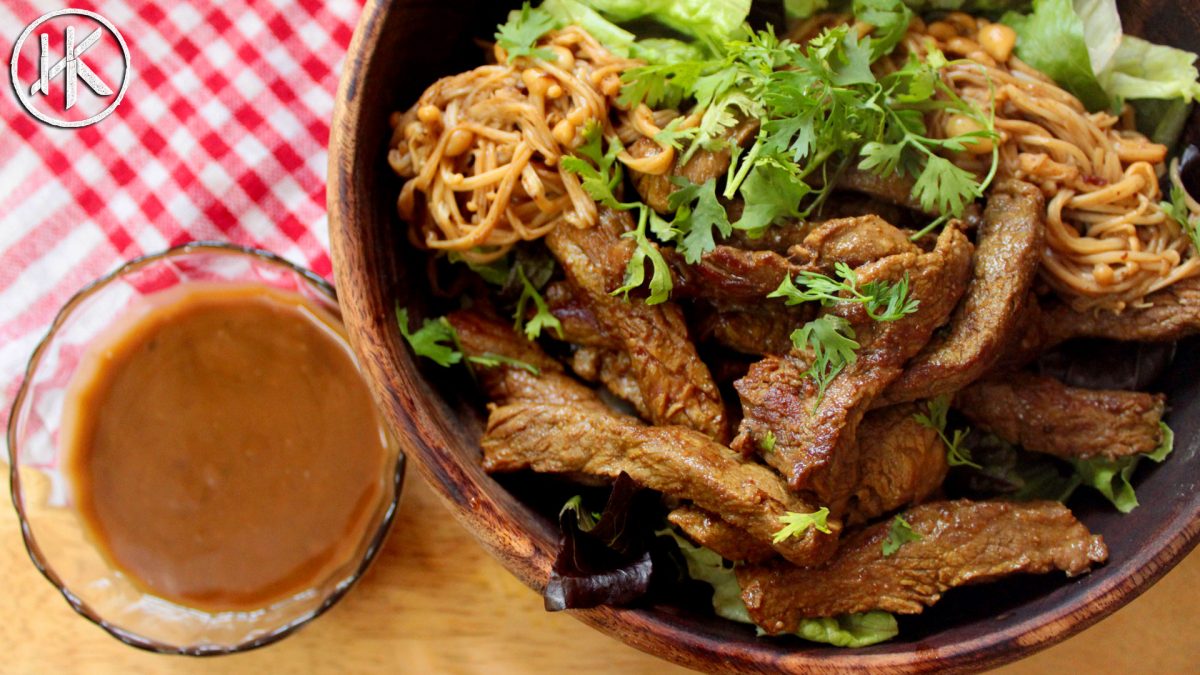 Nutrition Info (Per serving)
Calories: 601
Net Carbs: 5g
Carbs: 8g
Fat: 45g
Protein: 43g
Fiber: 3g
This recipe makes 2 servings. Get this recipe on myfitnesspal.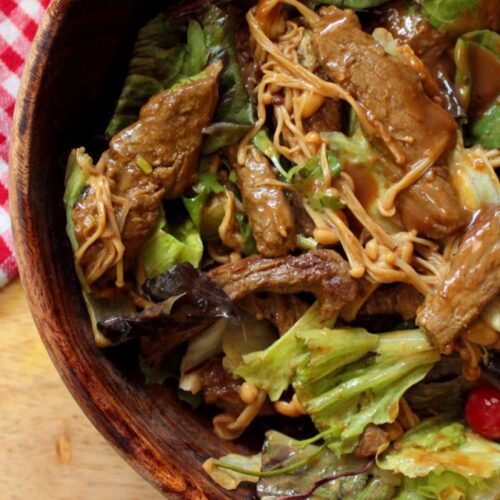 Keto Beef Salad
An asian style keto beef salad with a peanut soy dressing
Ingredients
For the salad
300

grams

Filet Steak

Or any cut of your choice

100

grams

Enoki Mushrooms

Or any mushroom of your choice

100

grams

Mixed Lettuce

1

Tsp

Sesame Seeds

Not calculated in the macros above

1

Tbsp

Butter

Try this one

1

Tbsp

Olive oil for frying

I use this

Coriander to garnish

Curry Powder

Try this

Salt
For the peanut soya dressing
Instructions
For the dressing mix all the ingredients in a bowl and whisk together to emulsify and form the dressing

Cut and rinse the mushrooms and set aside

Slice the beef into thin strips and season with salt and curry powder

Fry the beef in batches in a pan and set aside

In the same pan add some butter and stir fry the mushrooms, season with salt while cooking.

Add in the resting juices from the beef into the pan and cook down till the liquid dries out

Assemble the salad with the lettuce, beef, mushrooms and the dressing

Finish with coriander and sesame seeds and enjoy!