Fish in Lemon Butter Caper Sauce
A Keto fish recipe
An easy to make Keto fish recipe. High fat has never been easier to achieve than with a lemon butter caper sauce poured over your favourite fish fillet. This recipe uses a generous amount of butter and will help you hit all your fat macros. Fish also lends itself beautifully to this sauce since it's a nice light meat and the lemon and fresh parsley help cut through the richness of the butter. Even this is a rather simple dish it's extremely 'posh' and perfect when having friends over for dinner.
Cutting the carbs
This recipe has about 7 grams of net carbs and depending on your macros and goals it might be on the higher side. The best way to reduce these carbs is to drop the onions and garlic quantities by half. I think since I'm more of a cook by intuition kind of person I might have had more onion and garlic than needed to have a more flavourful sauce. So you can adjust those to suit your requirements. You could even skip them completely and still have a nice tasty sauce.
Love seafood? Well we've got a bunch of recipes on the website that will absolutely hit the spot them. I've done a yellow Thai curry with fish, Keto fish cakes, tandoori prawns, butter garlic squid and the list goes on. Explore the website and find the recipes you love.
Ingredients for this Keto fish recipe
Capers – They add a beautiful briny flavor to the sauce. They are what adds to the acidity to cut the richness. Capers are edible flower buds of the caper bush. You will easily find a jar of these in any supermarket and they are great. Now if you don't like them or don't have access an alternative is green olives. You can also use black olives but the green ones are closer.
Lemon Juice – We add this to our lemon caper sauce because it cuts the richness of the butter. While eating butter is great it can feel like grease city. That's why these bright acidic notes help to make everything taste better and give us a much better eating experience. Imagine eating a plain butter sauce. Not as good as one that has balance.
Lemon Zest – Grate the zest of your lemons and freeze them for later. This adds a beautiful perfume to your dishes. It doesn't make things taste like lemon but it perfumes them.  Throw it on a chicken breast and then fry that in a pan. You'll transform the meat. It's great in sweet or savory dishes. Chicken piccata is a dish that comes to mind.
Parsley – Fresh herbs are just the perfect way to finish dishes. Parsley adds a lovely note to this sauce and pairs beautifully with fish. If you can't get parsley I'd recommend dill as an option. You can use other herbs like cilantro/coriander, fresh thyme or rosemary but I feel this are much to strong for delicate fish flavors.
Types of Fish
Seafood is something that varies across the world a lot more than the meat of our feathered friends or farm animals. Sure you can get salmon across most of the world but there are so many local fish which it would be a shame to not take advantage of.
Every part of the world has some kind of basic white fish. Get some filets of those or bone in like I am using. Fillets make it easier to eat but anyone who eats meat and fish regularly will tell you there is just something about eating meat from the bone.
If you get your fish with skin you definitely want to cook it on the skin side first and really get that skin nice and crispy. After that you add the tablespoon of butter and baste it and then add in your cloves of garlic, shallots etc.
Eat this dish with some zucchini noodles, Keto angel hair pasta or if you aren't on the Keto diet then just regular spaghetti will do. It will make one hell of a pasta dish. And one hell of a Keto fish recipe.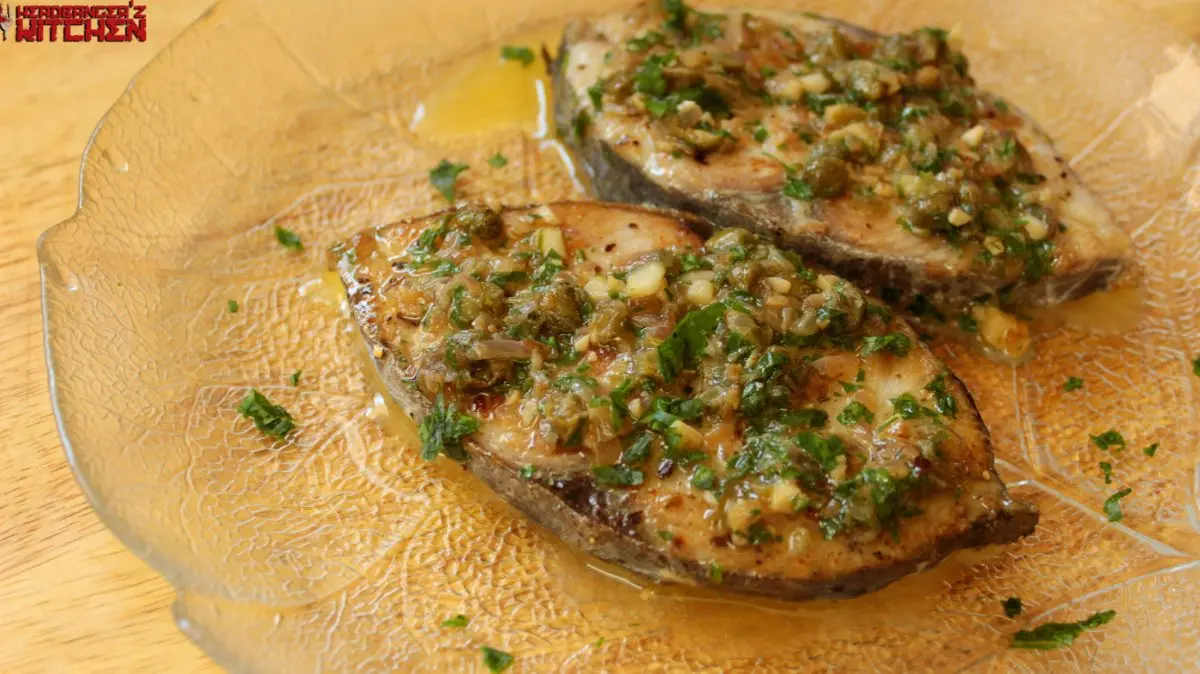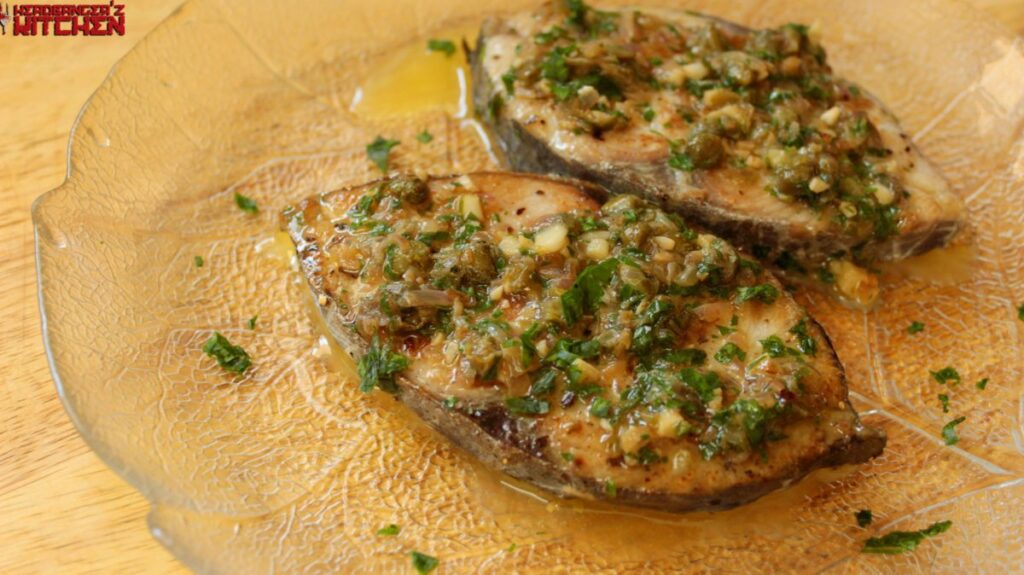 Nutrition Info (Per serving)
Calories: 392
Net Carbs: 7g
Carbs: 9g
Fat: 32g
Protein: 18g
Fiber: 2g
This recipe makes 2 servings. Get this recipe on myfitnesspal.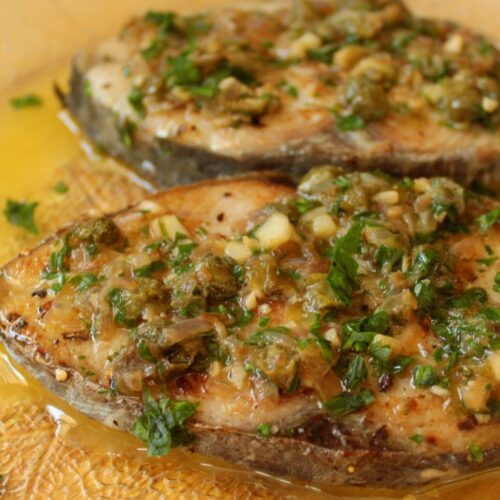 Fish in Lemon Butter Caper Sauce
Pan fried fish in a rich and refreshing lemon butter caper sauce
Ingredients
250

grams

Fish

fillets or with bone, your choice

80

grams

Butter

15

grams

Capers

I use these

50

grams

Small Red Onion

10

grams

Cloves of Garlic

5

grams

Parsley

15

ml

olive oil

I use this one

Lemon or Lime Juice

Salt and Pepper
Instructions
Season the fish with salt and pepper and pan fry till cooked

Add onions to the pan and cook till residual oil is used up.

Add butter and cook for 1 minute before adding the garlic

Add in the capers and break them up with the spatula.

Add in the parsley, more butter and cook.

Turn off the gas, add the final part of butter and a squeeze of lime.

Pour on fish and serve.