Beef in Red Wine
Keto Beef Bourguignon or Beouf Bourguignon as it's said in French, is a beef cooked in red wine. It's a simple, homely and a one pot dish. It's French cooking at it's finest. I've cooked few beef dishes on the show previously. When I say beef, I do mean water buffalo (don't ask it's a long story). I've made a delicious beef massaman curry, a delicious Keto beef Stroganoff and even an Asian style beef salad. I've had my eye on this dish for a while but I've never really had wine lying around in the house and just the thought of buying a bottle to cook with, kept me away from it. However after cooking this up, I might stock on up wine more regularly just for cooking. I hope you feel the same way.
All the information I wanted to share
As I mentioned in the video, there was a lot of information I wanted to share and that's because I made a fair amount of changes to the original recipe. There are also a number of variations in the original recipe itself. I wanted to mention all these points because you can choose to incorporate them in the way you make your beef bourguignon. I literally went through 20 different recipes and videos to finalize this one.
Bacon – This can be completely omitted if you don't eat pork. You can use any kind of bacon that is available to you, I went for the smoked cubes because I much prefer getting nice chunky bacon bits. You can use back bacon or streaky bacon. I also chose to cook the bacon along with the stew, however many people like to sprinkle it just before serving on individual portions. That gives you a more crunch texture from the bacon. If you stew it with the meat, it's not going to stay crispy.
Wine – Now I'm expecting a lot of people asking me if they can make this without wine. I know, it's like some Indian 'pure vegetarians' asking me how to make an omelet without eggs. However for those not living in Europe/UK and certain countries, wine is not something a lot of people keep at home. There is also this whole cultural thing of not cooking with alcohol or having it in your house if you live with your parents because it's a 'bad habit'. Before I get into a rant or long ramble about this, you can manage without the wine but it's not going to taste the same. It will just be a beef stew then.
If you do skip  the wine you can just add more stock and also maybe throw in some red wine vinegar if you have for a bit of acidity, maybe a tablespoon.  You can also add some tomato puree. If you are worried about the carbs from the wine, a cup of red wine has on average 4 carbs. This dish makes 4-5 servings, you should be ok.
Tomato/Tomato Paste – I'm sure you are thinking, you didn't use any. Exactly, I did however seem to find a few recipes that did call for tomato or tomato paste. I decided to keep out the extra carbs from it because I was already using wine. As mentioned above this will work as a replacement for wine if you want to make it without it.
Herbs/Bouquet Garni – This refers to just a bunch of herbs tied together to impart flavour. I used what I had at home and honestly you can mix it up with you like. I do also suspect if you actually chop the herbs like rosemary, parsley and thyme and put it in, the flavour of the herbs will be more pronounced. When it's just tied and stewed in with everything it's a lot more 'mild'.
That's all I can think off for now, if anything else comes to mind, I'll add it here at some point. If you have any ideas, tips or tricks about this dish, leave me a comment.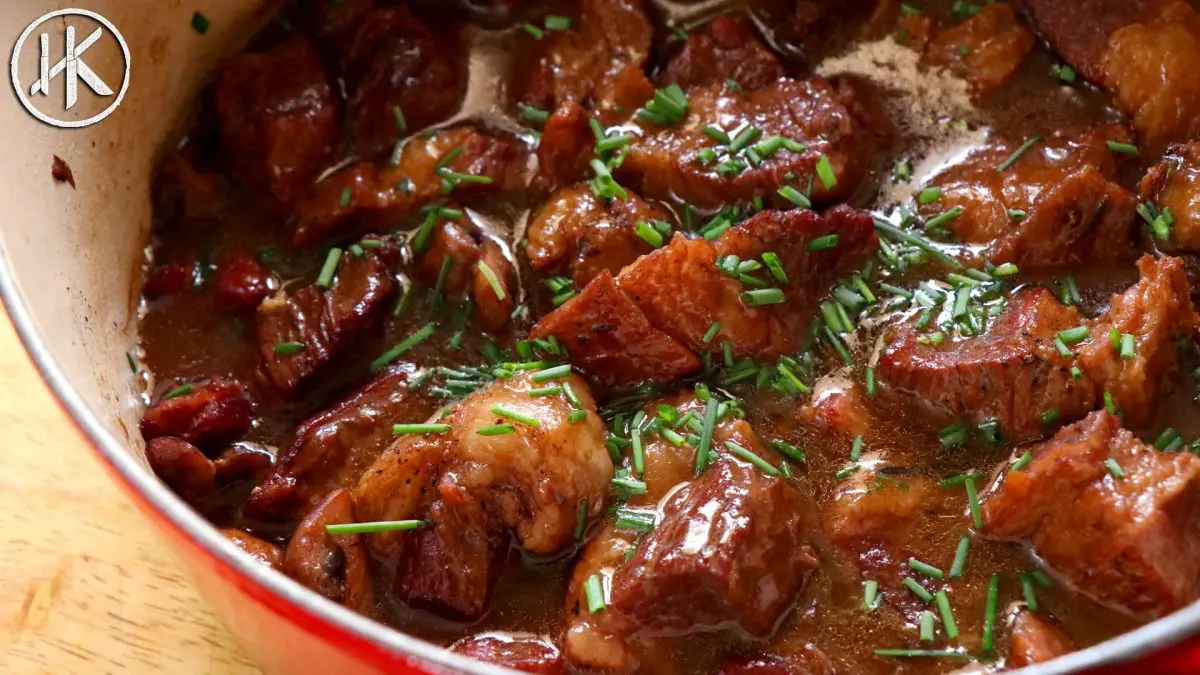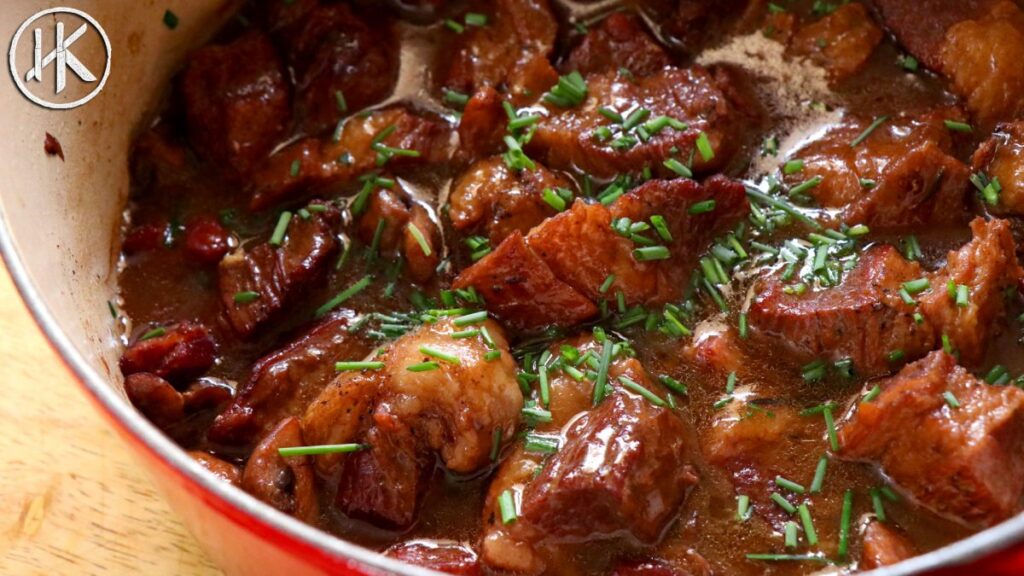 Nutrition Info (Per serving)
Calories: 613
Net Carbs: 5g
Carbs: 6g
Fat: 39g
Protein: 49g
Fiber: 1g
This recipe makes 5 servings. Get this recipe on myfitnesspal.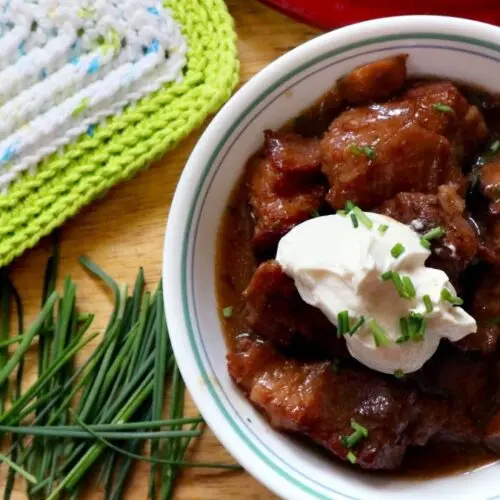 Keto Beef Bourguignon
A delicious beef stew cooked with red wine.
Ingredients
1

Kg

Beef (Chuck or any slow cooking cut)

I used brisket

200

grams

Smoked Bacon Cubes

400

grams

White Mushrooms

150

grams

Onion

10

grams

garlic

1

cup

Red Wine

1

Beef Stock Pot

You can use a cube or about 300 ml of beef stock instead Try this one

300

ml

Water

1

Bouquet garni

Parsley, Thyme, Rosemary and Bay Leaves

1/4

Tsp

Cayenne Pepper

Try this one

Salt & Pepper to taste

1/4

Tsp

Xanathan Gum

Optional Try this one

1

Tbsp

Chopped Chives
Instructions
Start by frying the bacon in your dutch oven. Start from a cold pan and let it slowly render out it's fat. Once it's fully cooked remove from the dutch over with a slotted spoon

Cut your beef into bite size pieces or if you prefer big chunks you can do that as well. Season with salt and pepper and them sear in the dutch oven in the residual bacon fat. Remember to cook your beef in batches and not to crowd the pan. You want to get some colour on the pieces of meat and not have them stew in the pan. Once you get a good sear on them, set aside.

In the same pan add in the onions and butter and fry till the onions start to soften. For a richer flavour you can cook the onions till they start browning.

Then add in the mushrooms and lightly season with salt and the cayenne pepper and cook.

Add in the garlic and cook till the mushrooms release their water and that starts drying up.

At this point add in the red wine, the bouquet garni and beef stock pot and give everything a good stir.

Once it's all well mixed you want to add the beef back in along with all the resting juices and then also add in the bacon. You can alternatively keep the bacon aside and just sprinkle it on individual servings at the end.

Add in the water till the beef is completely covered and bring the mixture up to the boil. Once it's boiling, cover with the lid, reduce the heat to low and cook for 90 minutes. You can alternatively cook it for 3hours at 180C in an oven.

Every 30 minutes open the lid, give everything a good stir and let it keep cooking.

Once the meat is fork tender remove the bouquet garni and garnish with chives. Serve with a dollop of sour cream on the top.