A salad a day keeps the doctor away
It's salad time once again on Headbanger's Kitchen. Last time I made my basic Keto chicken salad and so today we're switching it up and using seafood, prawns to be specific. I had half a vision of prawn cocktail when I thought of this salad and the other half was tarter sauce. It's the reason I picked the combination of mayo, onion and gherkins. I switched up the parsley for dill because I enjoyed it so much when I used it for my salmon cucumber roll, it is a beautiful pairing with seafood. The idea for adding the boiled egg came from my Tuna salad recipe. I'm literally taking inspiration from myself, or maybe even ripping myself off a bit. Anyway I have a feeling you will really enjoy this salad. Bon Appetite.
Bring out the flavours
In the video I used a rather wide pan to cook the prawns but the idea is to cook it in more of a sauce pan and let the prawns and garlic almost slow poach in that butter. The herbs I used are just a basic store bought bottle titled 'mixed herbs' so you can use any kind of flavours you like, the idea is that they infuse into that butter along with the seafood flavours and finally you end up with a lovely flavoured butter that becomes one with the mayo. You can also add anything you like to flavour the dressing as well. You can also use any seafood you like for this, dare I say you can even use chicken.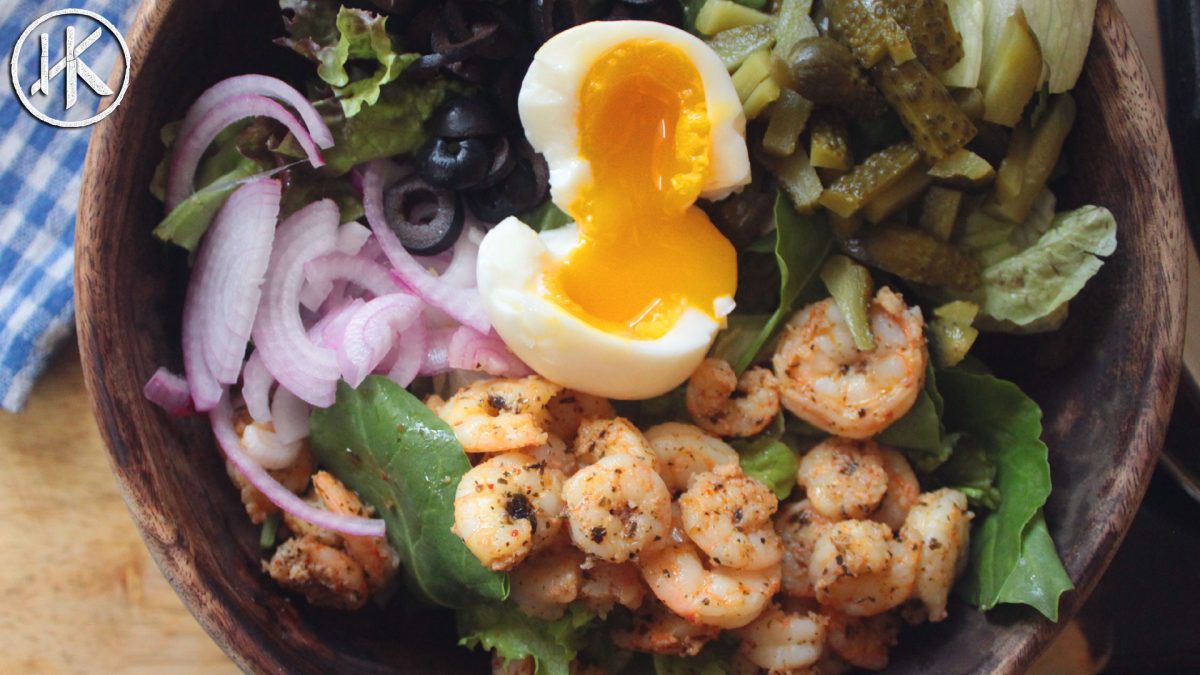 Nutrition Info (Per serving)
Calories: 574
Net Carbs: 7g
Carbs: 9g
Fat: 42g
Protein: 38g
Fiber: 2g
This recipe makes 1 servings. Get this recipe on myfitnesspal.
Keto Seafood Salad
A prawn salad with a creamy mayo dressing
Instructions
Slice the red onion and mix with the lemon juice and set aside

Chop the olives and gherkins and set aside. Boil the egg for 6 minutes and peel and set aside

Melt the butter, garlic and seasoning together in a saucepan on the lowest heat and allow it to all infuse

Once the butter starts bubbling add in the prawns and allow them to cook slowly

Once cooked remove with a slotted spoon and set the prawns and garlic aside

Grate the garlic from the prawns into a bowl

Add in the mayonnaise, sriracha sauce and the butter that was used to cook the prawns and mix well

Finish with some fresh dill

Then assemble the salad in a bowl adding the lettuce, prawns, onion, olives, gherkins and egg.

Pour the dressing, give it all a good mix and serve.