Lemon Pepper Chicken Wings
Even More Keto Chicken Wings!
Lemon pepper chicken was one of the first few Keto recipes I cooked up on the show. It was the dish that I made for my wife Deepti and it was one that impressed her the most. It's the dish we say built our relationship. Okay maybe that's pushing it but it's a great dish.
As I was going through all the recipes I had made I saw the lemon pepper chicken recipe. And that is how I found inspiration. Of course I just knew I had to turn this into a chicken wing dish. It was just meant to be.  Sure the lemon pepper would flavour the wings, but what else? Then I thought I would make a cheesy dipping sauce to go with it. How perfect right?
Anyway enough jibber jabber. Lettuce cook.
Deep Fried vs Baked!
I have to be honest, a deep fried chicken wing, is a deep fried chicken wing. However, not all wings deserve to be deep fried. And some wings were never meant to be deep fried. Take my malai chicken wings for example, with that creamy cheese marinade, they should go nowhere near a deep frying. However my butter chicken wings on the other hand could easily be deep fried and then coated in the sauce. Every wing recipe must be treated differently. At the end of the day it's all about great flavour.
I'm sure a lot of people are going to ask me about what oil I used to deep fry the wings and how much oil should be added to the macros. I will answer both queries.
For deep frying I like to use a mix of olive oil (the for cooking kind) and bacon fat. But you can use coconut oil or lard as well. When I calculate macros for deep fried dishes I generally don't count anything extra, especially for a recipe like this where there is no coating on the chicken to soak up the oil. But in fact I would think that the chicken skin will render out some fat. So if I do use a coating like in my chicken farcha recipe, I would add maybe a tbsp of oil just as an assumption. The truth is you can be neurotic and weigh the oil before frying and after frying. My life is too short to do that.
So bottom line, enjoy the wings. And if you are vegetarian then I recommend you try my Lemon Pepper paneer. Of course if that's too boring sounding for you then I've got some tawa paneer and chilli paneer that will just hit the spot.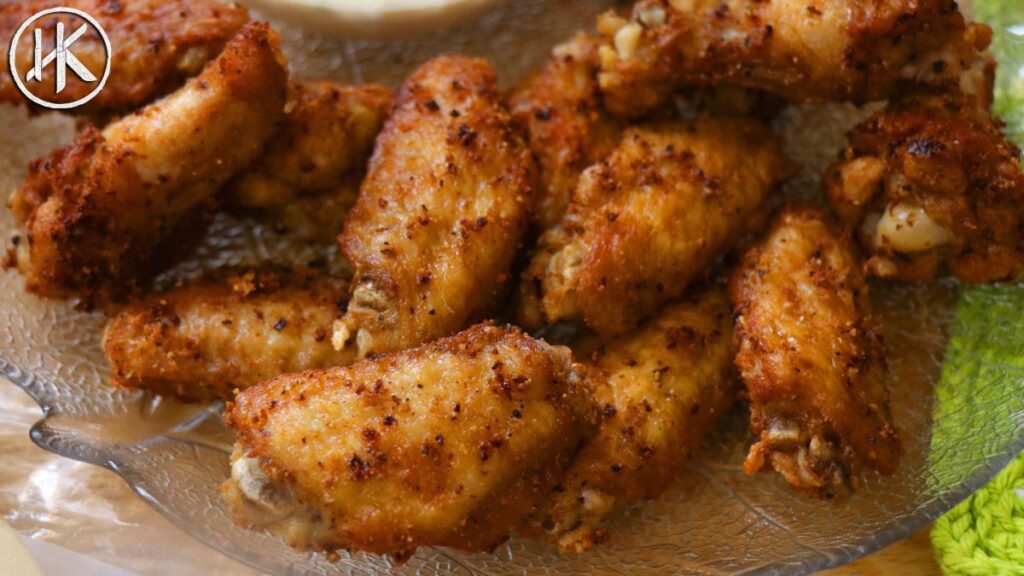 Nutrition Info (Per serving) – For the wings!
Calories: 150
Net Carbs: 1g
Carbs: 1g
Fat: 6g
Protein: 21g
Fiber: 0g
This recipe makes 7 servings. 1 serving = 1 full wing (flat and drum). Get this recipe on myfitnesspal.
Nutrition Info (Per serving) – For the sauce!
Calories: 96
Net Carbs: 1g
Carbs: 1g
Fat: 9g
Protein: 3g
Fiber: 0g
This recipe makes 4 servings. Get this recipe on myfitnesspal.
Lemon Pepper Chicken Wings
A delicious lemon pepper chicken wing with a cheese sauce
Ingredients
For the Cheesy Dipping Sauce
50

grams

Cheese

I would recommend something like cheddar

50

grams

Heavy Whipping Cream

Try this one

5

grams

Minced Garlic

Salt & Pepper to taste

Green part of a spring onion
Instructions
Marinate the wings with the olive oil and lemon pepper seasoning and let it marinate for 20 minutes

Deep fry the wings till nice and gold brown, crispy and cooked fully. This normally takes 5 minutes or so (depending on the size of the wing) and drain of paper towels.

Mix the cream, cheese, garlic, salt and pepper in a bowl and microwave for 30 seconds and then give it all a good mix.

Microwave for another 30 seconds and mix till it's nice and smooth. Add about 1/2 tbsp of water if needed to thin it out a bit.

Chop the spring onion green and add to the dip and mix well.

Serve the wings and dip together.
Notes
I use a mix of olive oil and bacon fat to fry my wings. You can also use lard or coconut oil.