Craving a dish that dances on the palate with a harmonious blend of spicy, sweet, and tangy flavors? Look no further! This Bang Bang Shrimp brings forward a delightful medley of tastes that is sure to be an instant favorite.
Ingredient Notes
Shrimp: Opt for fresh shrimp when possible, but frozen can also be used. Just ensure they're properly thawed, shelled, and deveined.
Buttermilk: Buttermilk acts as a tenderizing agent, ensuring that your shrimp remain juicy and flavorful. It also enhances the overall flavor profile of the marinade.
Spices (Salt, Pepper, Paprika, Garlic Powder, Onion Powder): The backbone of your marinade, these spices infuse the shrimp with rich flavors.
Mayo, Sweet Chili Sauce, Sriracha Sauce: The trifecta behind the iconic 'bang bang' flavor. Depending on your spice threshold, these can be adjusted.
Corn Flour: Used for coating the shrimp before frying, this ensures a crispy exterior.
Oil: When it comes to deep frying, neutral oils like canola, vegetable, or sunflower oil are your best bets. If reusing oil from a previous fry, ensure it's been strained to remove any food particles. This will ensure a clean fry without any burnt bits.
Expert Tips
Frying Fundamentals: Always fry in batches. Overcrowding the pan can drop the oil temperature, leading to greasier, less crispy shrimp. Also, use a thermometer to maintain an optimal frying temperature between 350°F to 375°F.
Sauce Balance: Achieving the perfect 'bang bang' balance involves understanding your ingredients. Sweet chili sauce contributes both sweetness and a hint of spice, sriracha ramps up the heat, while mayo mellows and binds everything, smoothing out excessive spice and sweetness. Start with the provided measurements, then taste and tweak.
Garnish Generously: Those sliced scallions do more than add color. They introduce a fresh, mild oniony bite that complements the rich flavors. Don't skip them! For added flair, consider a sprinkle of black and white sesame seeds.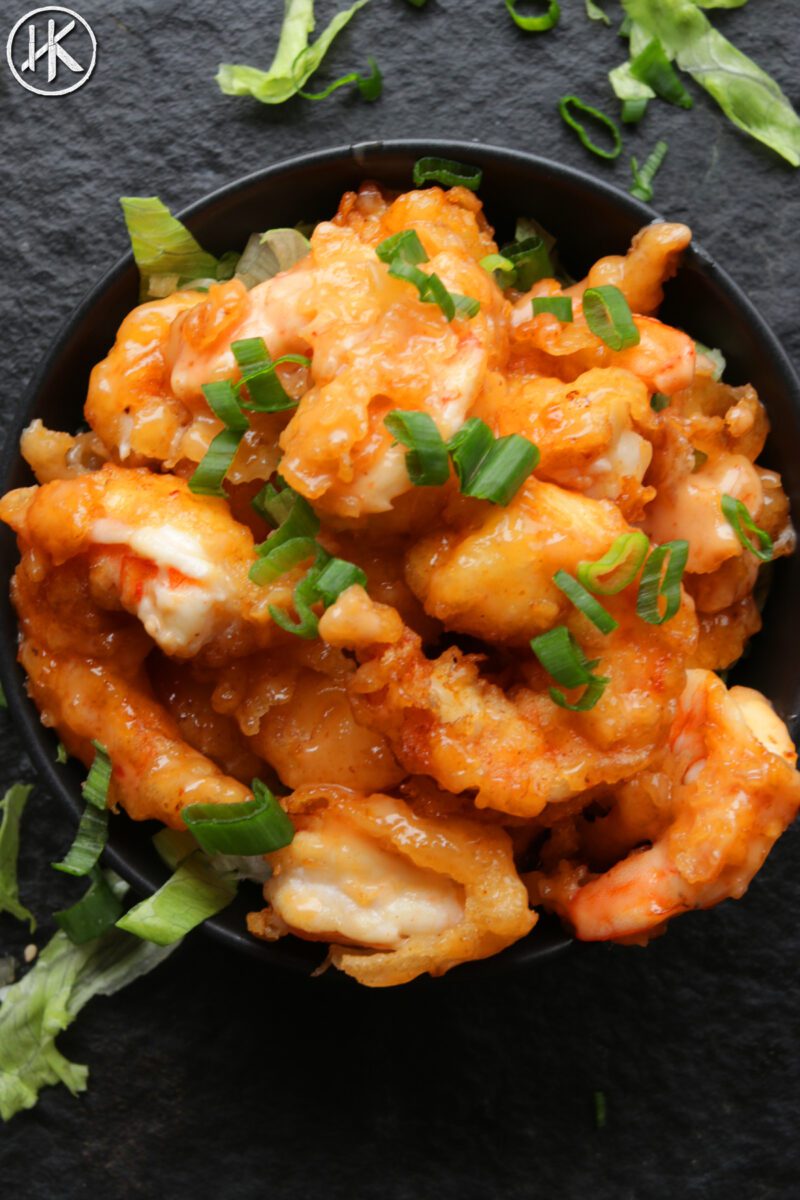 Storage and Leftovers
Handling leftover Bang Bang Shrimp appropriately ensures that they retain as much of their original taste and texture as possible:
Refrigeration: Store any leftover shrimp in an airtight container. Properly sealed, they'll remain fresh for up to 2 days. While the coating may lose some crispness, the flavor will remain robust.
Reheating: When it's time to savor the shrimp again, avoid microwaving as this tends to make them soggy. For the best results: Oven: Reheat in a preheated oven at 375°F for about 10 minutes or until they're thoroughly warmed. This will also help recrisp the coating. Air Fryer: This method is especially effective at retaining the shrimp's crispiness. Reheat at 375°F for 4-6 minutes, shaking the basket halfway through.
Freezing: If you wish to store them longer, consider freezing the shrimp. Lay them out on a baking sheet, freeze until solid, then transfer to a freezer bag or airtight container. They'll last for up to 3 months.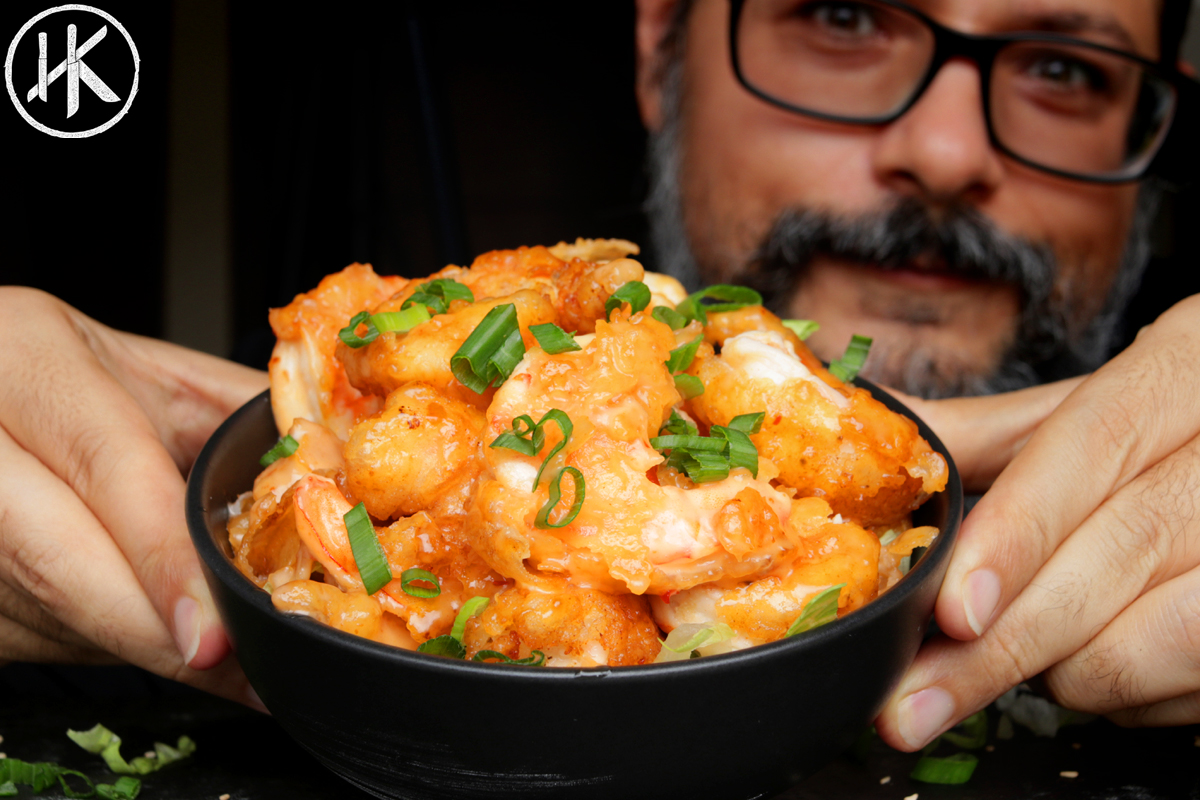 FAQs
Can I make this recipe keto?
Absolutely! To make this recipe keto-friendly, you can substitute the corn flour with almond flour, coconut flour or keto breadcrumbs for coating the shrimp. As for the sauce, opt for a sugar-free sweet chili sauce or make your own keto sweet chili sauce.
What can I pair with Bang Bang Shrimp?
This dish is versatile and pairs well with a variety of sides. Consider serving it with a fresh salad, jasmine rice, or cauliflower rice.
Bang Bang Shrimp
Craving a dish that dances on the palate with a harmonious blend of spicy, sweet, and tangy flavors? Look no further! Our Bang Bang Shrimp brings forward a delightful medley of tastes that is sure to be an instant favorite.
Ingredients
1

kg

Shrimp

shelled and deveined (yielding 650-700g cleaned shrimp)

500

ml

Buttermilk

additional if needed

2

tsp

Salt

1

tsp

Pepper

1

tsp

Paprika

1

tsp

Garlic Powder

1

tsp

Onion Powder

80

g

Mayo

30

g

Sweet Chili Sauce

20

g

Sriracha Sauce

1

tsp

Lemon Juice

300

g

Corn Flour

for coating

Oil

for deep frying
Garnish
Lettuce

shredded (as needed)

1

tbsp

Scallions

sliced
Instructions
In a large bowl, combine salt, pepper, paprika, garlic powder, and onion powder. Gradually whisk in the buttermilk to form a smooth mixture.

Submerge the shrimp in the buttermilk mixture, ensuring they are fully coated. If any shrimp remain exposed, add more buttermilk to cover. Cover the bowl with plastic wrap and refrigerate for 30 minutes.

Meanwhile, in another bowl, combine mayonnaise, sweet chili sauce, sriracha, and lemon juice. Taste and adjust the flavors using sweet chili sauce and sriracha based on your spice preference. Set aside.

After the marination period, place cornflour in a separate bowl. Remove each shrimp piece from the marinade, coat it in cornflour, and lay it on a tray. Continue this process until all shrimp are coated.

Heat oil in a deep frying pan or pot. Once hot, fry the shrimp in batches until they are golden brown and cooked through, approximately 2-3 minutes per batch. Transfer the fried shrimp to a wire rack or a plate lined with paper towels to drain excess oil.

Transfer crispy shrimp to a large bowl. Pour bang bang shrimp sauce over top. Gently toss to mix.

To serve, place a bed of shredded lettuce in a bowl, add the bang bang shrimp and garnish with scallions.
Nutrition
Calories:
639
kcal
Carbohydrates:
50
g
Protein:
61
g
Fat:
23
g
Saturated Fat:
5
g
Polyunsaturated Fat:
11
g
Monounsaturated Fat:
5
g
Trans Fat:
0.05
g
Cholesterol:
429
mg
Sodium:
1523
mg
Potassium:
1041
mg
Fiber:
4
g
Sugar:
11
g
Vitamin A:
498
IU
Vitamin C:
5
mg
Calcium:
385
mg
Iron:
2
mg