Thai Fish Curry – Yellow Thai Curry
Keto Thai Curry!
I was never big on Thai food just like I wasn't on Indian food. The reason being because I found everything too spicy and especially if you eat Thai food in India, it's spicy! Over the years this changed as I learnt to cook Thai food myself and also a few trips to Thailand gave me a different perspective. What was the biggest game changer, that made me love Thai food and Indian food was being able to control how spicy it was. Even using ready made Thai curry paste packets I was able to control the spice.
While it's always better and tastier (most of the time) to make your own curry paste, I used a store bought one for this. Despite the paste having some sugar the net carbs in the recipe per serving are quite low because in the grand scheme of things it's probably an insignificant amount of sugar involved.
Green, Yellow and Red
There are quite a few different varieties of Thai curry. The most popular being green and red. I have made a vegetarian Thai Green Curry on the show and while I haven't done a Red curry yet I did do a Beef Masaman Curry. In fact I actually had a whole Curry week on the show showcasing all kinds of different curries. So enjoy!
Nutrition Info (Per serving)
Calories: 371
Net Carbs: 3g
Carbs: 5g
Fat: 26g
Protein: 32g
Fiber: 2g
This recipe makes 3 serving. Get this recipe on myfitnesspal.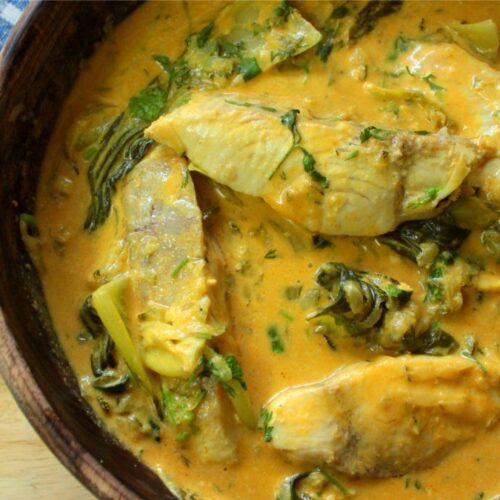 Thai Fish Curry - Yellow Thai Curry
A flavourful yellow Thai Curry with Fish
Ingredients
450

grams

Fish (of your choice)

30

grams

Thai Yellow Curry Paste

I used this one

200

grams

Zuchinni grated

100

grams

Bok Choy

250

ml

Coconut Milk

Try this one

1

tbsp

Coconut Oil

Try this one

Coriander to garnish
Instructions
Heat the coconut oil in a wok and fry the paste for a minute

Add in about 50ml of the coconut milk and create the curry base

Add the grated zuchinni and cook for a minute and then add the boy choy

Add in the rest of the coconut milk and cook for 3-4 minutes

Add in the pieces of fish and let it cook till the fish is done

Check the seasoning and season with salt if required

Garnish with coriander and serve.