Delicious Roasted Eggplant
Welcome to another recipe that is part of my 'Indian food' series here on HK. We kicked off with a crispy fried okra, followed it up with a Keto dahi rice and today I'm continuing to make the vegetarians happy (I don't know why though). On the menu today is an incredible roasted eggplant dish that we call 'Baingan Ka Bhrata' or just 'Baingan Bharta' here in India. Baingan is just the Hindi word for eggplant. What does bharta mean? I'm not sure actually but I think it has something to do with roasting and the way this dish is cooked. In India we was call our vegetable preparations 'sabzi' which we generally eat with roti or chapati. Of course I've got you covered with my Keto naan recipe and also my Keto tortilla recipe which works great as a roti.  Anyway, enough jibber jabber, enjoy the recipe.
Roast them veggies
I want to stress on how important it is to roast that eggplant on your stove instead of in the oven. There is a smoky flavour you just will not get by roasting it in the oven. Of course if you have a barbecue then nothing like it. Eggplant has become one of my favourite veggies in recent times and it's that smokiness that I really love. I've done quite a few dishes with eggplant, there is my Baba ganoush recipe, my eggplant Involtini and even my famous eggplant parmesan.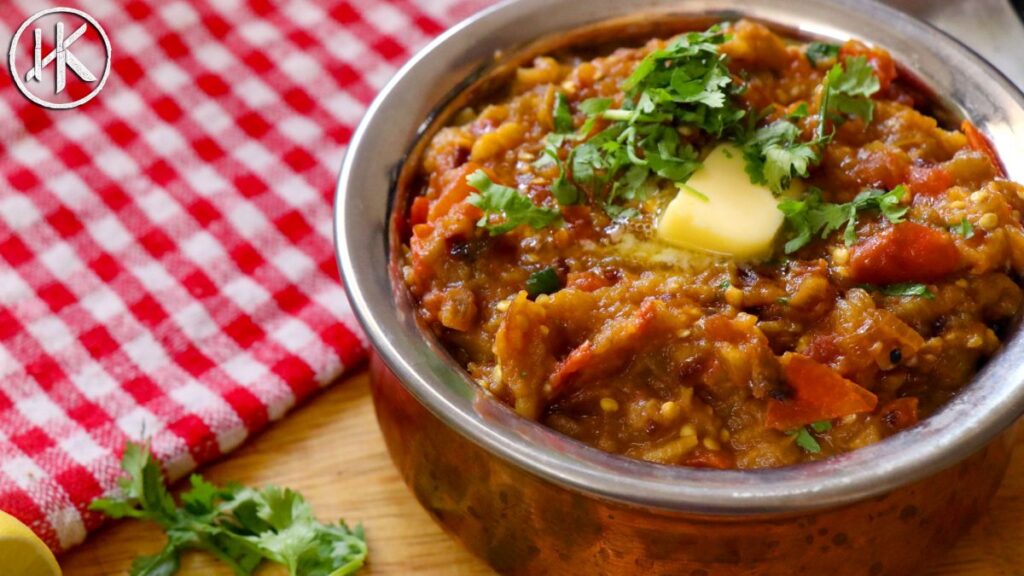 Nutrition Info (Per serving)
Calories: 218
Net Carbs: 3g
Carbs: 8g
Fat: 17g
Protein: 6g
Fiber: 5g
This recipe makes 3 servings. Get this recipe on myfitnesspal.
Keto Baingan Bharta
A delicious preparation of roasted eggplant
Instructions
Start by poking holes in the eggplant skin with a knife and also made a few gashes and stuff with the garlic.

Roast the eggplant over the stove or in the oven for about 10-15minutes. Once done, cover and let it cool. Skin the eggplant once it has cooled and chop it roughly till you have a mashed eggplant.

Heat the ghee in a saucepan and fry the onions. Season with some salt.

Once the onions have browned slightly add in a chopped green chilly and the tomato

Add in your tumeric and chill powder and cook for about 5 minutes till the tomatoes break down. (Add water if needed, but only a little)

Add in the eggplant, season with salt and cook for another 2-3 minutes.

Garnish with coriander and a full tablespoon of butter and serve with a Keto roti/naan