Creamy Keto Chicken Curry
Who says you can't eat Indian food on keto?
It's been a long time coming that I did a Keto chicken curry recipe for the channel. Most Indian curries do use a lot of tomato and onion and can be quite high on carbs but more or less they are still acceptable to eat as is. However it makes sense to amp up the regular Indian curry to make it a better keto food. So we've added some good fats via butter/ghee as well as almonds and heavy cream to finish with. The spice level of this curry can be adjusted to your palette but just adding a chopped green chilly (or three). It's best served with cauliflower rice.
A base recipe for all future curries
The best part of this recipe is once you've made this a few times it's pretty much the standard combination to make any curry at all. Most Indian curries have a base of onion, tomato and ginger garlic paste with the spices including cumin, red chilly powder, tumeric, garam masala powder and coriander powder. From this base you can give it a North Indian twist by adding dairy like cream or yoghurt or a more South Indian flavour by replacing the dairy with coconut milk. If chicken isn't your meat of preference you can always try our egg curry recipe or maybe our Pork Vindaloo. Either way, just curry on!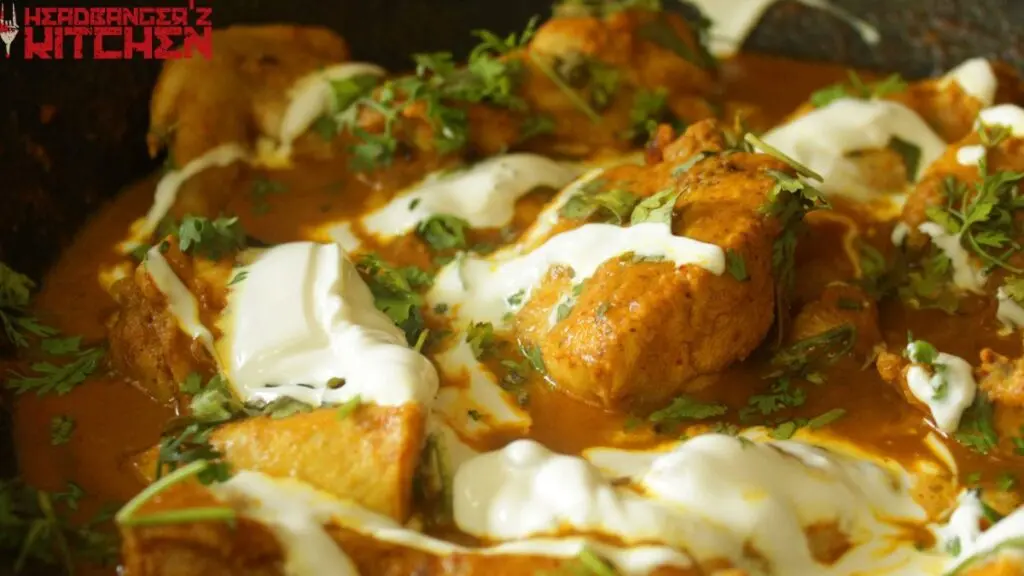 Nutrition Info (Per serving)
Calories: 290
Net Carbs: 3g
Carbs: 3g
Fat: 15g
Protein: 28g
Fiber: 0g
This recipe makes 5 servings. Get this recipe on myfitnesspal.
Creamy Chicken Curry
A spicy Indian style Chicken curry.
Instructions
Marinate the chicken with ginger garlic paste, lime juice, salt, red chilli powder, tumeric, garam masala powder and coriander powder. Leave for 20-30minutes

Melt some butter in a pan and fry the onion

Add in the cumin seeds, cloves and cardomom and cook

Add in the ginger garlic paste and almonds and cook some more

Add in the tomato puree and cook for 5 minutes. Add water if need.

Transfer to a blender and blend.

In the same pan add butter and fry the chicken

After about 5 minutes of cooking deglaze with water and add the blended curry paste

Cover and cook for 10 minutes till chicken is cooked through

Garnish with coriander and fresh cream and serve.