This is the Only Recipe for Red Pesto Chicken You'll Ever Need!
Horns up, and welcome to another quick recipe. Today, we will create an Italian inspired dish called the red pesto chicken with little over 6 ingredients. I am a big fan of pesto, and you will find multiple pesto-related recipes on my channel and website. I'm not sure if they make anything like this in Italy but it's definitely a fun and easy recipe with those much loved Italian flavors. 
But this time, I'll use a pesto  made from sun-dried tomatoes. Let me tell you, this one-skillet dish makes for a quick and easy weeknight dinner. 
The way I made this really gave it that extra oomph and flavor. Intrigued? Read on to find a killer red pesto chicken recipe, along with some alternatives and fun facts! 
P.S.: I can eat this all day, every day!
All About this Red Pesto Chicken Recipe
This dish requires chicken, red pesto sauce, mushrooms, bell peppers, heavy cream, butter, olive oil and parsley. Yes, that's all.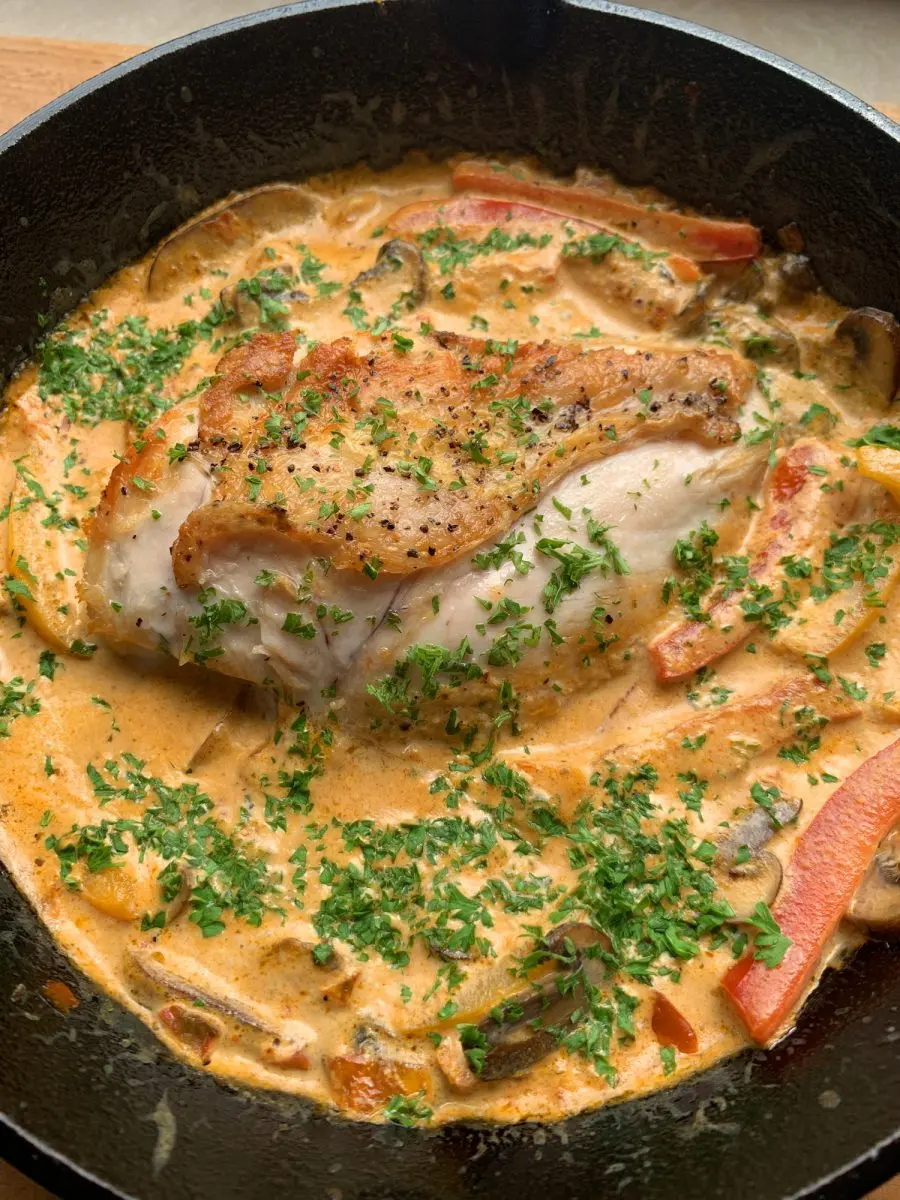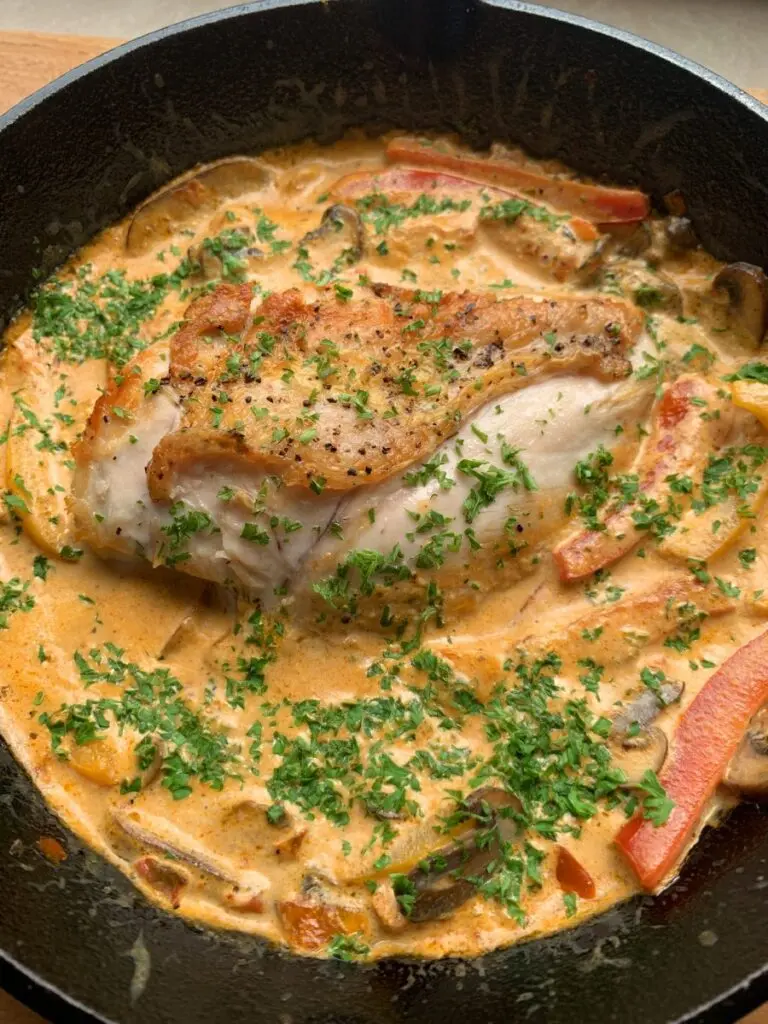 JUST LOOK AT IT!!!
Did you know that the pesto sauce originated in Genoa, Italy, in the 16th century? The traditional recipe consisted of crushed garlic, pine nuts, and basil. These were blended together with olive oil and Parmesan cheese to create a smooth and creamy sauce. 
Speaking of Parmesan, have you tried out my Keto eggplant Parmesan or Chicken Parmesan? If not, I highly recommend it. 
So, it's safe to say that I am not using the traditional pesto sauce for this recipe. But if you want to check out how I make it head to this video.
The Alternatives 
Now, coming to the ingredient alternatives, well, I have plenty. I used a store-bought red pesto sauce, so any brand would work, but you can also create your own. Let me know in the comments if you'd like a video on that. 
As a substitute for chicken, you can use fish, mock meat, eggplant, or any kind of protein you can fry. If you don't have Cremini mushrooms, you can skip adding that or simply use any type of mushrooms available. Some of you might not like bell peppers, so I recommend substituting them with broccoli or zucchini. 
All stocked up? Let's move on!
Note: The cooking time will vary depending on the ingredients and quantity used. 
Let's Cook this Bad Boy!
So, how would I describe the taste and look of this creamy red pesto chicken dish? 
Well, the chicken skin was perfectly crispy since we pan sear it. At the same time, it was perfectly juicy when I sliced into it.  The secret to a juicy piece of chicken that is not over cooked is using the meat thermometer. That sauce created by the pesto and the cream is rich and flavourful without having to do much because the pesto is already packed full of flavour. And the best par is that this whole dish comes together in minutes. 
It's like yin and yang, but a tomato and chicken edition! Perfectly balanced and outstanding. Just check out my reaction!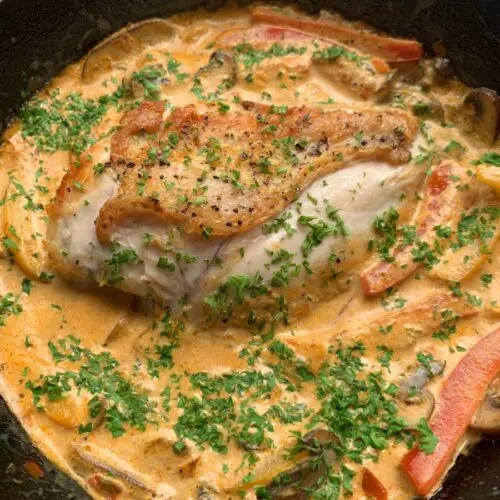 Cooking the Red Pesto Chicken - Headbanger's Style!
Here is a very quick and easy-to-make Italian recipe. Ready to indulge in this guilty pleasure?
Ingredients
10

grams

Red pesto sauce

Store-bought

1

Skin-on chicken breast

Salt and Pepper

For seasoning

1

tsp

olive oil

1

tsp

Butter

50

grams

Cremini mushrooms

1

Chopped garlic clove

30

grams

Red and yellow bell peppers

30

grams

Heavy Cream

1/2

tsp

Parsley
Instructions
Get the skin-on chicken and season it with salt and pepper (as per taste) on both sides. Cut up some garlic, parsley, bell peppers and Cremini mushrooms. Once everything is ready, take a skillet and heat some olive oil.

Lay down the chicken, skin side first, and let it produce that sizzling sound. Once that side is fried, flip it (Drum rolls for that golden brown skin) and continue cooking. When it's done, remove it from that pan and set it aside.

In the same pan, heat some butter, and add the mushrooms. Then, season it with a pinch of salt and add the chopped garlic. Sautee it for a little bit and put in your bell peppers.

After a few seconds, add some water to deglaze it, and mix in the red pesto sauce. Once done, you need to season it with salt and pepper. Then, add the heavy cream.

After mixing everything well, put that cooked chicken in the sauce to finish cooking. Use a meat thermometer to check the temperature. And, when it's done to your liking, garnish with some parsley.

Annnd, you are done! The creamy red pesto chicken is ready. Enjoy the juicy and crispy meat, but don't forget to lather it up with that lovely red pesto sauce.