A delicious vegetarian Keto recipe
I actually tried filming this once and dropped the idea half way through the shoot but I enjoyed it as dinner the same day and figured I just got to make it for you guys. So please enjoy this Keto Eggplant Involtini. It's a delicious creation and even though it's similar to Eggplant Parmesan it's quite something on it's own. The ricotta cheese with the fresh herbs, it's awesome! Anyway enjoy the recipe.
You put the egg in the eggplant
I stuffed the eggplant with ricotta cheese and herbs and I added an egg yolk for some extra richness which my Indian 'pure-veg' friends can skip and of course if you don't have access to ricotta cheese I would recommend paneer or queso fresco or even cottage cheese. You can pretty much throw in whatever you like, some chopped bacon perhaps, maybe some ham or even shredded chicken if you can't do without your meat. For the tomato sauce I would recommend using HK's Keto marinara sauce and if you love Italian dishes try our Keto chicken Parmesan recipe or even the Keto eggplant Parmesan (for my vegetarian friends). Enjoy!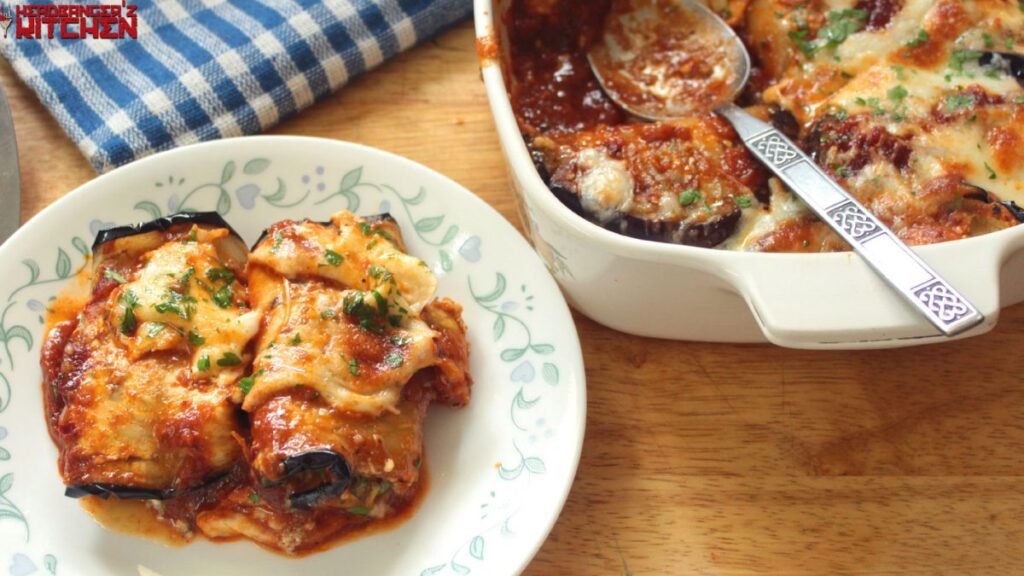 Nutrition Info (Per serving)
Calories: 260
Net Carbs: 5g
Carbs: 9g
Fat: 19g
Protein: 14g
Fiber: 4g
This recipe makes 4 serving. Get this recipe on myfitnesspal.
Keto Eggplant Involtini
A delicious vegetarian keto recipe
Ingredients
400

grams

Eggplant

150

grams

Ricotta Cheese

50

grams

Grana Padano

50

grams

Shredder Mozzarella

1

Egg

Fresh Basil

Fresh Parsley

Red Chilli Flakes

Salt

Pepper

olive oil

I use this

4

Servings

HK's Marinara Sauce

(Approx 250 grams) Get the recipe here
Instructions
Slice the eggplant, salt and leave for 30 minutes in a colander.

In a bowl mix the ricotta cheese with salt, pepper, red chilli flakes, grana padano cheese and 1 egg.

Pat dry the eggplant slices and pan fry or roast in the oven till cooked

Place the filling on one end of the eggplant slice and roll the eggplant

Layer the casserole with the marinara sauce, the stuffed eggplant, top with more marinara sauce and then the shredded mozzarella cheese.

Bake for 15 minutes or till the cheese melts.

Serve