Patta Gohbi Ki Sabzi – Indian style Cabbage Stir Fry
Most Indian meals include a variety of dishes. There is meat, roti, sabzi, lentils, rice, yogurt etc etc. Sabzi literally means vegetable and Patta Gobhi is cabbage. So today we're making a simple Keto cabbage stir fry called 'Patta Gohbhi Ki Sabzi'. This is something that's cooked regularly at home and something my mother always has with her dal chawal (lentils and rice). This is a great side dish to have along with your Keto chicken curry and naan or if you are having maybe your Keto egg curry and cauliflower rice.
Most people think Indian food is complex, takes a lot of time, has a lot of spices and basically takes a lot of effort. However, that's not the whole truth. There are many Indian dishes that are easy to whip up, don't take much time and aren't loaded with lots of ingredients. This is one such dish. So let's get cooking.
Cooking with cabbage
I realized that I don't cook or use cabbage much. I recently made a bacon & cabbage slaw and I used some in my Keto tuna salad recipe. Other than that I haven't used it much and it's a pretty great vegetable when used right. It's also got great nutrition stats, a 100g of cabbage has about 3.5g net carbs which is great. A lot of people are super paranoid about their carb counts but I'm with Dr.Eric Berg on the idea that its okay to be flexible with carbs that come from vegetables. While I'm not saying eat unlimited quantities, don't stress if your net carbs are more between 30-40g in a day as compared to 20-30g if they are coming from veggies.
Anyway, do you have any cabbage recipes? Do you like cabbage? Your favourite cabbage dish? Share with me in the comments below. Cheers! m/
Nutrition Info (Per serving)
Calories: 111
Net Carbs: 3g
Carbs: 5g
Fat: 10g
Protein: 1g
Fiber: 2g
This recipe makes 3 servings. Get this recipe on myfitnesspal.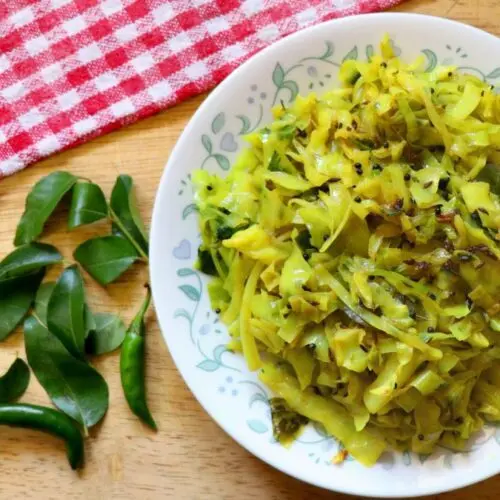 Keto Cabbage Stir Fry
An Indian style cabbage stir fry
Instructions
Chop the cabbage up into fine shreds.

Heat the ghee in your kadai or saucepan on the stove.

Add in the cumin and mustard seeds.

Once the mustard seeds start to pop you add in the curry leaves and pinch of hing.

Once the curry leaves have crisped up add in the cabbage and give it all a good mix.

Season with the tumeric and salt and cover with a lid and cook for 7-8 minute or till the cabbage is cooked to your liking. Some people like their cabbage soft and some want it to still have a bit of bite.

Finish with fresh coriander, give it another good mix and serve.