A Keto Seafood Special
Butter and Garlic is a match made in heaven. I often like to throw that on a steak but there is something special about the way it pairs with seafood. I've already made Keto butter garlic prawns on the show. That hasn't stopped me from making today's recipe. Butter Garlic Squid. My fisherwoman (a lady who goes door to door selling seafood) got me some fresh calamari and I just new I had to cook something with it. I pondered for a while whether I should do something Indian but I realized I'd already done a black pepper squid recipe. I'd also made a pesto calamari salad and also used squid to make a Keto spaghetti and meatballs recipe.
I didn't have too many ingredients at home. After rummaging through the cupboards a bit I decided, what the heck, I'll make butter garlic squid. Anyway, enough jibber jabber. Let's cook.
Did the barbecue work?
As you might have watched in the episode I cooked one of the squid heads and the wings on my stove top barbecue. It definitely gave off a smoky aroma whole cooking but that didn't really translate to the final dish. I cooked it about 70% of the way on the stove and then just finished it off in the butter garlic sauce. Personally I couldn't tell the regular ones from the smokey ones. I think it's probably more suited to some kind of a different recipe. So I'd say just skip that part of the recipe when you make it.
Nutrition Info (Per serving)
Calories: 271
Net Carbs: 7g
Carbs: 7g
Fat: 22g
Protein: 21g
Fiber: 0g
This recipe makes 2 servings. Get this recipe on myfitnesspal.
Now I looked online quite a bit and it seems squid does have carbs in it. I'm not sure how or why. I did find this article that I thought was quite helpful to understand. I personally don't care about the carbs from shellfish. If you do then I'd say you can safely eat a smaller portion or skip it completely.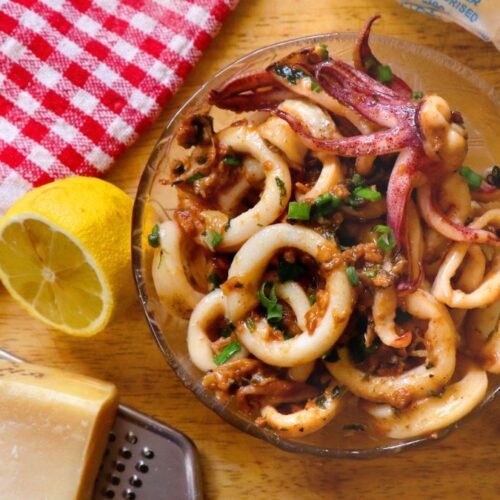 Butter Garlic Squid
A delicious seafood appitizer
Ingredients
250

grams

Squid

50

grams

Salted Butter

I recommend this one

20

grams

garlic

5

grams

Spring Onion

5

grams

Parmesan cheese

3

grams

Coriander

Salt & Pepper to taste

a squeeze of Lemon Juice
Instructions
Chop the spring onion and set aside the green part for garnish at the end. Chop the coriander finely as well. Mince the garlic and cut the squid into rings.

Season the squid with salt and pepper and set aside.

Heat the butter in a frying pan along with the garlic, coriander and spring onion white and middle.

Let it cook on a medium heat till the garlic starts to brown.

Turn the heat to the highest and add in the squid.

Give it all a good mix and cook for 2-3 minutes till the squid is fully cooked.

Grate some Parmesan cheese over it, give it a mix and squeeze some fresh lemon juice as well.

Garnish with the spring onion greens and serve.