Mascarpone cheese is another must have item in our keto kitchen.
It's a nice fatty cheese and works really well in desserts as well as savoury items. Whether you make a Tiramisu from it or some frosting or even a delicious creamy sauce it's a Keto Essential. Enjoy our recipe, it's a great way to save money and make it yourself.
What can you make with mascarpone?
The reason I made a how to for mascarpone was because I love Tiramisu and I needed it for my Keto Tiramisu recipe and it's pretty expensive when you buy it from the stores. When you make it at home it costs the same but you get a little more than double the amount of cheese. I very recently made an incredible coffee and chocolate tart using Mascarpone cheese. So what are your favourite recipes to use Mascarpone in?
Nutrition Info (Per serving)
Calories: 70
Net Carbs: 1g
Carbs: 1g
Fat: 7g
Protein: 1g
Fiber: 0g
This recipe makes 35 servings. 1 Serving = about 15 grams. Get this recipe on myfitnesspal.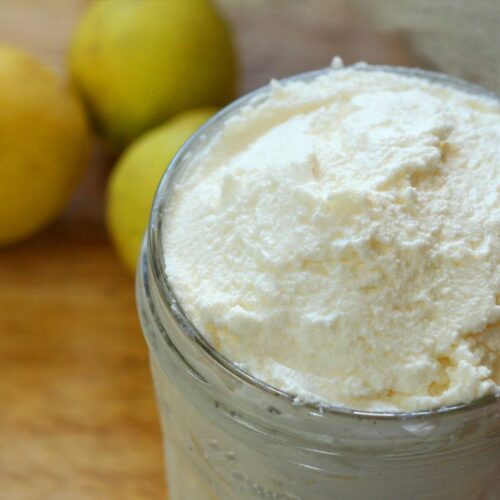 Mascarpone Cheese
An amazing cheese used to make incredible desserts
Ingredients
1

Litre

Heavy Cream

1

Lemon or Lime Juice
Instructions
Add a litre of heavy cream to a large thick bottomed sauce pan. Place over medium heat and slowly bring it up to a simmer. Keep stirring occasionally so it doesn't scorch at the bottom. When you see the first bubbles start to appear, stir in the juice of a whole lemon and stir continuously until the cream thickens; it should leave a ribbon on the surface when you lift the spoon.

Place a strainer over a bowl and line the strainer with four layers of cheesecloth; you can also use any other thin muslin cloth to strain this. Cover and leave to drain for 8 hours or overnight in the fridge. Discard the whey and store the cheese in an airtight container in the refrigerator.