Keto Grilled Chicken in a Creamy Pesto Sauce
Keto meal for one
When I'm eating alone, I don't want to make an elaborate meal. I had a bunch of chicken breasts lying in my freezer so I decided to make a nice pan-grilled chicken and a delicious creamy pesto sauce to go with it. This recipe is quick, easy and perfect to make when you are dining solo or when you want to rustle up a quick weekday meal. It takes less than 15 minutes to make and there is almost no prep as well. Enjoy this easy meal for one!
That mean green pesto machine
My Keto pesto is a go to ingredient in the kitchen. It's the perfect tablespoon, packed with flavour. It can be used in so many different ways to create everything from a marinade to a sauce and what's great is that it's high fat so it fits in perfectly with our Keto requirements. So go ahead and let me know how you use pesto in your recipes, I'd love to know.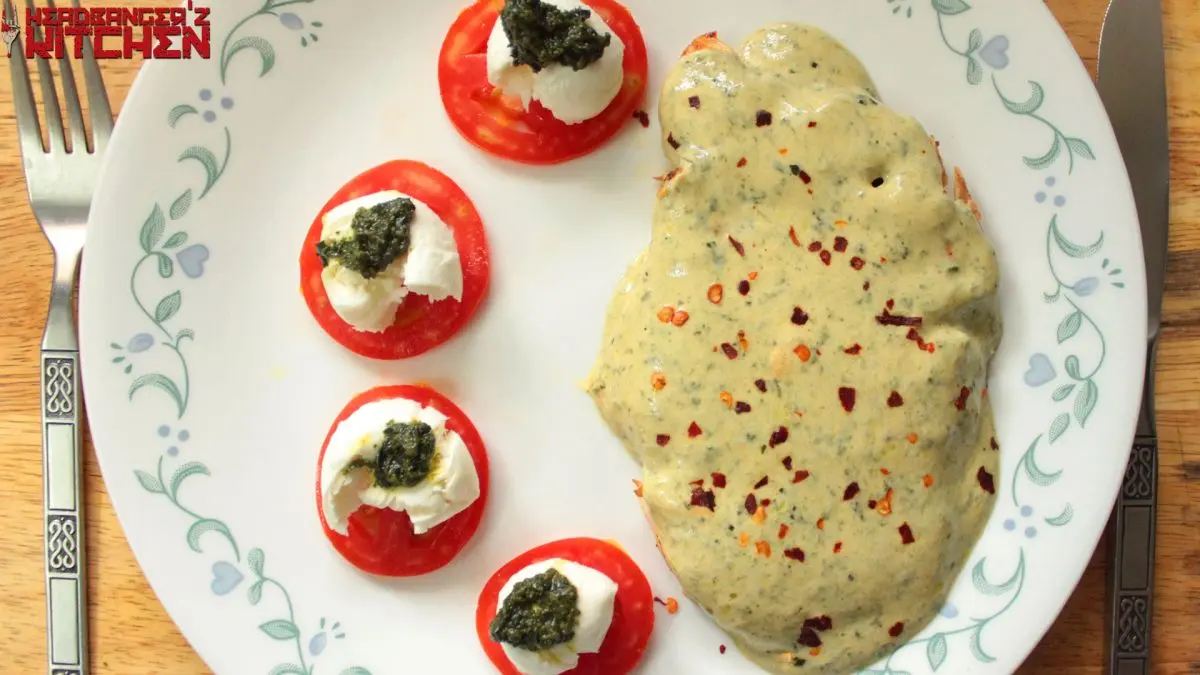 Nutrition Info (Per serving)
Calories: 374
Net Carbs: 2g
Carbs: 2g
Fat: 37g
Protein: 8g
Fiber: 0g
Macros for the sauce. You can add the chicken as per the weight of the breast you are using.
This recipe makes 1 servings of the sauce. You can find a generic grilled chicken on MFP for those macros.
Get this recipe on myfitnesspal.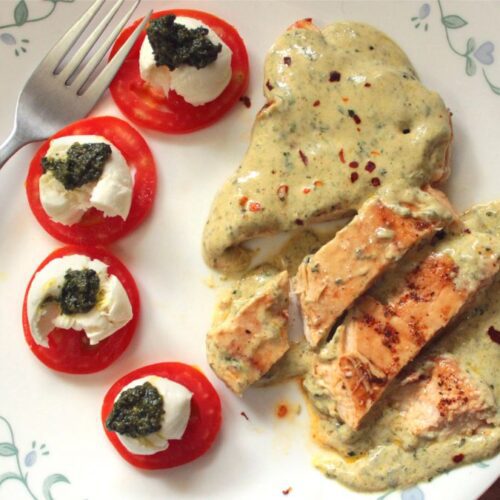 Grilled Chicken in a Creamy Pesto Sauce
A delicious keto meal for one
Instructions
Beat the chicken with the flat side of a meat mallet and flatten the breast and season with salt, pepper and cayenne on both sides.

Heat the olive oil in a pan and fry the chicken for 2 minutes of each side on a high heat.

Deglaze the pan with water.

Add in the pesto and mix well. Add some more fresh pepper

Add in the cream and cheese and cook till everything is well blended

Pour in the resting juices from the chicken

Slice the chicken, pour over the sauce and serve!