The Golden Turmeric Chicken
Where did the idea for turmeric chicken and rice come from? Let me tell you a story. I have a dog called Miso. My wife makes him chicken, vegetables and oats for most of his meals. I love his food. It smells amazing. You might think I'm crazy but hear me out. Oats are human food, so are frozen veggies and so is chicken. She also adds some turmeric and ginger powder. Now I don't know what it is about this combination but the smell! Oh the smell! It reminds me of this epic turmeric masala popcorn you used to buy at movie theaters in Bombay. 
That's what inspired me to make today's dish. I love chicken and rice and I eat some version of that for lunch everyday. I've done a video of my chicken rice meal prep. So this is the perfect lunch for me. I know I'm missing my veggies in the video but just have some steamed broccoli or mixed veg on the side and you're good to go. 
Why this works?
Chicken – Let me start by talking about the chicken. I used leg and thigh with the skin. Now we are boiling the chicken and I know some of you don't like soggy chicken skin. That's ok. I love it. But the reason we want it is because of the fat. That fat flavours the stock and gives the rice a nice oily sheen. You can pull the skin off before eating and even crisp it in the oven. But leave it on for the cooking. Of course you can make it without that. Same with the bones. I know lots of folks don't like chicken with bone. However that bone adds a lot of flavour and good nutrition. But as I always say you can make this using boneless chicken
Coriander Root – I had some at home so I used it. If you don't have any that's fine you can skip it. You can also use the stems of coriander, you can also throw in a spring onion. This is just to add a bit more depth of flavour
Ginger – This has so many health benefits so I like to add it where I can. You can also use garlic. The great part about this one pot meal is that you can pack a lot of nutrient dense foods into it. And because we're not just boiling but we're using the stock to cook the rice, we retain all the nutrients.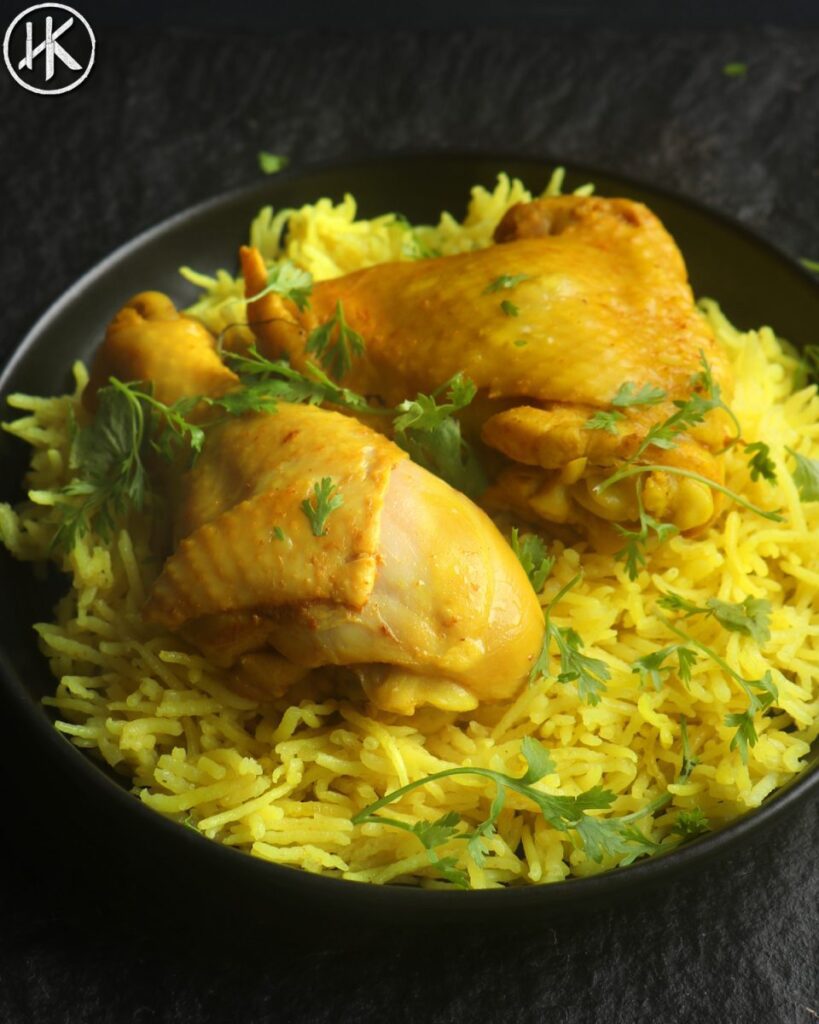 Macros
Honestly you can just insert boiled chicken macros into the apps. Same with rice, just boiled rice.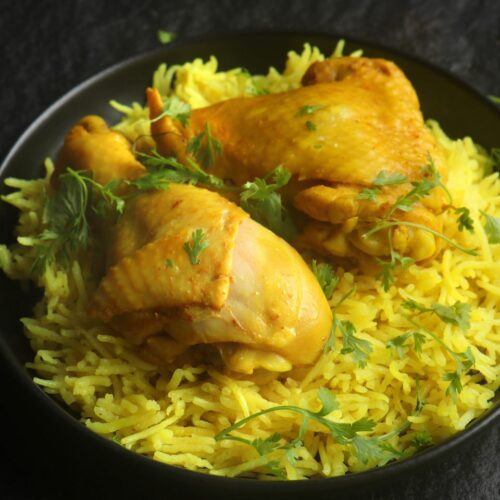 Turmeric chicken rice
An epic chicken rice dish
Ingredients
150

grams

Long Grain Basmati Rice

500

grams

Chicken Leg and Thigh

With skin and bone

1

piece

Ginger

1

small bunch

Coriander Root

1

Tsp

Salt

1

Tsp

Turmeric

500

ml

Water

for cooking the chicken

Coriander

for garnish
Instructions
Start by washing the rice under running water till it runs clear and then soak for at least 30 minutes

In a big pot add the water, coriander root, ginger, salt, turmeric and chicken. Turn on the heat and cook for 20 minutes of a medium heat. Half way through open and flip the chicken around.

Once cooked remove the chicken from the pan and strain the liquid.

In the same pot add the rice and the liquid and bring to a boil. Then lower the heat and cover and cook for about 8-10 minutes or the liquid has dried out completely.

Turn off the heat and let it sit covered for 10 minutes. After which you can open the lid and fluff up the rice.

Serve yourself the rice, place the chicken on top and garnish with coriander.

Enjoy!