Experience the delicious flavors of classic French cuisine with this Chicken Fricassee recipe. It's crafted using accessible ingredients and comes together in just 45 minutes.
This dish features tender chicken simmered in a creamy onion and mushroom sauce, which works wonderfully with a side dish like bread or rice. It's a taste of my childhood and is my perfect chicken and rice lunch
Ingredients
Boneless Chicken Thighs: Boneless chicken thighs are an excellent choice; they will stay tender and juicy even after being simmered. Although if chicken thighs aren't your preference, chicken breasts are also a fine substitute.
Flour: Dusting the chicken with flour before searing helps achieve a golden crust and thickens the sauce later.
Butter & Olive Oil: The combination of butter and olive oil offers a depth of flavor. Butter provides richness while olive oil prevents the butter from burning too quickly.
Button Mushrooms: Quartered mushrooms contribute a meaty texture, absorbing the essence of wine and chicken while in the pan.
Red Onions: These offer a mild sweetness, complementing the robust flavors of the other ingredients.
Garlic: Minced garlic adds an aromatic depth, complementing the herbs and enriching the sauce.
Thyme: Whether fresh or dried, thyme imparts a fragrant herbal note that's iconic in classic fricassees.
Bay Leaf: A single bay leaf goes a long way, infusing the dish with its unique, subtle undertones.
White Wine: Opt for a dry white wine which not only helps to deglaze the pan but also imparts a slightly acidic and sophisticated depth to the sauce, elevating the overall taste.
Chicken Stock: The base of our sauce, chicken stock imparts a hearty depth, making the dish even more comforting.
Cream: Go for a heavy or whipping cream for a rich and luscious texture in your sauce.
Fresh Parsley: Chopped fresh parsley doesn't just garnish; it introduces freshness, balancing the creamy and savory components.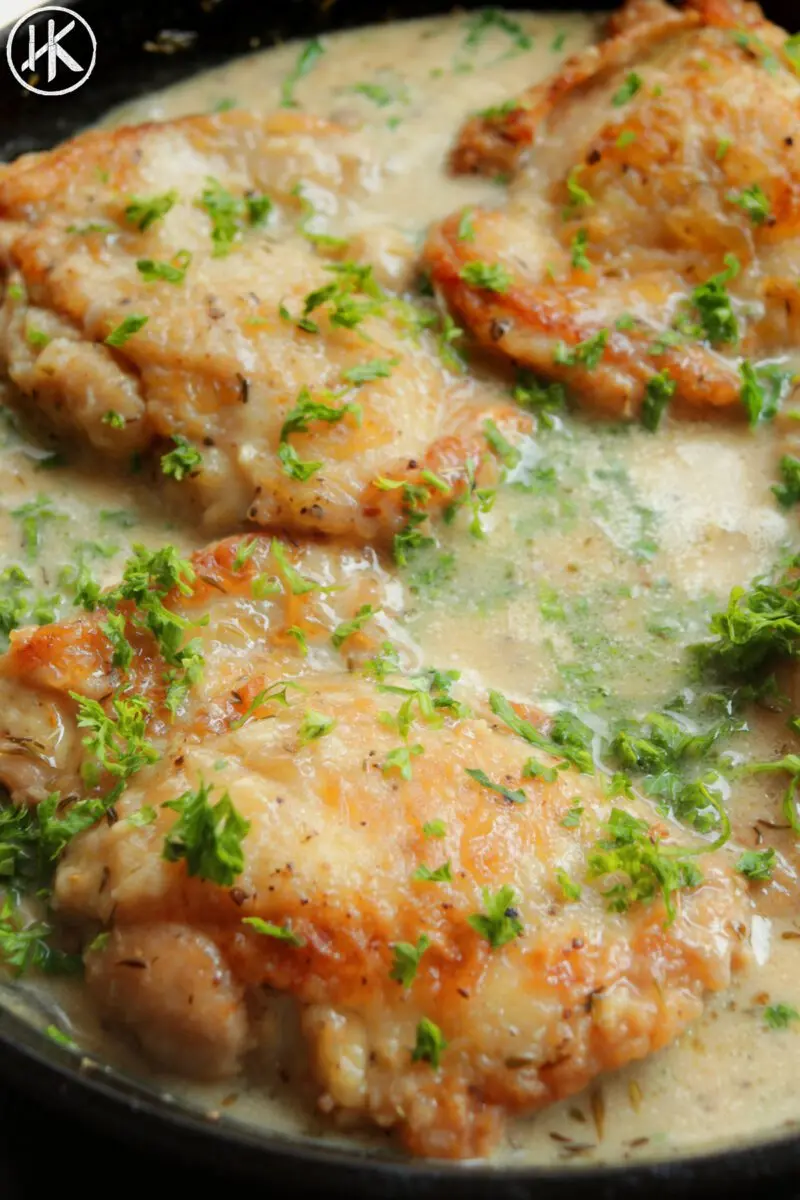 Expert Tips
Deglazing with the Pan: When adding white wine to deglaze the pan, be sure to use a wooden or silicone spatula to scrape up the flavorful bits from the bottom. This ensures that you don't scratch the pan, especially if it has a non-stick or enamel coating.
Maintaining a Gentle Simmer: Once the chicken stock is added, maintain a gentle simmer, not a roaring boil. This allows the chicken to cook evenly and prevents the meat from becoming tough.
Adjusting Sauce Consistency: If your sauce feels too thick, you can thin it out with a little chicken stock or water. If it's too thin, let it simmer a bit longer, but always keep an eye on it to prevent over-reducing.
Storage and Leftovers
If you have any leftovers of Chicken Fricassee, let them cool to room temperature before transferring them to an airtight container and refrigerating. Aim to consume them within 3-4 days.
To reheat, use the stovetop on medium-low heat, adding a splash of chicken broth if necessary. Alternatively, use the microwave, heating in intervals and stirring in between until thoroughly hot.
FAQs
Is there an alternative to white wine in this dish?
If you prefer not to use wine, you can deglaze the pan with additional chicken stock.
Which cream is recommended for this recipe?
Heavy cream or whipping cream is the best choice for this recipe due to its richness. However, half-and-half can be used as a lighter alternative.
What side dishes pair well with Chicken Fricassee?
Chicken Fricassee pairs wonderfully with various side dishes. Some recommendations include bread (especially crusty varieties), mashed potato, mashed cauliflower, rice, and cauliflower rice for a low-carb option.
Can I make this recipe keto-friendly?
Yes, you can modify this Chicken Fricassee recipe to be keto-friendly. Swap out the flour for a keto-friendly flour like almond flour. Then with the wine, choose a low-carb white wine, or if you prefer, omit the wine and increase the chicken broth amount, using it to deglaze the pan.
Recipes You May Like: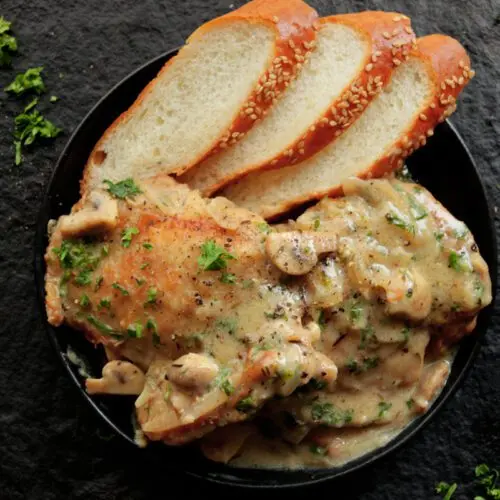 Chicken Fricassee
Experience the delicious flavors of classic French cuisine with this Chicken Fricassee recipe. It's crafted using accessible ingredients and comes together in just 45 minutes.
Ingredients
500

grams

Boneless Chicken Thighs

2

Tbsp

Flour

1

Tbsp

Butter

1

Tsp

Olive Oil

200

grams

Button Mushrooms

quartered

75

grams

Red onions

sliced

1

clove

Garlic

minced

1

Tsp

Thyme

dried or fresh

1

Bay Leaf

¼

Cup

White Wine

400

ml

Chicken Stock

50

ml

Cream

Fresh Parsley

chopped

Salt and Pepper

to taste
Instructions
In a tray, lay out the chicken thighs. Season both sides with salt and pepper. Lightly dust both sides with flour.

In a cast iron pan, heat the olive oil and butter. Once the butter has melted, add the chicken thighs skin side down. Sear for 3-4 minutes, then flip and sear the other side. Remove the chicken and set aside.

In the same pan, add the button mushrooms and red onions. Sear for 2 minutes.

Mix in the garlic, bay leaf, and thyme. Stir in the 1 tablespoon of flour and let it cook for a minute.

Deglaze the pan with the white wine. Stir well.

Pour in the chicken stock and return the chicken thighs to the pan. Cover and let it simmer for 15 minutes.

Remove the chicken thighs and bay leaf. Stir in the cream. Season with salt, pepper, and a handful of fresh parsley.

Return the chicken to the pan and add a sprinkle of fresh parsley. Serve immediately alongside your preferred side dish.
Nutrition
Calories:
868
kcal
Carbohydrates:
24
g
Protein:
50
g
Fat:
61
g
Saturated Fat:
22
g
Polyunsaturated Fat:
10
g
Monounsaturated Fat:
24
g
Trans Fat:
0.4
g
Cholesterol:
295
mg
Sodium:
543
mg
Potassium:
1159
mg
Fiber:
2
g
Sugar:
8
g
Vitamin A:
797
IU
Vitamin C:
8
mg
Calcium:
78
mg
Iron:
3
mg