Poor Man's Truffle Pasta | A Mouth-Watering Recipe that Isn't Too Hard on Your Wallet!
Horn's up, and welcome back to another quick recipe. On today's menu, we are going to make a MasterChef-inspired dish – Truffle pasta. But I'm cooking a budget version. Hence, the name poor man's truffle pasta!
As you all know, I love making different kinds of pasta recipes and now wanted to try something different. On videos, blogs and cooking shows, I have always noticed people trying out truffles, so the inspiration brewed. But there was one problem – I was a truffle virgin! (Just to be clear I haven't had fresh truffles worth hundreds of dollars shaved over my food)
So, how did I end up making this truffle mushroom pasta? Well, here's the story.
My Truffle Story!
My love for truffles grew as I kept noticing them in all kinds of food videos and programs like MasterChef. Yes, you can say that I've always been fascinated by the idea of truffles.
However, I never really got the chance to eat a real truffle…..until recently! Why? Well, not only are they super expensive to buy here in India, but they also don't travel well.
I'd purchased some truffle oil that was sitting in my pantry. At the same time, a friend of mine from the UK got me some truffle pesto that I used in this recipe. I also found some amazing mushrooms online because now we get lots of fancy ones in India.
All of these ingredients eventually inspired me to make the truffle mushroom pasta. So, I geared up to cook the poor man's truffle pasta!
Note: I can it poor man's truffle pasta because there are no real truffles in it.
A Few of Your Truffle Questions Answered
To truffle or not to truffle, that's the question! First thing's first, do not confuse this truffle with your pastries. The truffle I'm talking about is a fungus, rather, a fruiting body.
And it looks like this.

What Does Truffle Taste Like?
It would be really hard for me to generalize the truffle taste because I've never had a real truffle. But my friends (who had the real deal) say that it has a somewhat earthy and musky flavor.
Ideally, it somewhat resembles a mushroom due to its meatiness. Some say that it has a nutty and oaky smell with a hint of sweetness and stingy savory notes that resemble olives.
Why are Truffles so Expensive?
Ideally, truffles are costly because they are extremely difficult and somewhat notorious to grow. They are also highly seasonal and require a specific habitat. As I said before, importing them intact is impossible as the slight climate change can affect the freshness.
Besides that, truffles take multiple years to cultivate and have a very short shelf-life.
What is Truffle Oil?
I researched for hours and found out that there are two types of truffle oils made from different types of truffles – Black and white. One is an infusion of extra virgin olive oil with real truffles. While the other alternative is a chemical compound synthetically made in a lab which brings out the same flavor and essence.
White truffle oil has a muted scent that's lighter and has a garlic aftertaste with pepper notes. Similarly, black truffle oil has more kick to it as it retains the robust umami flavor.
Fun Fact: Did you know that Gordon Ramsey considers white truffle oil to be a waste of pantry space?
Cooking Poor Man's Truffle Pasta | A Step-by-Step Guide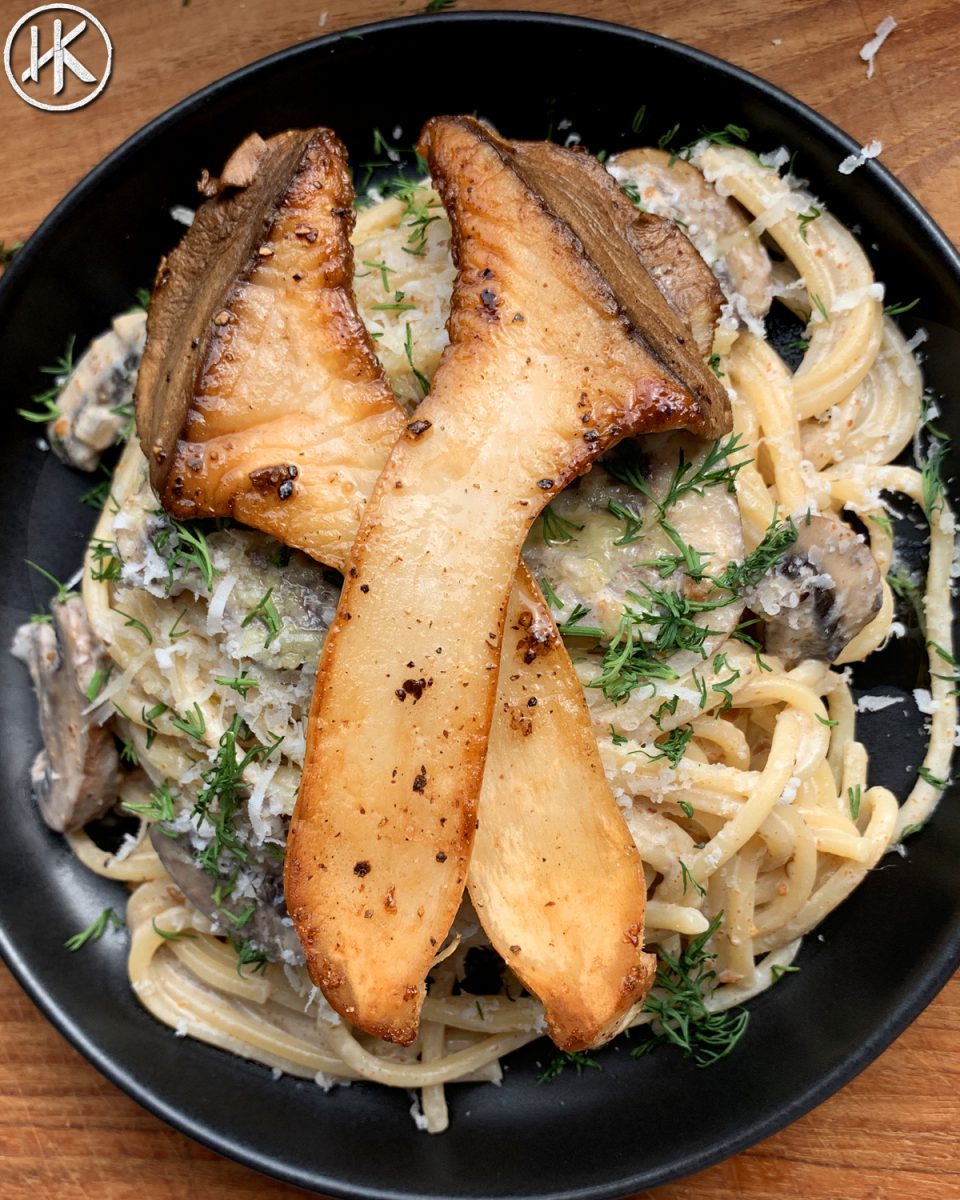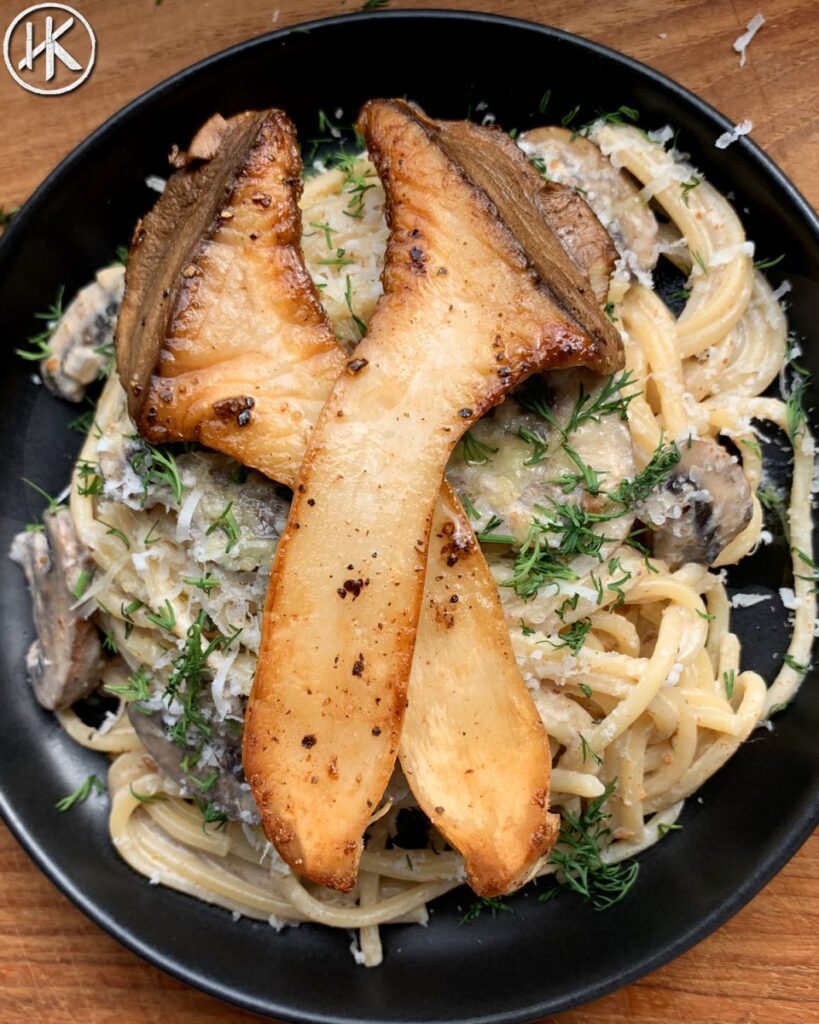 There are no alternatives for this dish because if you don't like truffles or mushrooms then this isn't for you. Kind of like asking for an eggless omelet. All I can say is that you can literally use any type of mushrooms and add your choice of meat or protein to the recipe. I used Cremini and King Trumpet mushrooms.
Similarly, you can skip using truffle pesto or use my Keto basil pesto. I also used spaghetti for the pasta, but you can use any pasta shape you like. Zucchini noodles are your friend if you want to make it Keto /Low carb friendly. Don't be ashamed to use store-bought truffle pesto or pasta.
To add more flavor to the dish, you can use different kinds of veggies as well. But I liked to keep it simple because of all the fancy ingredients already present. I did use some shallots, but you can use onions instead. The whole idea is to let the mushrooms be the star of the show.
Whatever you use, try not to skip the main ingredient – truffle oil! This way, you will get to taste delicious, expensive and luxurious. (Even though it's not)
Now, enough of my jibber jabber; let's make some poor man's truffle pasta!
More Recipes You May Like: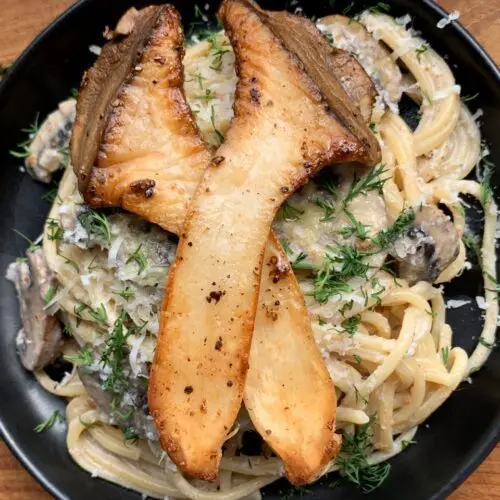 Poor Man's Truffle Pasta Recipe
Learn how to cook an affordable and delicious truffle pasta.
Ingredients
1

tbsp

Truffle pesto

85

gram

Pasta

I used spaghetti

50

grams

Cremini mushrooms

2

King Trumpet mushrooms

1

tsp

olive oil

10

grams

Butter

Salt and Pepper

20

grams

Chopped shallots

30

ml

Heavy Cream

15

grams

Grated parmesan cheese

1

tsp

Parsley
Instructions
Chop some Cremini mushrooms into nice thick slices. Then, take your King Trumpet mushrooms and slice them in half. You can also use King Oyster mushrooms,

Add the butter to your frying pan and fry the King trumpet mushrooms. You want them to get nice and caramelized. Don't forget to season them as well. Once they are nice and golden brown remove from the pan and set aside.

In a frying pan heat some olive oil. In goes the chopped shallots and garlic. Sautee them for a little bit, and then add in your Cremini mushrooms.

Cook it for a minute, then season it with some salt and pepper. Add in some pasta water to deglaze it. Add the truffle pesto and the heavy cream. Mix it up!

Once it's all mixed together, add in your pasta and give it a toss. Once done, grate in some fresh parmesan cheese on top.

Plate it, and finish it with a drizzle of truffle oil and more parmesan. Then, add in your chopped parsley and top it off with the King Trumpet mushrooms.

Enjoy this dish fit for a king!