Put the lamb in the coconut and shake 'em both up
First, confessions – I cheated a little bit. Not on keto, that's still going strong. I cheated in calling this a Keto Kerala lamb stew, when in actuality I've used mutton. You see, in India, we don't really get lamb. We get goat meat, which is locally called mutton. Now mutton everywhere else in the world is old lamb, which is a different beast altogether. So while I've used mutton (goat), it'll taste just as great, possibly even better with a nice cut of lamb.
But onward to the recipe. This is a dish from Kerala in the south of the country. Chunks of lamb are simmered in coconut milk, spiced with pepper, cinnamon, cloves, curry leaves, ginger and garlic to make a sublime stew. It's best eaten hot with some cauliflower rice, but keto bread is just as good to mop it all up with. Now my wife, who is from Kerala, disputes the authenticity of my dish (she's hissing "cultural appropriation" as I type this), but there's no disputing that it is delicious. Just ask my Dad who stepped in to taste it!
Using the pressure cooker and other meats
Now, for this Kerala lamb stew, given that I'm using mutton, which is a fairly tough meat, I cooked it in the pressure cooker, as that is the ideal way to cook it. The pressure cooker not only saves time, but it also breaks down the meat well, making it extremely tender and succulent. This recipe is actually based on an older recipe of mine called 'Chicken Karistew' which is a dish I made for the band Karnivool when they were on the show. If lamb or mutton are not your thing, I would recommend chicken for this recipe.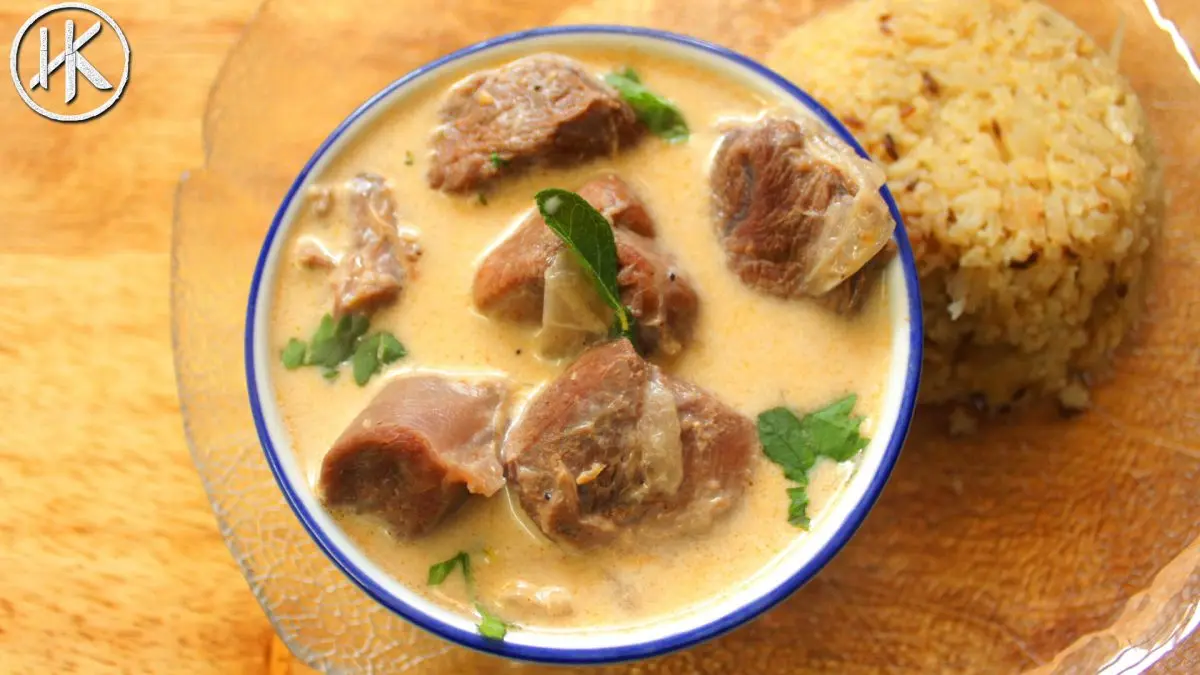 Nutrition Info (Per serving)
Calories: 284
Net Carbs: 3g
Carbs: 4g
Fat: 20g
Protein: 22g
Fiber: 1g
This recipe makes 3 servings. Get this recipe on myfitnesspal.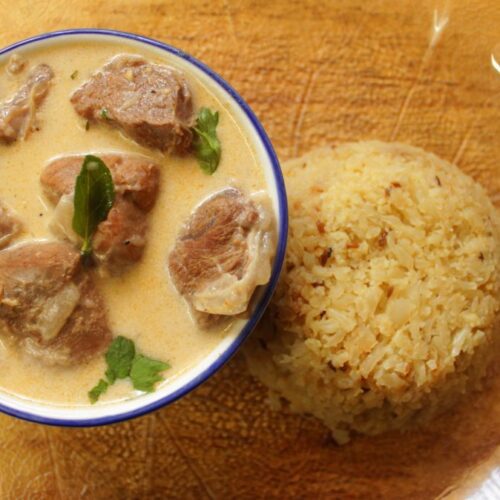 Kerala Lamb Stew
A lovely Indian stew made with coconut milk and flavoured with curry leaves.
Ingredients
200

grams

Boneless Mutton

You can also use lamb

200

ml

Coconut Milk

2

Tbsp

Coconut Oil

Try this one

2

Tsp

Ginger Garlic Paste

I recommend this

50

grams

Onion

2

Cloves

2

Bay leaves

1

Green Chilly

300

ml

Water

15

Curry Leaves

Try these

1/2

Tsp

Coriander Powder

I recommend this one

1/2

Tsp

Kashmiri Red Chilly Powder

I use this one

10

grams

Fresh Coriander

Salt to Taste

Pepper to taste
Instructions
Marinate the mutton with the salt, pepper, chilli powder, coriander powder and ginger garlic paste

In a pressure cooker heat some coconut oil and fry the mutton browning it on each side

Add in the green chilli, cloves, bay leaves and cinnamon stick.

Add in a whole onion, cut into quarters. This is entirely optional, but the onion does give it a nice flavour.

Deglaze with water, cover and pressure cook for 20-30 minutes till mutton is tender

Bring to a simmer and add the curry leaves and coconut milk. Cook for 2-3 minutes

Add the fresh coriander and finish.

Serve!!!
Notes
Curry leaves are a rather essential part of this dish. You should be able to find it in most Indian grocery stores. If you can't find it, throw in some coriander leaves just before you serve it.