The mean green pesto machine
For keto, or even otherwise, Pesto is an incredible condiment to have on hand – it's great on pizza, pasta, meat, fish etc. This basil and parsley pesto sauce recipe comes together in literally seconds and features everyday ingredients. Plus it has plenty of fat in it if you're on the ketogenic diet. Toss it with zucchini spaghetti, turn it into a chicken pesto bake, drizzle it on salads, add it to sauces, eat it as is in a caprese salad… tell us how you're using your pesto.
The perfect fat bomb
At 16 grams of fat per serving, it's da bomb on Keto. Of course if you aren't on Keto just use less oil when making it and use it in moderation. I've even made a keto vegan pesto without cheese. Sometimes I like to throw a spoon of pesto into my scrambled eggs, that's kind of how I invented my 'green eggs' from the green eggs and ham recipe.  I also find that if you trying to keep your carbs low, it's a great replacement for my Keto marinara sauce on your pizza recipes.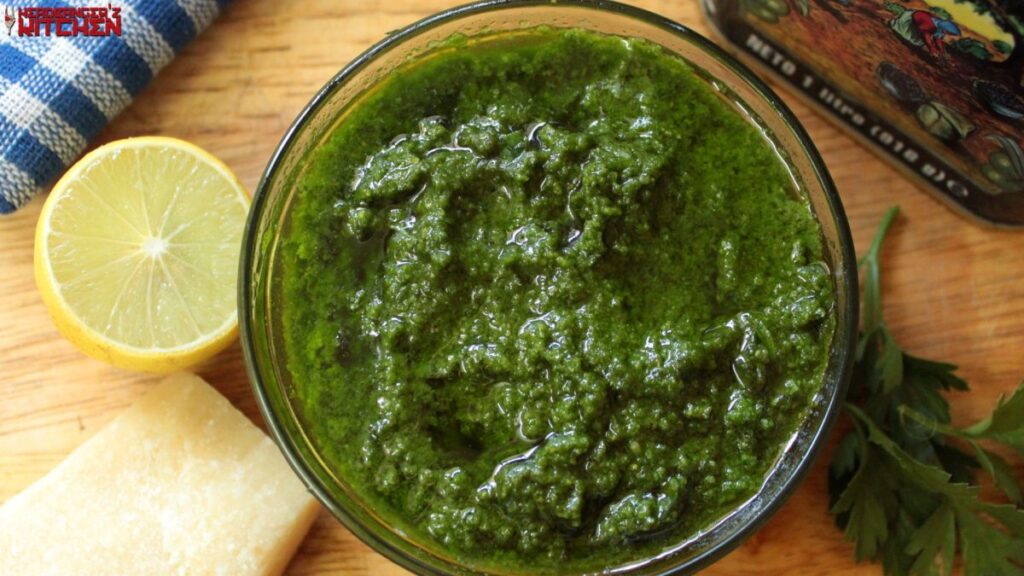 Nutrition Info (Per serving)
Calories: 142
Net Carbs: 0g
Carbs: 0g
Fat: 16g
Protein: 2g
Fiber: 0g
This recipe makes 12 servings. 1 Serving = about 15 grams. Get this recipe on myfitnesspal.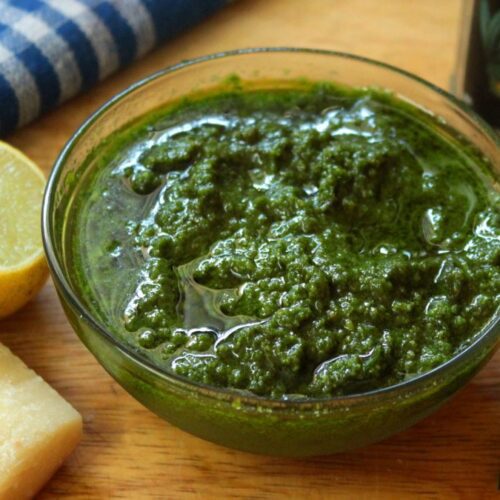 Keto Basil Pesto
The perfect Keto condiment
Ingredients
30

grams

Parmesan cheese

20

grams

Pine Nuts

I recommend these

5

grams

Fresh Garlic

30

grams

Parsley

50

grams

Basil

3/4

cup

Extra Virgin Olive Oil

I recommend this one

Lemon/Lime Juice

Salt to Taste
Instructions
Grate the Parmeasn cheese and blend along with the pine nuts and garlic

Add in the parsley, basil, olive oil, lemon juice and salt

Blend to a smooth paste.

Store in the fridge, Use in pasta and even on pizza.