Bacon & Mushroom Keto Pasta
A creamy Keto pasta 
Keto pasta is always tricky. You have the most basic which is made with zucchini. You spiralize your vegetable and you have a pasta. Does it taste like the real deal? Not quite. Then you have these fathead style ones made with almond flour and cheese but they are just so heavy and calorie dense. Then you have meat noodles which is great if you are on a high protein diet. But sometimes you just want something that's like the real deal. 
This is where Shiratake noodles come in. Honestly I had seen these but never bothered much with them. I think the first time I ate them too I wasn't very impressed as well. But in today's recipe they just clicked. They ate really well and had great texture too. Honestly to keep the calories and the carbs down it's a great option. This easy, Keto pasta recipe is your best bet for a quick and tasty weeknight meal. 
Bacon & Mushroom
This is an absolutely classic combination. The smoky and salty bacon pairs beautifully with the earthy and meaty taste of mushrooms. Envelope that in some cream and cheese and it's a pleasure to eat. Now if you are vegetarian or don't eat bacon you have options. You just skip the bacon or you use turkey bacon with some cooking fat. The real goal is to caramelize those mushrooms and then have that garlic brown ever so slightly. 
You want to reduce the sauce down till it's a nice and thick consistency so it can coat the pasta. There are loads of things you can do with this but the fundamental part is the pan liquids + cream + cheese is what makes the sauce. So you can cook the sauce and throw in some shredded chicken. You can add other vegetables like broccoli or asparagus to make it more veggie friendly. The options are limitless.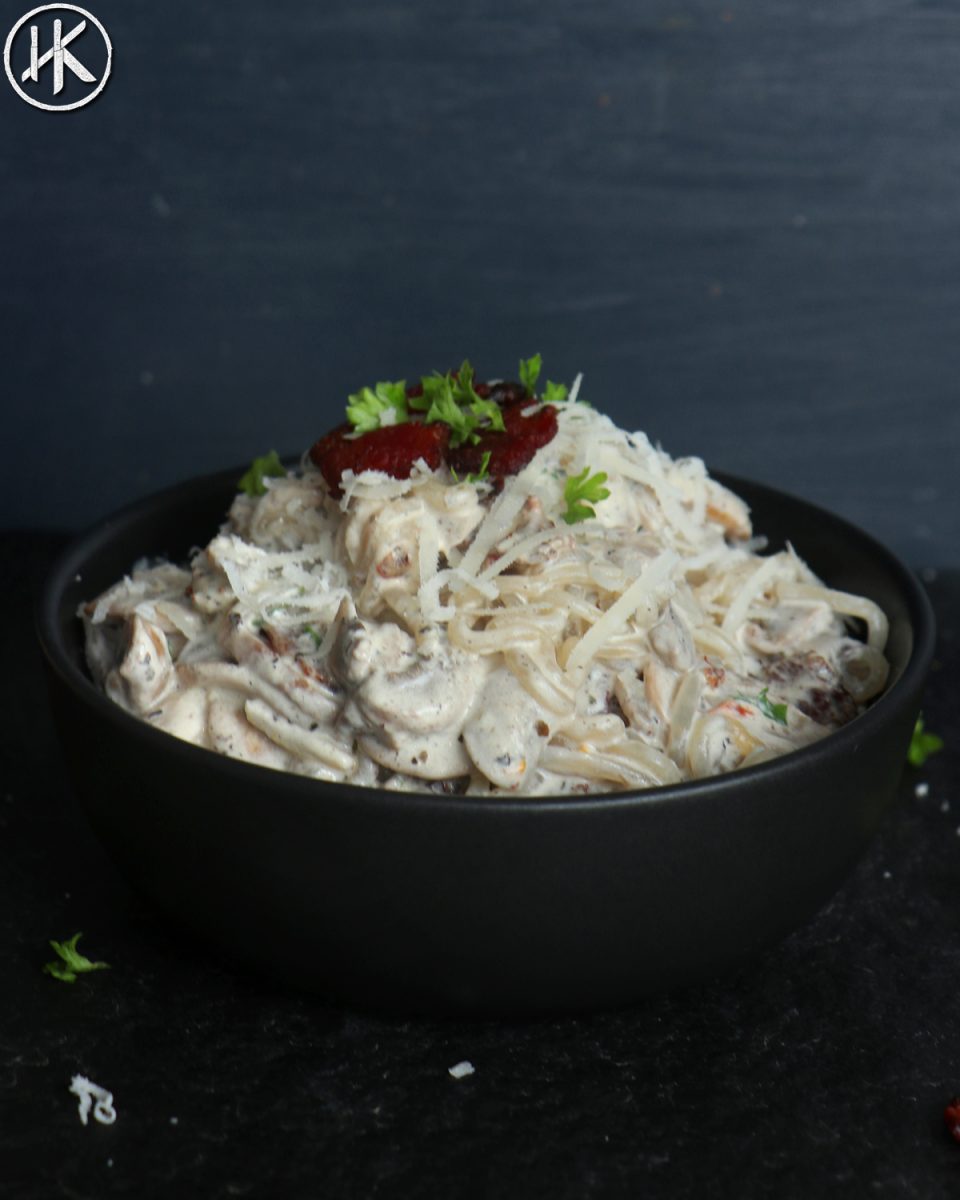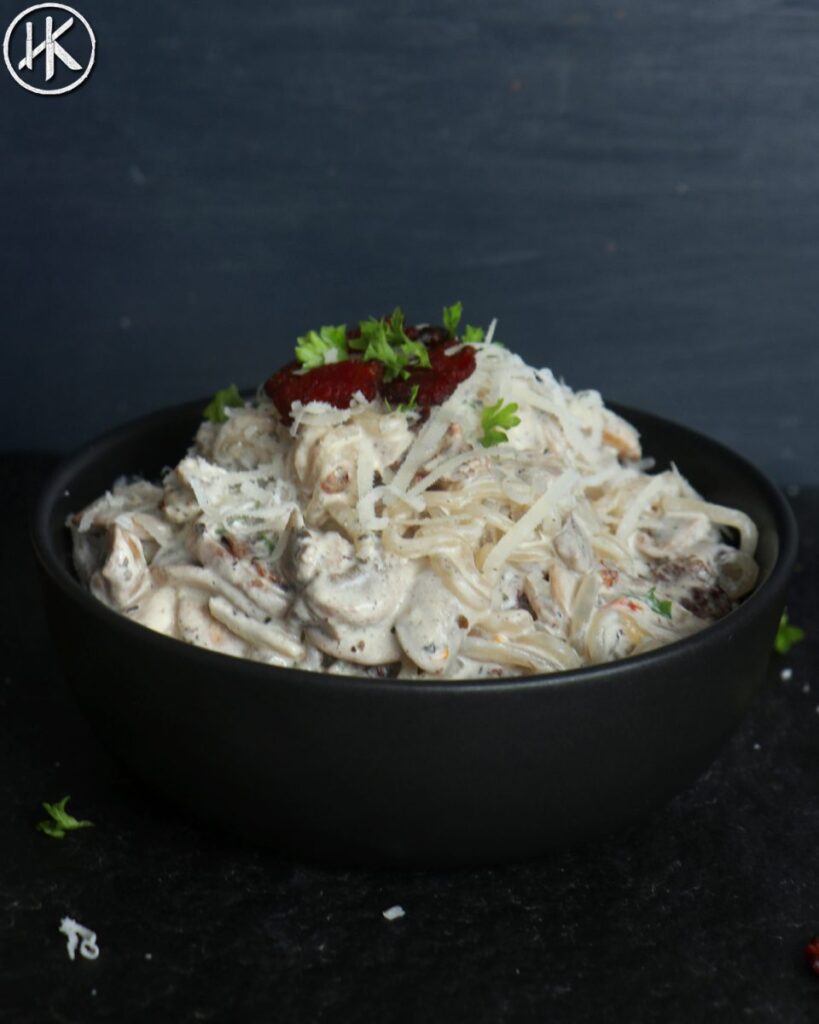 Nutrition Info (Sauce only)
Calories:  326
Fat: 28g
Protein: 12g
Carbs: 7g
Net Carbs: 6g
This recipe makes 2 servings. Get this recipe on myfitnesspal.com. Now the reason I'm not including the pasta is because depending on what you use for the recipe you can add that manually to your tracker. I have included the mushrooms and bacon. I had to separate the bacon and bacon fat while calculating so I've used  60g of cooked bacon and 1 tbsp of bacon fat as separate entries otherwise it's hard to calculate since I drain out a fair amount of the bacon fat.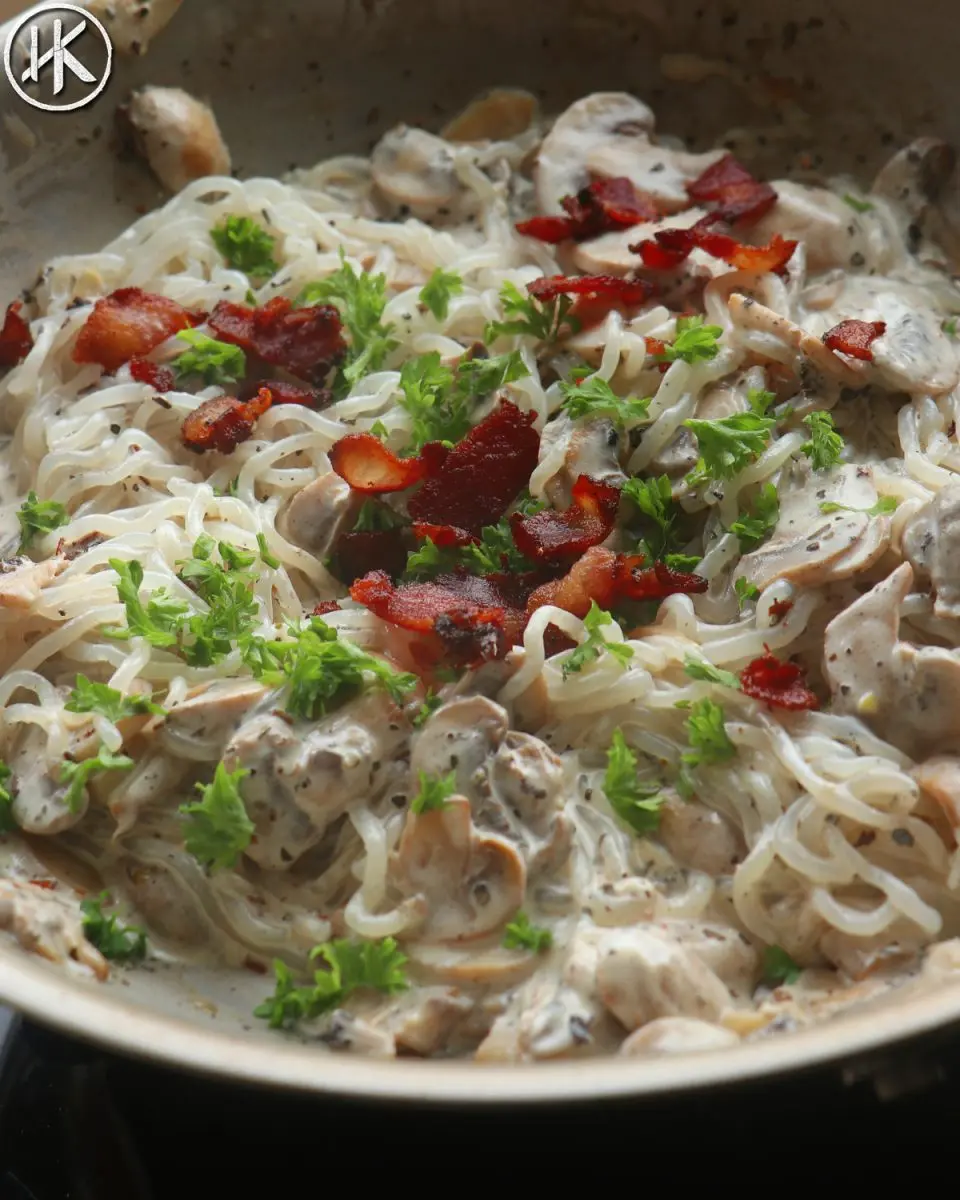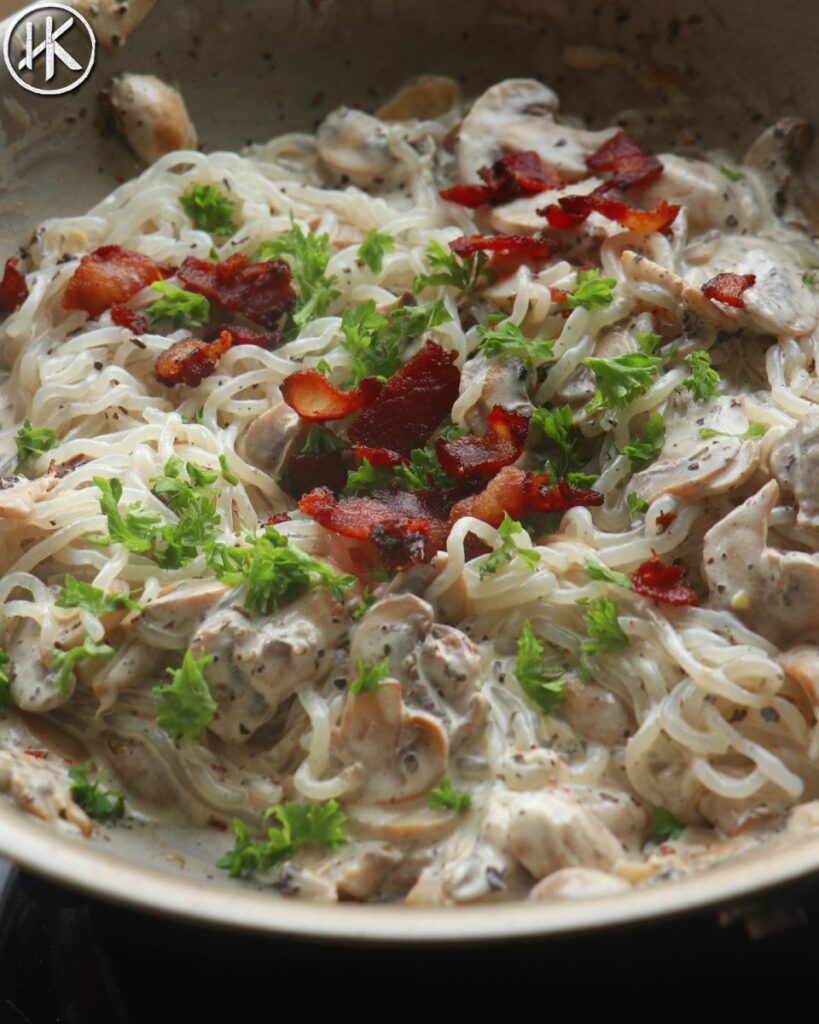 Bacon & Mushroom Keto Pasta
A super simple Keto pasta
Ingredients
1

packet

Shiratake Noodles

100

grams

bacon

200

grams

White Mushrooms

50

ml

Heavy Cream

30

grams

Parmesan cheese

5

grams

garlic

1

Tbsp

Chopped Parsley

Salt & Pepper to taste

1/2

Tsp

Red Chilli Flakes

1

Tsp

Dried Oregano

1

Tsp

Butter

Water if needed

Mainly to thin out the sauce
Instructions
Start by chopping the bacon into small pieces. Slice the mushrooms as well into thick slices and also slice the garlic.

Heat the bacon in the cold pan and fry till nice and crispy. This process will render out the bacon fat.

Remove the bacon from the pan and drain on a paper towel. If there is too much bacon fat remove from the pan.

Add the mushrooms to the same pan along with about 1tbsp of bacon fat and season with salt and pepper

Cook till the mushrooms release their water and that water dries up. Add in the garlic and the butter

Sautee till the garlic and the mushrooms both start browning.

Add in the heavy cream and the parmesan cheese and mix will. If the sauce feels too thick, add some water. If it's too thin cook further till it reduces and becomes thicker.

Then add in the shirtake noodles and give it a good mix. Finish with the fresh parsley and crispy fried bacon and mix well.

Serve and enjoy!