Microwave Mug Cake Mania
I recently made my own Keto Nutella as part of my dessert week on the show and of course I had to make a dessert using it. Mug cakes have been sort of my go to desserts because they are very easy to whip up, require a handful of ingredients and more importantly they are portion controlled in advance. It was inevitable that I would make a Keto Nutella Mug Cake and as always I use my microwave, however you can always bake these if you don't own a microwave. So dive right in and enjoy!
Nut Cakes
From my experience it seems that all nuts are game. You can make nut flours from almost any of them, as well as butters and it seems that both can be used to make cakes (microwave or otherwise). I've previously made a chocolate mug cake using almond flour, I made a peanut butter mug cake as well and now we have this one. I feel like you can really just play around with nuts available to you as well as different flavours and come up with many different varieties of cakes. If you are alergic to nuts I do have a berry mug cake as well as a vanilla one, both made using coconut flour.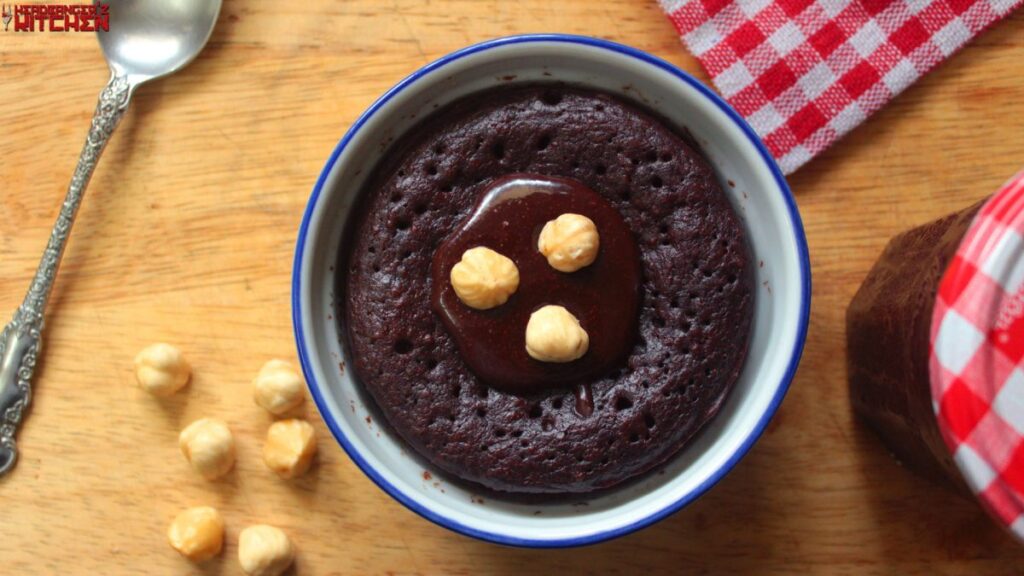 Nutrition Info (Per serving)
Calories: 276
Net Carbs: 2g
Carbs: 5g
Fat: 28g
Protein: 6g
Fiber: 3g
This recipe makes 2 servings. 1 Serving = Half the cake. Get this recipe on myfitnesspal.
Keto Nutella Microwave Mug Cake
A delicious chocolate hazelnut flavoured mug cake
Instructions
Mix all ingredients in a bowl/mug

Microwave for 1 minute

Top with some hazelnuts and serve.