Keto Kaffir Lime Panna Cotta
A Thai inspired dessert
This Keto Kaffir lime panna cotta is inspired by the flavours of Thailand. I have to be honest, my knowledge of Thai desserts is insufficient. I also believe that they will take a lot of work to turn into Keto friendly foods. So I called upon my wife Deepti to whip up a delicious Thai inspired dessert. Something that would evoke the memories of Thailand and also hit that sweet spot. So she came up with this simple and easy recipe for a Kaffir Lime Panna Cotta. It's super easy, delicious and an absolute fat bomb! Enjoy!
More Keto Desserts
Panna Cotta is a great Keto dessert. In fact once you're done making this version you can try my coffee panna cotta or the plain vanilla one with a berry puree. It's pretty much a great base for making any flavours you like. I'd love to hear your ideas for different flavour combinations. Please do share them with me in the comments below.

Nutrition Info (Per serving)
Calories: 391
Net Carbs: 6g
Carbs: 6g
Fat: 40g
Protein: 4g
Fiber: 0g
This recipe makes 3 servings. Get this recipe on myfitnesspal. If you find this to be too calorie dense then you can split it into 3 ramekins and that will bring down the overall calories per serving since you'll get 4 smaller ones instead of the 3 regular size ones. It is quite a heavy dessert so normally 1/2 a serving is enough.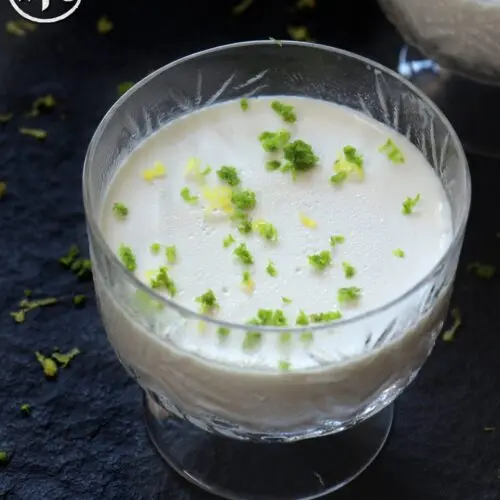 Keto Kaffir Lime Panna Cotta
An Italian classic with a Thai twist
Ingredients
250

ml

Coconut Cream

Try this one

180

ml

Heavy Whipping Cream

Try this one

30

grams

Erythritol or Keto Sweetener

Buy Online

3

grams

gelatin

1

Tbsp

Water

8

kaffir lime leaves

Buy Online

One bulb of fresh lemongrass, discard the leaves
Instructions
In a saucepan add the coconut cream, whipping cream, sweetener, lemongrass and kaffir lime leaves. Make sure you bruise the lemongrass to release it's flavour and also tear the kaffir lime leaves before adding it in.

Heat on a low flame for about 5 minutes till the mixture starts to simmer. Immediately cover with a lid and set aside for 30 minutes for all the flavours to be infused.

Mix the gelatin with water and let it bloom for 5 minutes.

Put the panna cotta mixture on the stove and add in the gelatin and cook on a low heat till fully dissolved.

Once the mixture starts to bubble turn off the heat and strain it.

Pour into molds or dishes for serving. Chill for 4 hours in the fridge.

Serve as is or with some fresh berries.