Start you day with this Keto breakfast bowl
A Keto breakfast bowl with all your favourites. I mean how many ways can you make bacon and eggs right? Turns out it's quite a few ways and I find this breakfast bowl to be super satisfying on all fronts. First we've got the base which is our pumpkin rice. I know what you are thinking, that isn't rice! While that is true on Keto we use lots of rice like substitutes. I did a video on 3 types of Keto rice that are not cauliflower and pumpkin was one of them.
I chose pumpkin rice because it has a beautiful sweetness which contrasts with the acidity of the dressing and the richness of the avocado, bacon and egg yolk. Trust me this a breakfast bowl that will keep you wanting more.
How do you like your eggs?
I chose a sunny side up egg because I absolutely LOVE  a runny yolk. But what I love is the contrast of that to the crispy white I get from frying the egg. Sure I could poach and egg but I'd miss that texture then. I mean you got the pumpkin which is soft, mushrooms, also soft and avocado which is also soft. So the bacon is our crispy element and some crunch and bite comes from the egg white that's fried nicely.
But by all means cook your eggs however you desire. Even a scrambled or a poached egg would do well here. Heck you could make a bacon and mushroom omelet and just pair that with the rest of the stuff making it an omelet bowl.
If you can't eat bacon, turkey bacon will do as well. You can also use the chicken or beef recipe from my other rice bowls. But have fun with this recipe, use up left overs and make your own signature bowl.

Nutrition Info For the Dressing (Per serving)
Calories: 54
Net Carbs: 1g
Carbs: 1g
Fat: 5g
Protein: 2g
Fiber: 0g
This recipe makes 3 servings. Get this recipe on myfitnesspal.
For the rice bowl itself you can manually enter the details based on what you put in your rice bowl. Since all the ingredients other than the dressing and the meat are completely raw. So you can add that over and above the meat and dressing as individual items.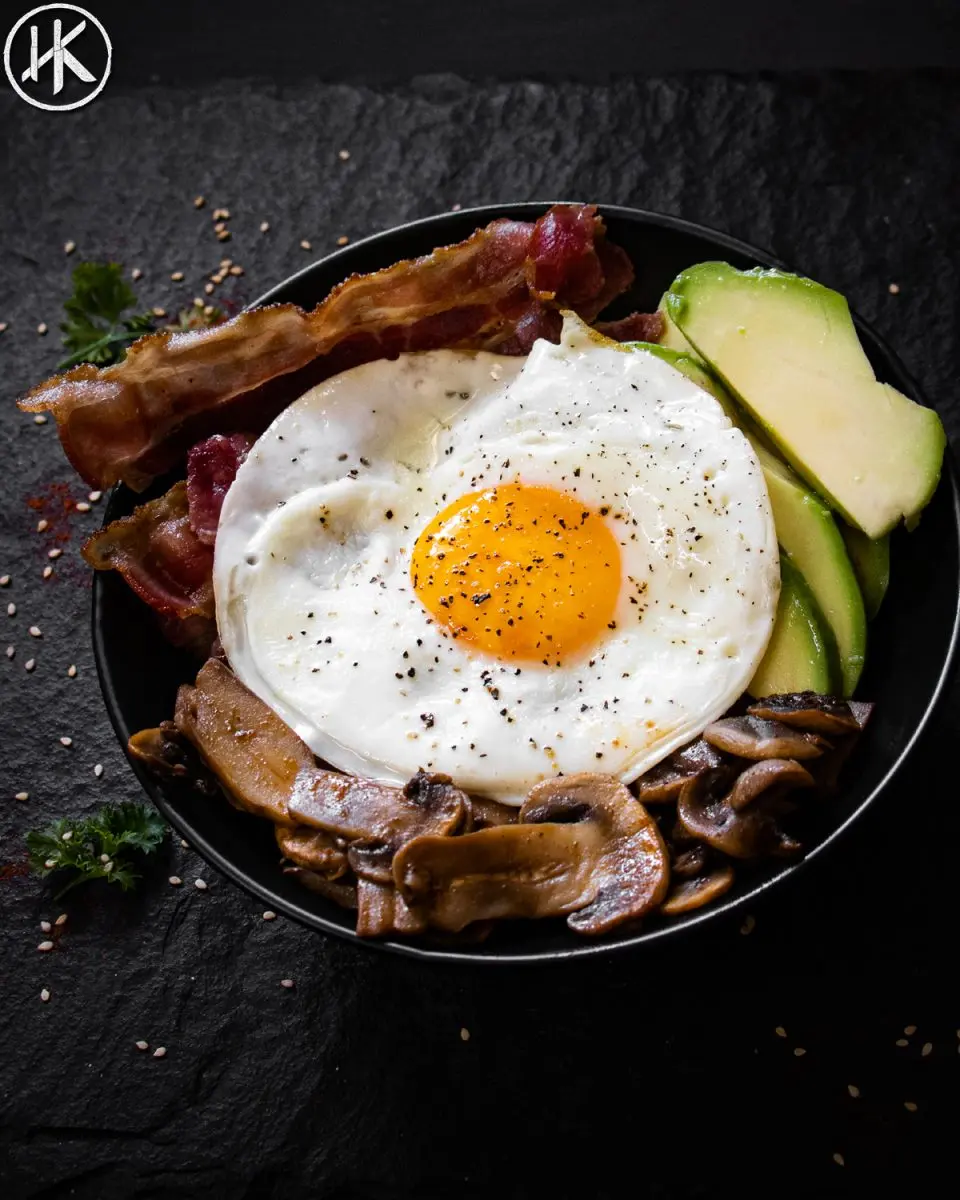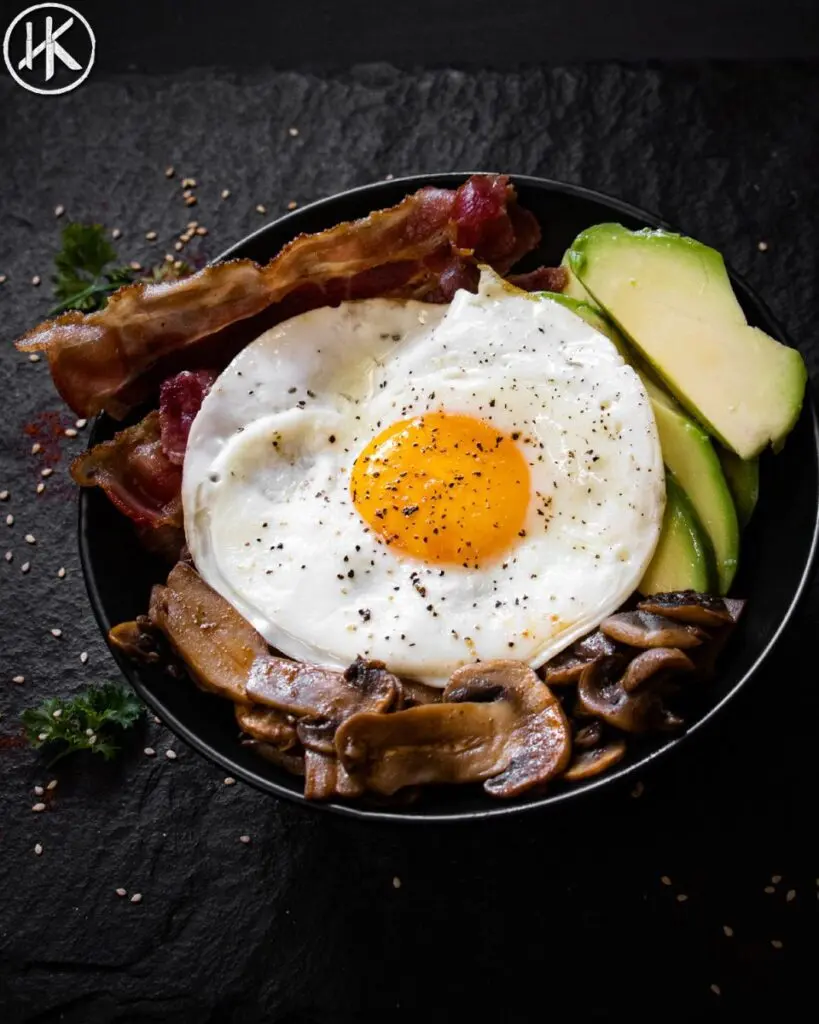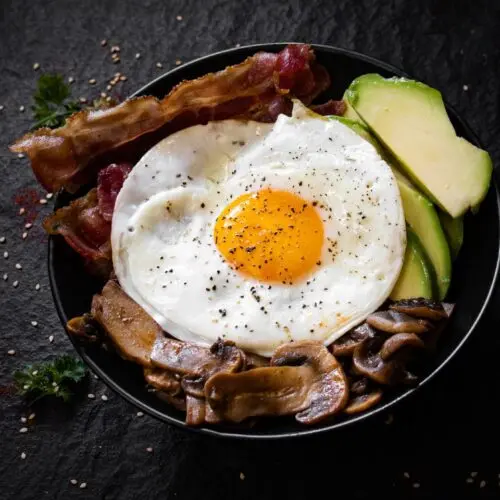 Keto Breakfast Bowl
A delicious Keto breakfast bowl
Ingredients
Tahini Dressing
2

Tbsp

Tahini (Sesame Seed Paste)

1/2

Tsp

Garlic Powder

1/4

Tsp

Cayenne Pepper

the juice of half a lime

Salt to Taste

Water as needed
The Breakfast bowl
150

grams

Pumpkin Rice

1

Egg

3

Rashers

bacon

100

grams

Mushrooms

1/4

Tsp

Paprika

1/8

Tsp

Cayenne Pepper

1/2

Avocado

7

grams

Butter

Salt to Taste
Instructions
For the Tahini dressing mix all ingredients in a bowl and whisk. Slowly add water as needed. The tahini paste might seize up in which case just add water slowly to thin it out. Once it's the desired thickness, set it aside.

In a cold pan add the bacon and cook on a medium heat. Cook the bacon to your liking. Mine is crispy but still with a slight chew.

Remove excess bacon grease from the pan and set aside.

Slice the mushrooms and add into the same pan in which the bacon was cooked.

Cook the mushrooms on a high heat till they release their water and all of that is cooked off. Then add in the butter along with the paprika and cayenne pepper and give everything a good mix and then remove from the heat.

Using some of the reserved bacon fat fry your egg sunny side up. If you aren't a fan of this you can cook your eggs to your liking, that could be a poached egg, scrambled, over easy etc etc.

Cut and slice your avocado. If you prefer cubes you can cube it as welll.

To assemble the bowl add in your pumpkin rice. Add in the bacon, the mushrooms, the avocado and finally the egg.

Dress it with that tahini dressing and if you feeling fancy garnish with fresh parsley or anything green you have like chives or spring onions.

Enjoy!