This osso bucco sandwich is a game changer. With super tender meat and a thick, tasty red wine glaze, it's incredibly moreish. Add in some crispy ciabatta bread and a special garlic-marrow mayo, and you've got a sandwich like no other.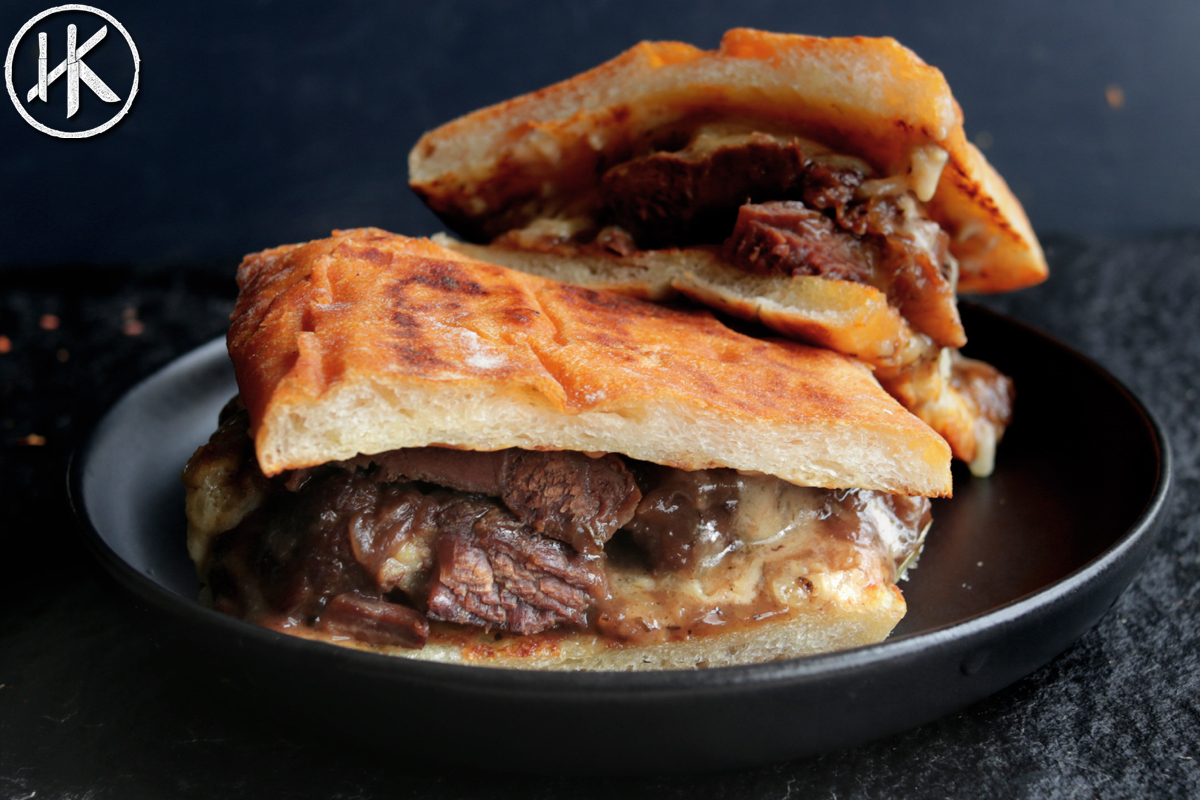 Recipe Video
Ingredients Notes and Substitutes
Osso Bucco Shanks: If you can't source osso bucco shanks, beef shanks can serve as a suitable alternative. The flavor profile might differ slightly, but both will deliver a rich taste.
Salt or Rosemary Salt: If you don't have rosemary salt on hand, regular salt works too!
Pepper: Use freshly ground black pepper to bring out a more pronounced flavor.
Oil for Frying: Canola, vegetable, or sunflower oil are ideal for frying due to their neutral flavor and high smoke point.
Butter: For a dairy-free alternative, use a plant-based butter substitute.
Red Onions: Used in this recipe for their bold and sweet flavor. If you have only yellow or white onions, they can be used but will produce a milder taste.
Dried Herbs (Parsley, Thyme, Oregano, Rosemary): These herbs collectively add depth, aroma, and earthiness to the sauce.
Red Wine: Enhances the overall depth and richness of the sauce. If you choose to omit it, the flavor will be less robust but still delicious.
Beef Stock: Chicken or vegetable stock can be used, but beef stock offers a richer flavor that complements the osso bucco.
Mayo: The mayo binds the garlic and marrow, providing a rich and creamy texture that complements the robust flavors of the sandwich.
Ciabatta Bread: This Italian bread has a distinctive chewy crust and airy crumb.
Olive Oil: Used for toasting the bread.
Cheese: Choose according to personal preference; slices like Swiss, Provolone, or Gouda can work well.
Expert Tips
Achieving the Perfect Sear: To boost the flavor of your osso bucco, you'll want to give it a good sear! Use a pre-heated, heavy-bottomed pan for an even, golden crust and remember to give each shank its space; an overcrowded pan will affect the quality of the sear.
Achieving the Perfect Sticky Glaze: Once the osso bucco meat is added back into the sauce, we now want to make our sticky, rich glaze. If you're not using a fresh beef stock made from beef bones or adding red wine, the reduction process to achieve the glaze might take a bit longer. Patiently allow the sauce to simmer, occasionally stirring to prevent the bottom from burning. As the sauce reduces, it will become thicker and the flavors will intensify.
Storage and Leftovers
Sandwich: Once assembled, the Osso Bucco Sandwich is best enjoyed fresh. However, if you have leftovers, wrap them tightly in foil or plastic wrap and store them in the refrigerator for up to a day. For reheating, either warm it in the oven at 325°F (165°C) for 10-15 minutes or use a panini press until the bread is crispy and the filling is heated throughout.
Osso Bucco Meat: You can store any leftover glazed osso bucco meat in an airtight container in the refrigerator for up to 3 days. Reheat gently in a pan over low heat, adding a splash of beef stock or water to keep it moist.
Garlic-Marrow Mayo: Store any remaining mayo in an airtight container in the fridge for up to 5 days. It can be used as a spread for other sandwiches or as a flavorful dip.
FAQs
Can I make this recipe keto-friendly?
Yes. The main carb contributor in this recipe is the ciabatta bread. You can easily substitute it with a store-bought keto-friendly bread or with my easy 90 second keto bread recipe.
Can I prepare the osso bucco meat in advance?
Yes, you can. In fact, making the osso bucco meat a day ahead can allow the flavors to develop even more. Store the meat and its sauce together in an airtight container in the refrigerator. When you're ready to serve, simply reheat the mixture in a pan over medium heat until hot through, then proceed with assembling your sandwich.
More Recipes You May Like: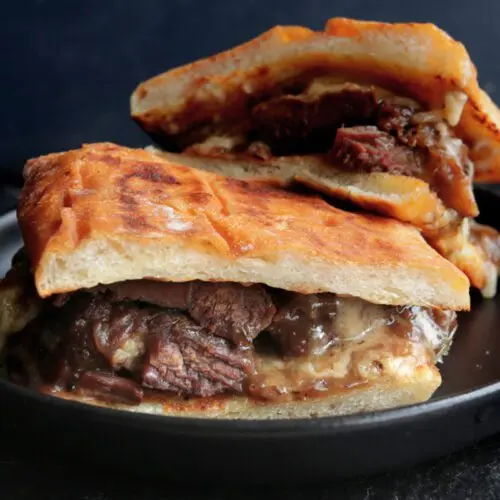 Osso Bucco Sandwich
This osso bucco sandwich is a game changer. With super tender meat and a thick, tasty red wine glaze, it's incredibly moreish. Add in some crispy ciabatta bread and a special garlic-marrow mayo, and you've got a sandwich like no other.
Ingredients
2

osso bucco shanks

salt

or rosemary salt

pepper

to taste

oil

for frying

1

tbsp

butter

75

g

red onions

sliced

1

tsp

dried parsley

½

tsp

dried thyme

1

tsp

dried oregano

½

tsp

dried rosemary

¼

cup

red wine

5

garlic cloves

200

ml

beef stock

1

tbsp

mayo

ciabatta bread

sliced and halved

extra virgin olive oil

for toasting the bread

cheese

slice or grated, as preferred
Instructions
Start by seasoning the osso bucco shanks with salt and pepper. Heat cooking oil in a large pan over medium-high heat. Once the oil is hot, add the osso bucco shanks, searing both sides. Transfer the seared shanks to an instant pot.

In the same pan, melt the butter and sauté the onions until they soften. Add red wine to deglaze the pan, ensuring to scrape up any flavorful bits. Stir in dried parsley, thyme, oregano, and rosemary. Next, add the garlic cloves. Add the beef stock and bring the sauce to a boil then remove from the heat.

Transfer the onion and herb sauce to the instant pot with the osso bucco. Cook under high pressure for 55 minutes. Once done, allow a natural pressure release for 20 minutes.

Remove the osso bucco and garlic cloves using a strainer. Transfer the meat to one bowl and the garlic cloves to another. Debone the osso bucco and transfer the bone marrow to the bowl with garlic. Mash this mixture to form a paste, seasoning with sea salt. Mix in the mayo to get a creamy garlic-marrow mayo.

Skim any excess fat from the sauce then return it to the pan. Simmer until the sauce reduces by half. Add in the osso bucco meat and continue to simmer until you achieve a sticky glaze.

Drizzle ciabatta slices with olive oil and toast both sides in a pan. Once toasted, slather both sides with the garlic-marrow mayo. Pile on the glazed osso bucco meat on one slice, sprinkle cheese, and top with the other slice of bread. Slice the sandwich in half and serve immediately.
Nutrition
Calories:
806
kcal
Carbohydrates:
68
g
Protein:
60
g
Fat:
31
g
Saturated Fat:
12
g
Polyunsaturated Fat:
7
g
Monounsaturated Fat:
9
g
Trans Fat:
0.5
g
Cholesterol:
116
mg
Sodium:
1271
mg
Potassium:
1371
mg
Fiber:
3
g
Sugar:
5
g
Vitamin A:
384
IU
Vitamin C:
11
mg
Calcium:
121
mg
Iron:
7
mg