Chicken and Bacon Sandwich
This classic combination of succulent chicken and crispy bacon is packed into a delightful sandwich. Mixed with a zesty twist of chimichurri mayo, this Chicken and Bacon Sandwich offers a mouthful of flavors and textures, making every bite an experience in itself.
Whether you're making it for a quick lunch or a weekend treat, it promises satisfaction in every slice.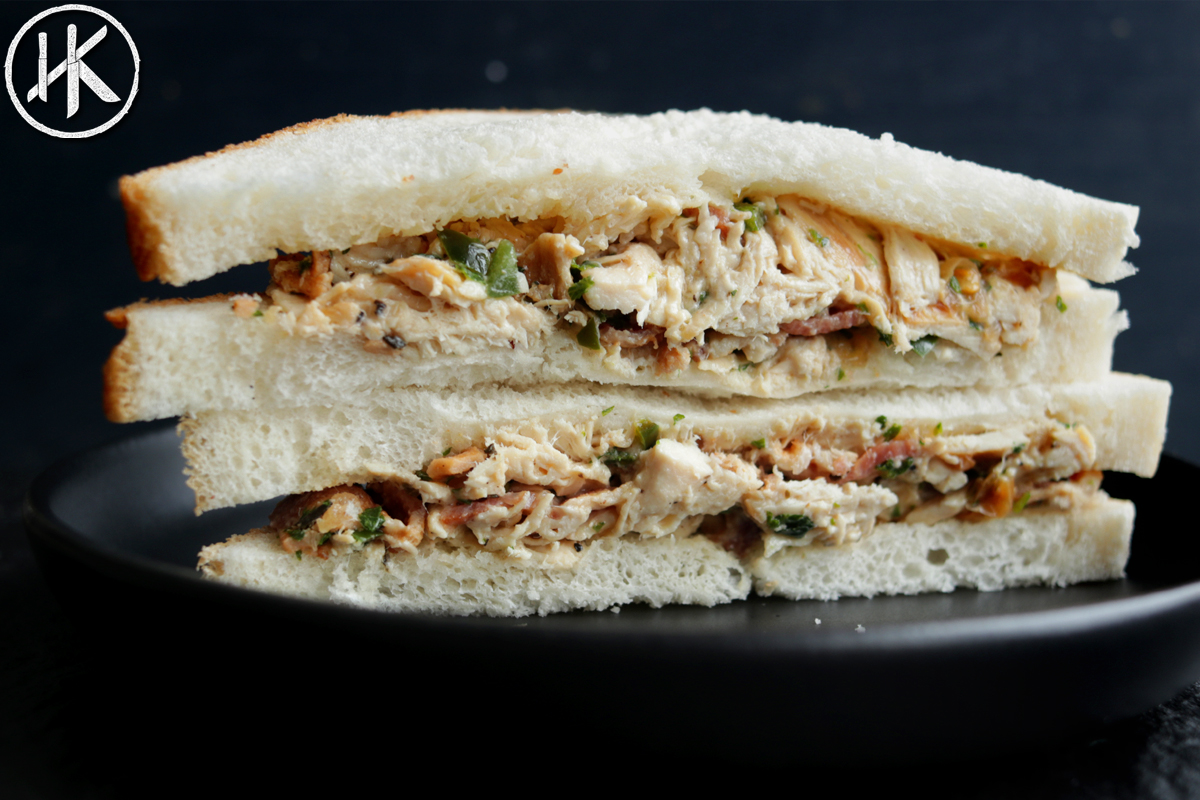 Ingredients
Chicken Breast: I've chosen chicken breast due to its leaner profile and the distinct texture it offers when shredded. However, if you prefer a juicier and slightly fattier meat, chicken thighs can be an excellent alternative.
Bread: This recipe uses white sandwich bread however, you can easily swap it out with your favorite bread type. Whether it's whole grain, sourdough, or rye, tailor the taste and texture to your preference.
Bacon: Streaky bacon is our top choice because it renders a good amount of fat, ideal for sautéing the other ingredients. The rendered bacon fat infuses the onions and chicken with a savory depth of flavor, making every bite a delight.
Onions: Onions subtle sweetness caramelizes beautifully in the rendered bacon fat, lending a delightful contrast to the spicy and savory elements.
Jalapeno: It's all about adding some zing! If the heat is a concern, feel free to deseed them, or for those wanting a milder, crunchy element, green bell peppers are a viable alternative.
Chimichurri Mayo: The fusion of creamy mayo with the zesty chimichurri gives this sandwich its distinctively flavorful edge.
Expert Tips
Cooking in Bacon Fat: Don't skip sautéing your onions and cooking the chicken in the rendered bacon fat. It provides an added depth of flavor that truly elevates the sandwich.
Chicken Texture: When shredding the chicken, ensure you don't over-shred. Leaving some larger chunks will give your sandwich a delightful mix of textures.
Assembling the Sandwich: If you're making this for a gathering or planning to consume later, assemble the sandwiches closer to serving time to keep the bread from getting soggy.
Storage and Leftovers
If you have leftover chicken and bacon mixture, store it separately in an airtight container. This will keep it fresh for up to 3 days in the refrigerator.
As for any assembled sandwiches, it's best to consume them fresh to enjoy the crispness of the bread. If you must store them, wrap them tightly in plastic wrap or foil and refrigerate.
FAQs
What kind of bread works best for this sandwich? While the recipe uses white sandwich bread, you're welcome to use any bread variety you prefer. The robust flavors of the chicken, bacon, and chimichurri mayo can shine through with multigrain, sourdough, or even rye.
Can I swap the bacon type? This recipe calls for streaky bacon which gives a crisp texture and produces a good amount of rendered fat, perfect for cooking the onions and chicken. However, if you have a personal preference, you can use other bacon varieties like back bacon or turkey bacon. Just be aware that they may not produce as much fat.
Can I make this recipe keto? Absolutely! To make this sandwich keto-friendly, simply replace the white sandwich bread with a keto bread variant available in many grocery stores. The rest of the ingredients are already keto-compliant.
More Recipes You May Like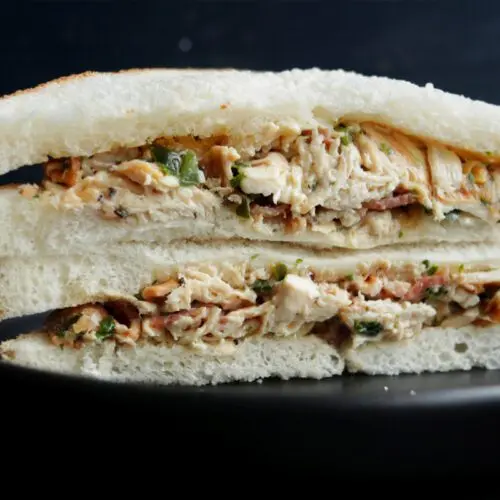 Chicken and Bacon Sandwich
This classic combination of succulent chicken and crispy bacon is all packed into a delightful sandwich. Whether you're making it for a quick lunch or a weekend treat, it promises satisfaction in every slice.
Ingredients
Chicken and Bacon Sandwich
450

grams

Chicken Breast

200

grams

Bacon

100

grams

Onion

finely cut in rings

1

Jalapeno chopped finely

8

slices

Bread
For the Chimichurri Mayo
40

grams

Mayonnaise

1

tbsp

Parsley

1

tsp

Oregano

1

tsp

Red chilli flakes

1

tbsp

Olive oil

1

clove

Garlic

minced

½

tbsp

Red wine vinegar

Salt

to taste

Pepper

to taste
Instructions
In a bowl, mix together mayonnaise, chopped parsley, oregano, red chilli flakes, olive oil, minced garlic, red wine vinegar, salt, and pepper to create the chimichurri mayo. Set aside.

Place the bacon in a large cast-iron skillet and cook over medium heat until crispy. Once cooked, transfer to paper towels to drain and cool. Once cooled, chop the bacon into bite-sized pieces.

In the remaining bacon fat, sauté the onion rings until golden brown. Remove and set aside.

Add the chicken breasts to the skillet, cooking over medium heat and flipping halfway, until they reach an internal temperature of 165°F (74°C) — this should take roughly 8 minutes. Transfer the chicken to a bowl and shred using two forks.

Add salt, pepper, the chopped bacon, sautéed onions, jalapenos, and the prepared chimichurri mayo to the shredded chicken. Combine until well mixed.

Assemble the sandwich by spreading the chicken mixture on a bread slice. Top with another slice, press gently, cut in half, and serve.
Nutrition
Calories:
404
kcal
Carbohydrates:
15
g
Protein:
27
g
Fat:
27
g
Saturated Fat:
4
g
Polyunsaturated Fat:
14
g
Monounsaturated Fat:
8
g
Trans Fat:
0.03
g
Cholesterol:
63
mg
Sodium:
1964
mg
Potassium:
519
mg
Fiber:
3
g
Sugar:
2
g
Vitamin A:
258
IU
Vitamin C:
3
mg
Calcium:
53
mg
Iron:
3
mg