A lemon and thyme Keto mug cake
I haven't done a mug cake recipe in ages. So what better a time than now to make a Keto mug cake. It's my series where my focus ingredient is eggs. We use eggs in baking and I love a good mug cake. So today we're making one with lemon and thyme because I had half a lemon in my fridge and some thyme that was on it's last legs. I get to use up some ingredients and make a delicious cake. It's a win win situation. So without further ado here is the recipe.
Bake vs Microwave
I would normally microwave this for 60 seconds for a nice gooey center cake or 90 seconds for a more 'firm' texture. However I decided to use the oven today. At 175C it took about 18 minutes. You can also bake at 180C for 15 mintues and it will be fine. Again it's really down to personal preference. Do you like a more 'firm' cake or do you prefer that gooey center? You got to cook it accordingly. You can also skip the yogurt if you want a more 'dry' cake and I don't mean that in a bad way. The yogurt adds a lot of moisture making it a sort of soft and moist cake.
Either way this base recipe can be used for anything. Add a tablespoon of coco powder and it's a chocolate cake, add some cinnamon or pumpkin spice to get a nice flavour. There are plenty of options. You can also play around with the glaze. You could make a chocolate ganache like I did for my Keto chocolate mug cake. There is a peanut butter topping I made with my Keto vanilla mug cake. So play around with flavours you like and really make something special.
Nutrition Info (Per serving) – For the cake
Calories: 325
Net Carbs: 3g
Carbs: 6g
Fat: 29g
Protein: 12g
Fiber: 3g
This recipe makes 10 servings. Get this recipe on myfitnesspal.
Nutrition Info (Per serving) – For the cream cheese glaze
Calories: 56
Net Carbs: 1g
Carbs: 1g
Fat: 6g
Protein: 1g
Fiber: 0g
This recipe makes 8 servings. 1 serving = 15 grams approx. Get this recipe on myfitnesspal. To accurately know the serving size, weigh the glaze and divide the number by 8.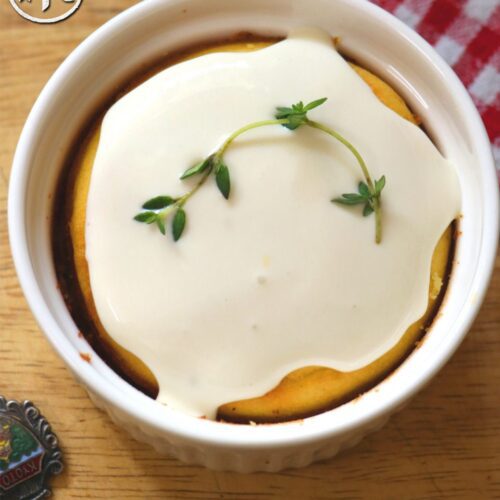 Keto Mug Cake
A lemon and thyme flavoured Keto mug cake
Ingredients
For the cream cheese glaze
Instructions
For the mug cake mix all the ingredients in a bowl with a whisk and then pour into a ramekin or mug.

Microwave for 60 seconds for a gooey cake, 90 seconds for a more firm cake. You can alternatively bake it in a pre-heated oven at 175C for 15-20 minutes depending on how you like your cake. I would suggest not using the mug in the oven.

Once ready allow the cake to cool before pouring the glaze over.

For the glaze allow the cream cheese to come to room temperature and then mix everything together with a whisk and it's ready to use.

Chill in the fridge for 15 minutes before using.