Dive into the heart of Southern cuisine with this delicious Shrimp Creole dish. A symphony of succulent shrimp, vibrant veggies, and a rich tomato base, all harmonized by the signature Creole seasoning.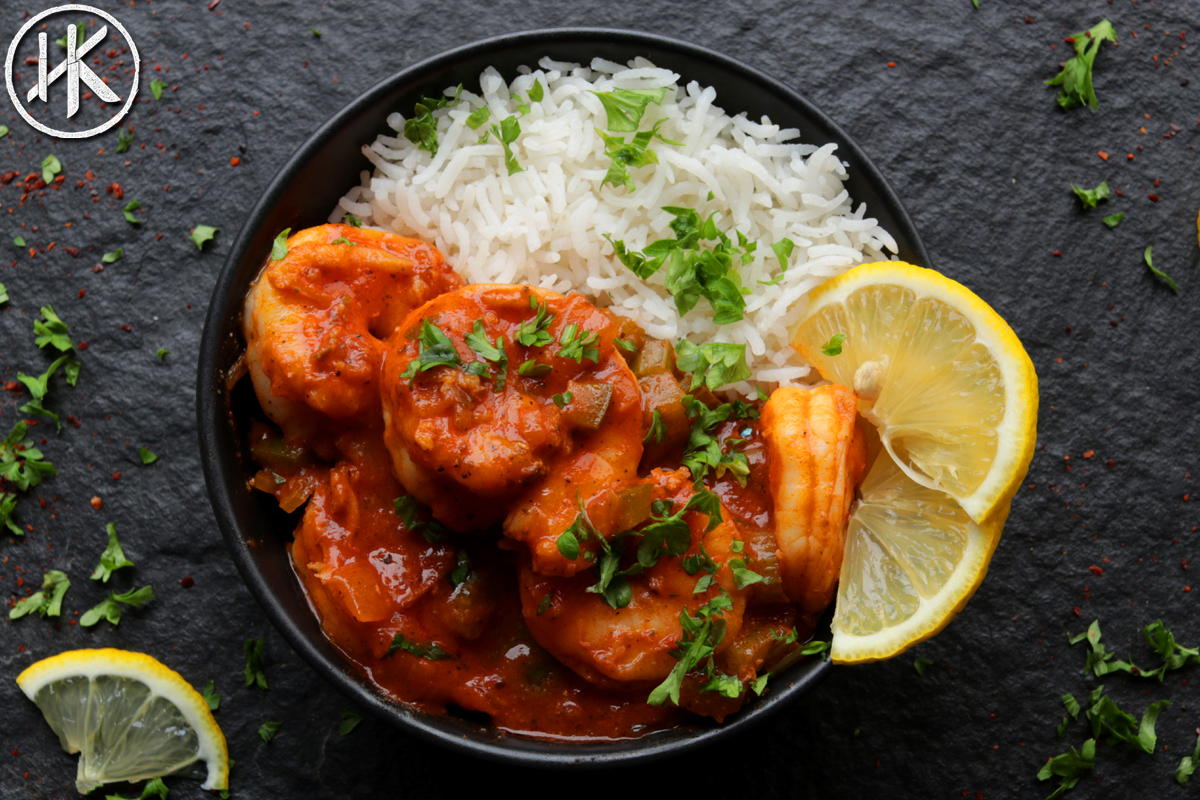 Ingredient Notes
Shrimp: Using fresh or high-quality frozen shrimp is essential for this dish. Depending on the size of shrimp you opt for, adjust the cooking time accordingly.
Oil: Specifically for sautéing the shrimp. A neutral-flavored oil like canola or vegetable is preferred as it doesn't mask the shrimp's flavor.
Butter: Used to sauté the trinity of vegetables, it imparts a richness to the dish. I prefer unsalted butter as it allows for better control over the saltiness of the dish.
Creole Seasoning: Central to many Louisiana dishes, you can go for store-bought versions or make your own blend home. Adjust the heat and spices based on your personal preference.
Celery, Bell Peppers, & Onion: Often referred to as the "holy trinity" in Creole and Cajun cuisines, they provide a flavorful aromatic base.
Garlic: Fresh garlic lends a more robust flavor compared to its jarred or powdered counterparts.
Bay Leaf: Whether you use fresh or dried, bay leaves infuse the sauce with a subtle, aromatic depth. Note that dried bay leaves tend to be more potent than fresh ones.
Tomato Puree: This thickens and provides the primary base of the sauce. If you don't have puree on hand, crushed tomatoes can be a good alternative.
Water: Used for deglazing and thinning out the sauce as needed.
Worcester Sauce: Adds a savory umami kick to the dish. Adjust to taste.
Tabasco Sauce: Introduces a spicy touch. If you're sensitive to heat, start with less and adjust as per preference.
Parsley: Fresh parsley adds a burst of color and a light, herby flavor as garnish. Add this right before serving to keep its vibrancy.
Expert Tips
Deglazing the Pan: Any brown bits at the bottom of the pan after sautéing the shrimp and vegetables are packed with flavor. Using a splash of water or even white wine will lift these bits, integrating their richness into the sauce.
Balancing Heat: The Tabasco sauce adds a notable kick. Start with the recommended amount, then taste and adjust. Remember, you can always add more heat, but it's challenging to tone it down once overdone.
Homemade Creole Seasoning: If you decide to make your own Creole seasoning blend, it allows for personalization. Increase or decrease specific spices to suit your palate, and store the extra in an airtight container for future use. Making your own creole seasoning is really simple. You just need to mix the spices together until well combined.
Here is my creole seasoning recipe:
1 teaspoon of garlic powder
1 teaspoon of onion powder
1 teaspoon of salt
1 teaspoon of pepper
1 teaspoon of smoked paprika
1 tablespoon of dried oregano
1 tablespoon of dried parsley
½ tablespoon of dried thyme
½ teaspoon of cayenne pepper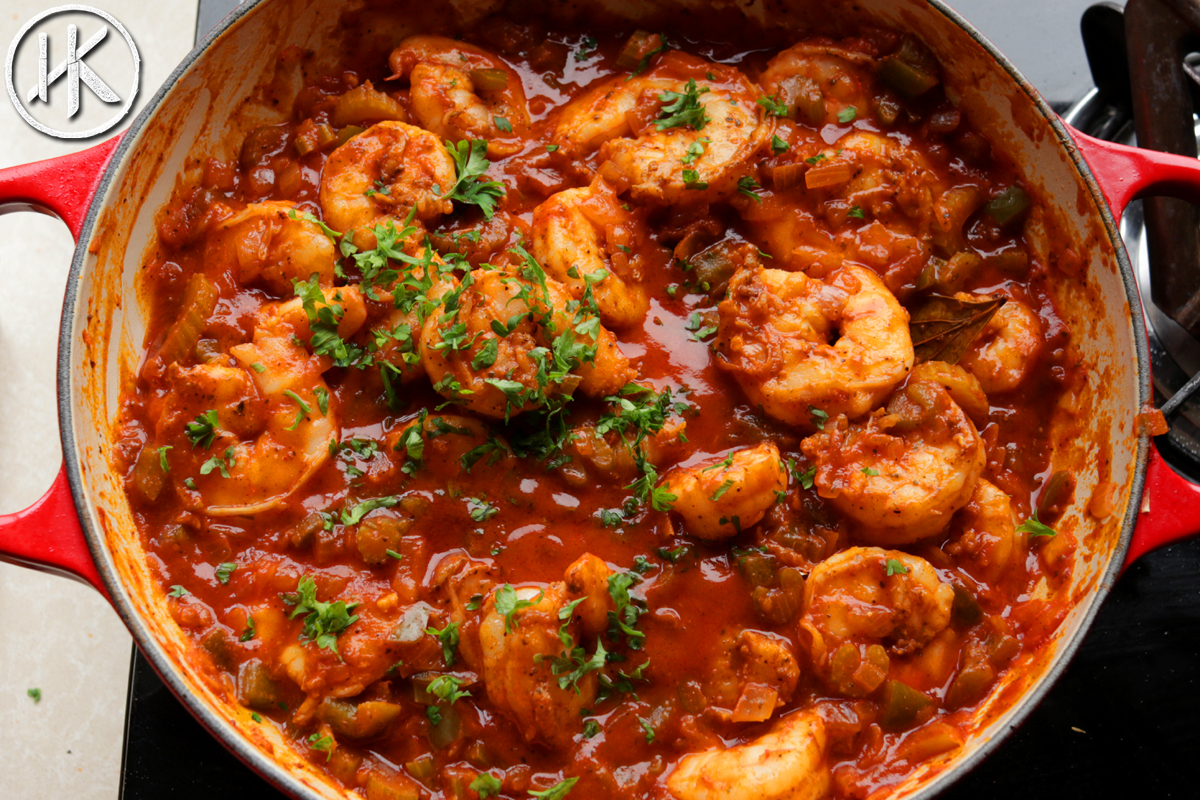 Storage and Leftovers
Storing: Shrimp Creole's flavor profile deepens over time, making leftovers a treat. If you have any remaining, transfer them to an airtight container and refrigerate. The dish will keep well for up to 2 days. However, due to the delicate nature of shrimp, it's best not to keep it for longer periods to ensure optimal freshness.
Reheating: To reheat Shrimp Creole, use a stovetop method for best results. Pour the leftovers into a sauté pan and reheat over medium heat, stirring occasionally. Adding a splash of water can help revitalize the sauce if it has thickened in the fridge. Once heated through, serve immediately.
FAQs
What exactly is Creole cuisine?
Creole cuisine originates from the melting pot of cultures in New Orleans, blending French, Spanish, African, and Caribbean influences. It's characterized by its rich flavors, use of tomatoes, and the holy trinity of bell peppers, onions, and celery.
What can I serve Shrimp Creole with?
Shrimp Creole pairs beautifully with steamed white rice to soak up the rich sauce. For a heartier meal, you might also consider serving it with crusty bread, cornbread, or even alongside some creamy grits. A light salad or sautéed greens can also complement the dish's robust flavors.
More Recipes You May Like: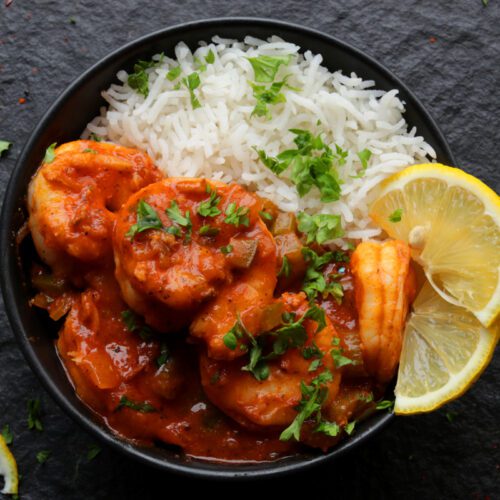 Shrimp Creole
Dive into the heart of Southern cuisine with this delicious Shrimp Creole dish. A symphony of succulent shrimp, vibrant veggies, and a rich tomato base, all harmonized by the signature Creole seasoning.
Ingredients
500

grams

shrimp

1

tablespoon

oil

1

tablespoon

butter

1

tablespoon

creole seasoning

divided

100

grams

celery

chopped

100

grams

bell peppers

chopped

100

grams

onion

chopped

1

clove

garlic

minced

1

bay leaf

200

grams

tomato puree

Water

as needed

2

tablespoons

Worcester sauce

¼

teaspoon

Tabasco sauce

Parsley

chopped (for garnish)
Instructions
In a large bowl, season the shrimp with one teaspoon of creole seasoning.

Heat a large sauté pan over medium heat and, in batches, cook the shrimp. Sauté each side for about 1-2 minutes until cooked, then remove and set aside. Remember shrimp cook incredibly fast, so it should only take around 2 minutes for each batch.

Using the same sauté pan, melt the butter and sauté the onion, celery, and bell pepper. If there are any browned bits at the bottom of the pan, deglaze with a splash of water. Cook the vegetables until they soften, around 4-5 minutes, then add the minced garlic and cook for an additional minute.

Stir in one teaspoon of creole seasoning, the bay leaf, and tomato puree. To ensure no tomato puree is wasted, rinse its container with water and add this to the pan. Combine everything, cover with a lid, and allow it to simmer gently for about 8 minutes.

To finish, mix in the Worcester sauce, Tabasco sauce, and the remaining ½ teaspoon of creole seasoning. Combine with the previously cooked shrimp. Garnish with freshly chopped parsley before serving. Enjoy!
Nutrition
Calories:
202
kcal
Carbohydrates:
15
g
Protein:
27
g
Fat:
5
g
Saturated Fat:
1
g
Polyunsaturated Fat:
1
g
Monounsaturated Fat:
2
g
Trans Fat:
0.03
g
Cholesterol:
201
mg
Sodium:
329
mg
Potassium:
802
mg
Fiber:
3
g
Sugar:
7
g
Vitamin A:
1679
IU
Vitamin C:
42
mg
Calcium:
127
mg
Iron:
2
mg