Choripan is here to delight! Packed with smoky chorizo and topped with bold a chimichurri, it's a sandwich that promises a burst of flavor in every bite. And guess what? You can make it in under an hour!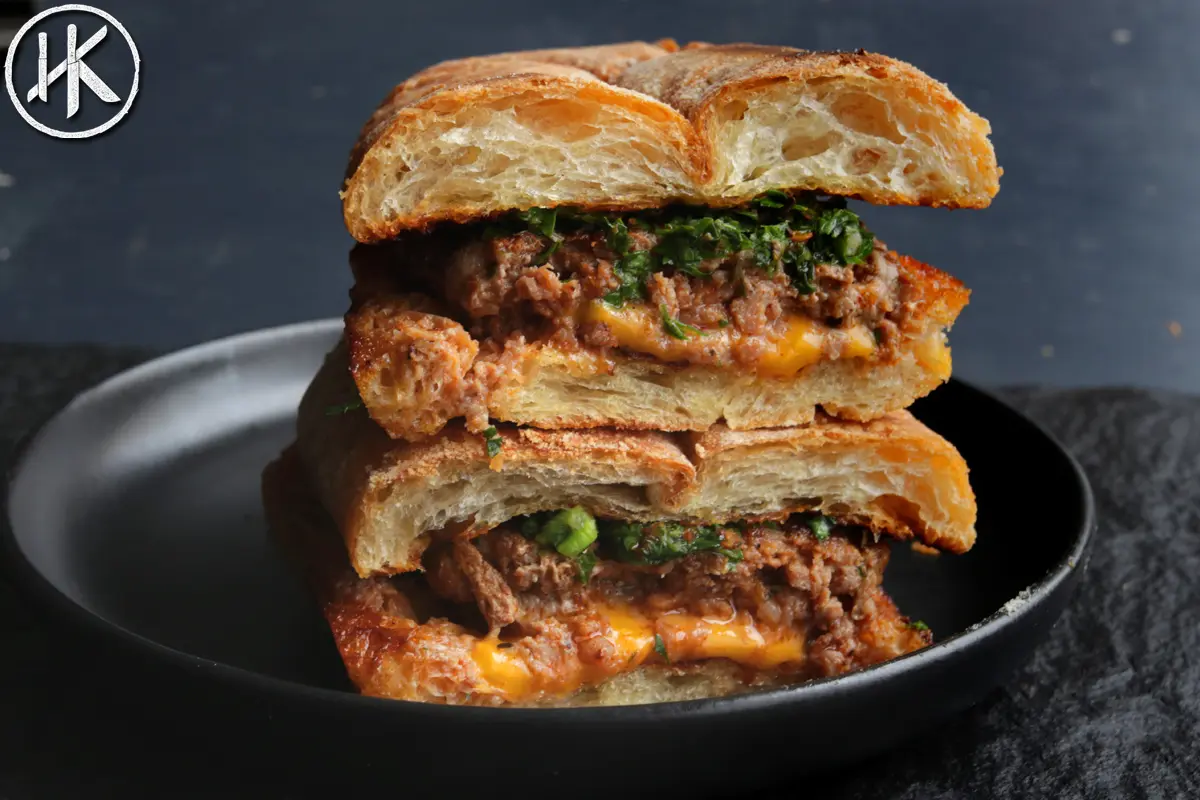 Ingredient Notes
Pork Chorizo: At the core of the Choripan is the smoky pork chorizo. I recommend pork for its rich flavor profile but feel free to experiment with other meats like ground beef.
Chimichurri: A vibrant sauce bursting with flavor. Adjust the red chili flakes according to your heat preference, and while the lemon juice is optional, it lends a refreshing burst of freshness.
Bread & Cheese: Opt for a sturdy bread that can contain the juicy chorizo without becoming soggy. For a genuine Choripan experience, go for crusty varieties like baguette or ciabatta. The addition of cheese, while optional, can elevate the sandwich with a creamy undertone.
Expert Tips
Toasting Bread to Perfection: For a sandwich as rich and flavorful as Choripan, achieving the right toast on your bread is vital. Using a sandwich press delivers an evenly toasted, crispy crust. But if you're without one, a game-changing tip is to use a heavy spatula or even another frying pan to press down on the bread while it's toasting.
The Subtlety of Smoke: Authentic chorizo boasts a unique smokiness. Ensure a tight seal on your smoking bowl to let the meat soak up all the rich, aromatic flavors from the trapped smoke.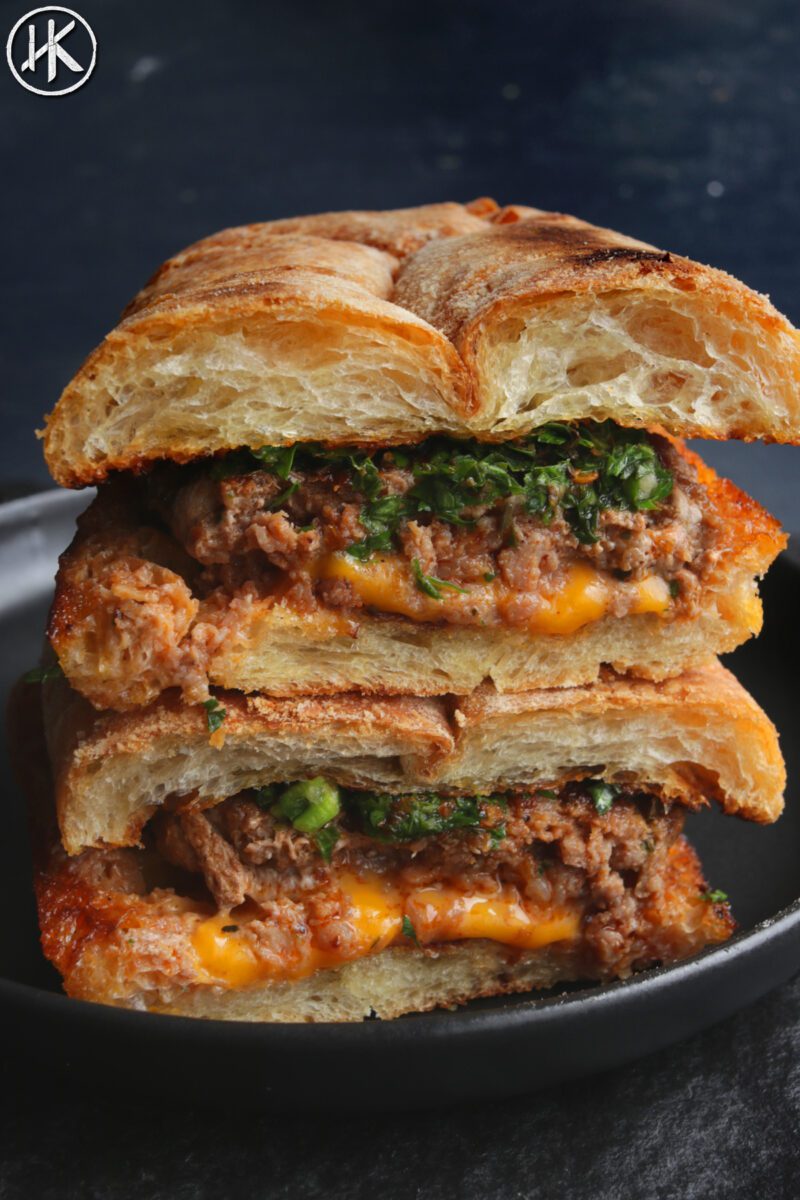 Storage and Leftovers
Chorizo Mixture: If you have any uncooked chorizo left, place it in an airtight container and refrigerate. It should stay fresh for up to 3 days. You can also freeze it for up to a month. Before using, thaw in the refrigerator overnight.
Chimichurri Sauce: Store any leftover chimichurri in a sealed container in the refrigerator for up to a week. Its flavors will intensify over time, so you might enjoy it even more after a day or two. Before using, give it a good stir.
Assembled Sandwich: It's always best to enjoy the Choripan sandwich fresh. However, if you do have leftovers, wrap them tightly in aluminum foil or place in a resealable bag and refrigerate for up to one day. To reheat, warm in an oven or toaster oven to revive its crispness.
More Sandwich Recipes You May Like: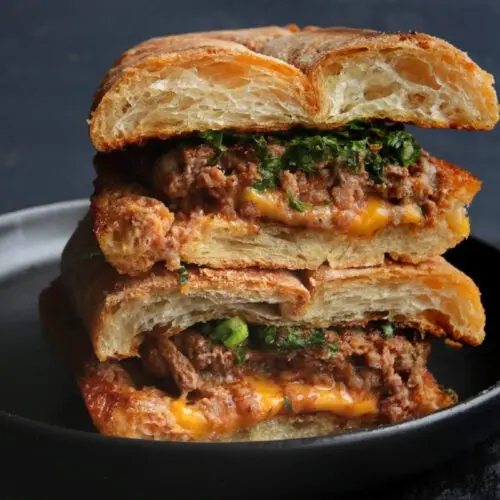 Choripan Sandwich
Choripan is here to delight! Packed with smoky chorizo and topped with bold chimichurri, it's a sandwich that promises a burst of flavor in every bite. And guess what? You can make it in under an hour at home.
Ingredients
For the pork chorizo
500

g

Pork Mince

2

tsp

Salt

1

tsp

Black Pepper

1

tsp

Smoked Paprika

½

tsp

Nutmeg Powder

2

Garlic Cloves

minced

2

tbsp

Red Wine

1

tsp

Oil

for smoking
For the Chimichurri:
2

tsp

Oregano

1

tsp

Red Chilli Flakes

adjust for desired spice level

1

Garlic Clove

minced

30

g

Parsley

finely chopped

1

tbsp

Red Wine Vinegar

4

tbsp

Olive Oil

Salt

to taste

1

tsp

Lemon Juice

optional

2

tbsp

Hot Water
For Assembling:
Bread of choice

Cheese of choice

optional

Butter

for toasting
Instructions
For the Pork Chorizo: In a spacious bowl, combine pork mince, salt, black pepper, smoked paprika, nutmeg, minced garlic, and red wine. In the center of this mixture, place a small ovenproof dish. Light the charcoal until it's hot, then place it in the dish. Drizzle the teaspoon of oil over the hot charcoal to generate smoke. Quickly cover the bowl to trap the smoke, letting the meat infuse for around 20 minutes.

For the Chimichurri: In a separate bowl, mix oregano with red chili flakes and hot water. Allow it to sit for about 2 minutes to rehydrate. Incorporate the minced garlic, chopped parsley, red wine vinegar, optional lemon juice, olive oil, and salt, stirring well to combine.

Toasting Bread: Generously butter your bread slices. Heat a cast iron pan over medium-low heat. Lay the bread, buttered-side down, in the pan. Toast until golden and then flip to toast the other side.

Cooking Chorizo: On one toasted slice, spread an ample amount (around 150 grams) of the pork chorizo mixture. Using the same cast iron pan, heat a touch more oil over medium-low. Place the sandwich, chorizo side down, into the pan. If you have a sandwich press, it's ideal to place it on top to ensure even cooking. Cook until the pork chorizo is thoroughly done.

Assemble: Once the pork is cooked through, spread a generous dollop of chimichurri over the chorizo. Top it with the other toasted bread slice. Slice the sandwich in half for easier eating and enjoy!
Nutrition
Serving:
3
Sandwiches (not including bread)
Calories:
738
kcal
Carbohydrates:
9
g
Protein:
35
g
Fat:
62
g
Saturated Fat:
19
g
Polyunsaturated Fat:
6
g
Monounsaturated Fat:
32
g
Trans Fat:
0.02
g
Cholesterol:
142
mg
Sodium:
1277
mg
Potassium:
664
mg
Fiber:
2
g
Sugar:
3
g
Vitamin A:
1575
IU
Vitamin C:
16
mg
Calcium:
207
mg
Iron:
3
mg