The BEST Chicken Sandwich
The joy of a good chicken sandwich is hard to describe. I grew up eating sandwiches and while ham and cheese was my staple, the chicken junglee sandwich was king. I'm not sure this is a sandwich you get anywhere else (at least to my knowledge). On first glance it's just a chicken and mayo sandwich, you get that everywhere. There isn't particularly special about it. But this sandwich has a few twists that set it apart from any other chicken and mayo sandwich you've ever eaten.
So give it a try!
Make it a salad!
Not I know many of my viewers/readers are on Keto and I actually did a Junglee chicken salad recipe. But you can also use this filling in Keto bread, you can easily put it in lettuce cups and devourer it. You could also possibly use this mix with fish, probably canned tuna would be good or some white fish filet.
Now when it comes to the chicken you are just looking for well cooked breast meat that has been shredded. You can grab a rotisserie chicken from your local supermarket.  Alternatively you can use my method for cooking the chicken or if you can't be bothered just throw it in the instant pot or the oven and cook it. Just don't over cook it, you don't want super dry chicken breast.

Nutrition Info (Per serving)
Calories: 264
Carbs: 2g
Fat: 17g
Protein: 24g
Fiber: 0g
This recipe makes 4 servings. Get this recipe on myfitnesspal.  This nutrition info is JUST FOR THE FILLING. It does not include the bread. Also this is using Hellman's Mayo which is 75 calories per 15g. The macros for mayo brands vary worldwide. Also use a lower fat or fat-free mayo or greek yogurt to lower the calories and fat. Normally the bread macros will also vary on the brand and size. I'm using white bread slices in the video which are about 27 grams and 70 calories per slice. So add 150 calories + 264 calories = 414 calories a sandwich.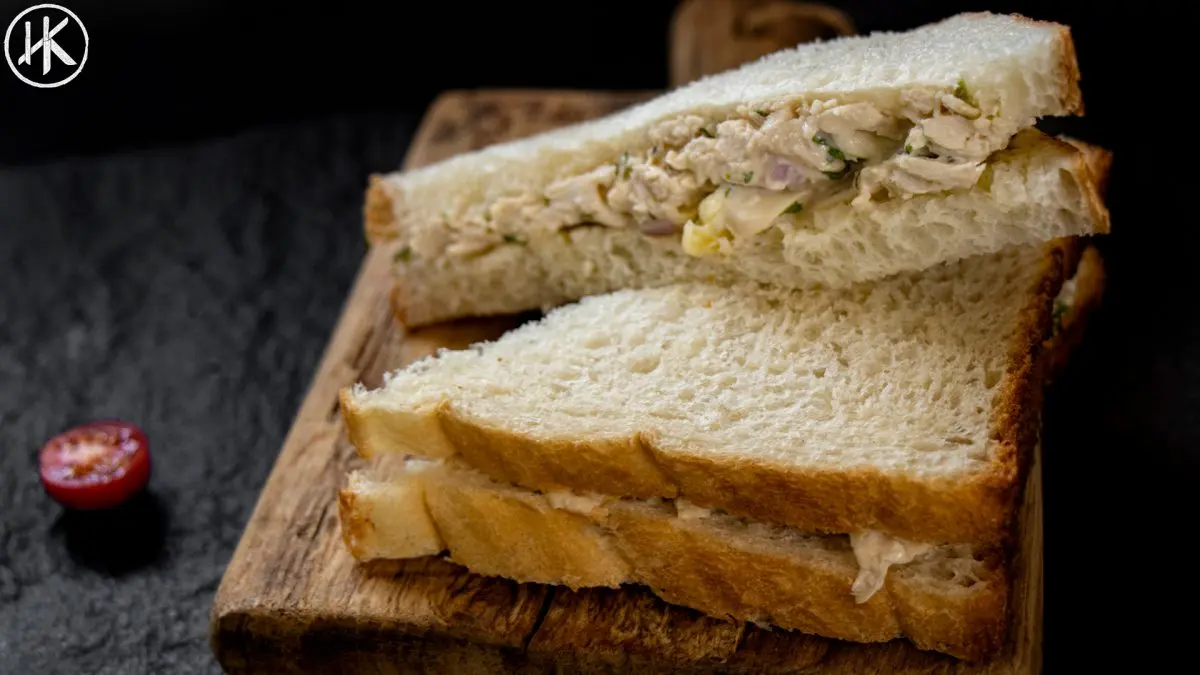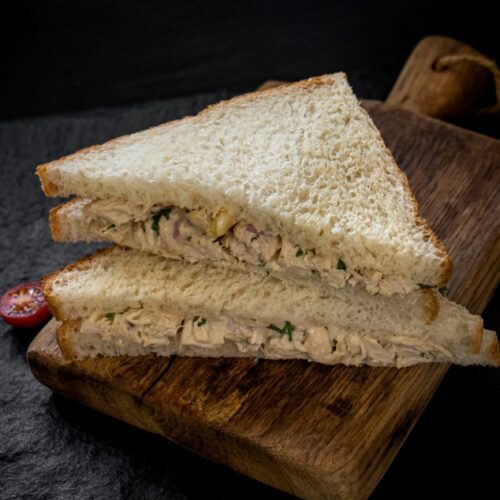 Junglee Chicken Sandwich
A delicious Chicken Junglee Sandwich
Ingredients
450

grams

Chicken Breast

100

grams

Mayonnaise

Use a low calorie mayo to make this lower calorie

50

grams

Red onion

10

grams

Coriander

1/2

Tbsp

Worcestershire sauce

1

Tsp

Black Pepper

Use less for a less peppery sandwich

Salt to Taste

8

Slices

White Bread
Instructions
Finely chop the red onion and the coriander.

In a non stick pan add the chicken breasts along with about 100ml of water and cover and cook on a medium heat for about 5 minutes.

Flip the chicken over and cook uncovered till the liquid dries out and the chicken is fully cooked.

Once the chicken cooks a bit using 2 forks shred the chicken.

In a large mixing bowl add all the ingredients and give everything a good mix.

Measure the entire mixture and divide by 4. Use 1 serving per sandwich.

Slather the mix between the breads and enjoy!!!