Keto Gyros | Chicken Gyros
A mountain of chicken meat for Keto Gyros
It's time for another Greek Keto recipe. Today we're making gryos with chicken. These are also often made with lamb or pork. Now gyros is normally a wrap but today I'm just giving you a recipe for the gyro meat.
This recipe is super simple to make. You just marinate the meat. I show you how to make a vertical skewer which makes it feel like the rotisserie that it's normally cooked on. Then you can probably assemble your own wrap. Replace the regular pita bread with my Keto coconut naan or Keto almond flour tortilla recipe.
Fill that wrap with this chicken gyro meat, some vegetables like tomato, red onion, lettuce etc and finish with some tzatziki sauce. Tzatziki is basically make with Greek yogurt and cucumber. I've done a recipe for that as well. It's a delicious sauce flavored with garlic and dill.
Are gyros keto friendly?
Well the original Gryo is not but like with most things we can make them low-carb and Keto friendly. The Gyro meat itself from a restaurant is Keto friendly and in most places they have an option of just ordering the meat.
The meat marinade will vary as well in each gyro recipe. Everyone has their own set of spices and ingredients they like to use. Mine was quite simple with yogurt, olive oil, garlic, lemon juice and lemon zest. For the spices black pepper, paprika, cumin and some more which you can find in the recipe below.

What kind of meat is gyro made of?
Gryos are made from a variety of meats. I've seen versions with pork, lamb and even ground beef and ground lamb. It's basically stacked up vertically and then cooked on a spit/rotisserie. Of course you get smaller version of these machines to make your gyro meat recipe at home. You cut slices of the meat while it's rotating and cooking. But not all of us have this option.
I think for this the oven is the best option. Of course if you don't have an oven you can just pan fry the meat and slice it up. Honestly I think that might actually get you a better result. But when you have a crowd to feed this little make shift tower of meat is very impressive.
Now I would recommend placing some parchment paper of foil actually below your meat tower while you bake it to make clean up easy. You could also have an oven proof bowl or casserole dish instead which collectiosn the juices which you can use to baste the meat as it cooks.
What Greek food can I eat on keto?
Well I for one love Greek food and ingredients. You can easily consume stuff like feta cheese, kalamata olives and use herbs like oregano, marjoram and thyme to flavour your dishes. I've got a bunch of recipes as well and will be doing more. Try my Keto Greek Salad or my Greek Scrambled eggs.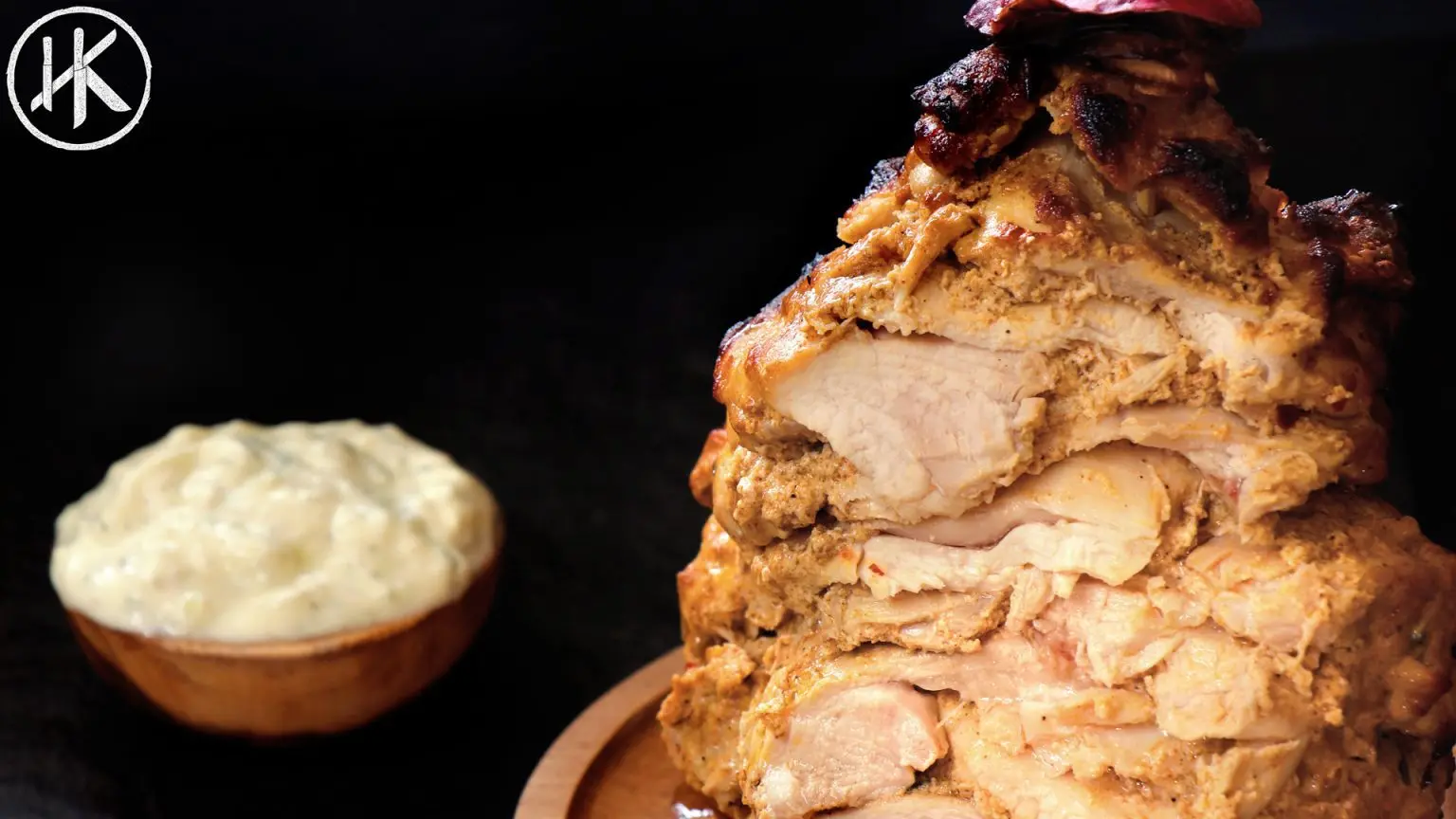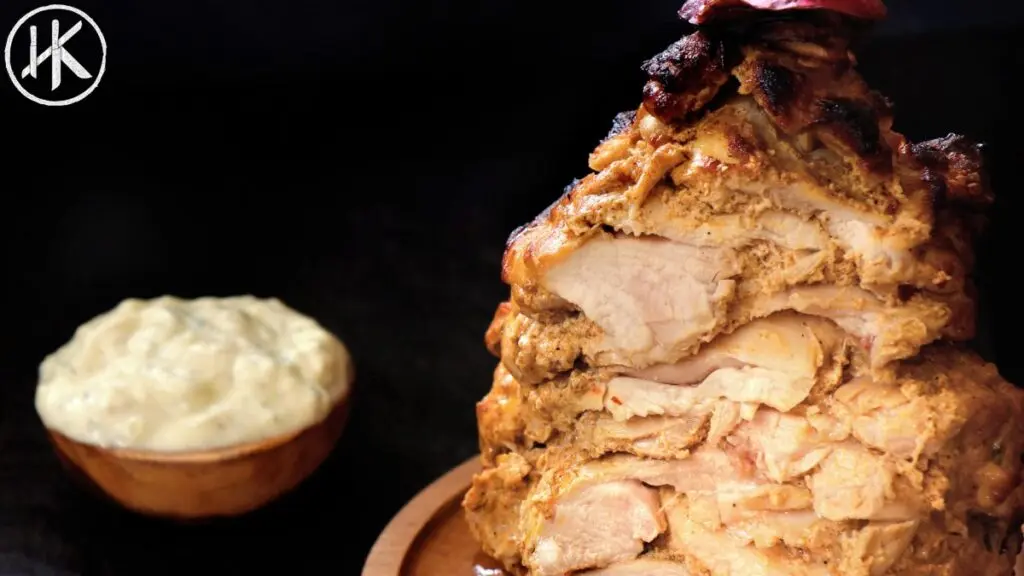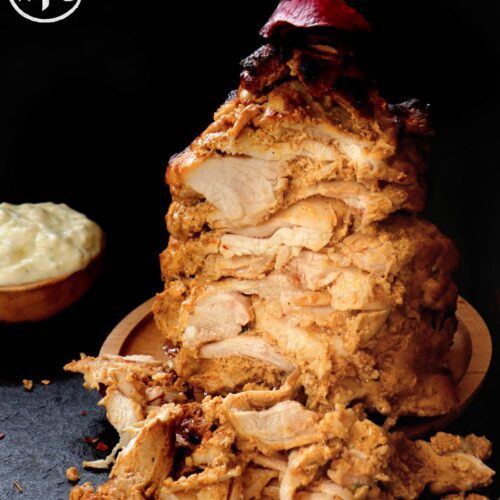 Keto Chicken Gyros
Delicious chicken cooked on a DIY skewer. Greek style!
Ingredients
1

Kg

Boneless & Skinless Chicken Thighs

400

grams

Full Fat Greek Yogurt

2

Tbsp

olive oil

the juice of half a lemon

the zest of 1 lemon

10

grams

Minced Garlic

1/2

Tbsp

Salt

1/2

Tbsp

Pepper

1/2

Tbsp

Paprika

1/2

Tbsp

Cumin

1/2

Tbsp

Coriander Powder

1/4

Tbsp

Red Chilli Flakes

1

Tbsp

Fresh or Dried Thyme

You can also use oregano
Instructions
Mix the yogurt with the olive oil, lemon zest, lemon juice, minced garlic, salt, pepper and spices in a big bowl. Set the marinade aside and move on to the chicken

Place some cling film over the chicken thigh and beat it with the flat end of the meat mallet to even it out. This will help it cook more evenly. Do this to all the thighs.

Then marinate the thighs in the marinade for about 24 hours. You can marinate it for a shorter duration as well. It's completely up to you.

Then cut a thick piece of onion and push a skewer through it to create a vertical spit. Then pierce and layer the chicken one above the other in opposite directions (watch the video) and then bake in a pre-heated oven at 200C for 1.5-2 hours.

Once done just slice that chicken and eat with some tzatziki or in a Keto naan or even in a salad bowl.